We hope you love the products we recommend! Just so you know, HomeKnows may collect a share of sales from the links on this page. Oh, and FYI — prices are accurate and items in stock as of time of publication.
1.A non-stick pan with five slots so you can cook an entire meal all at once.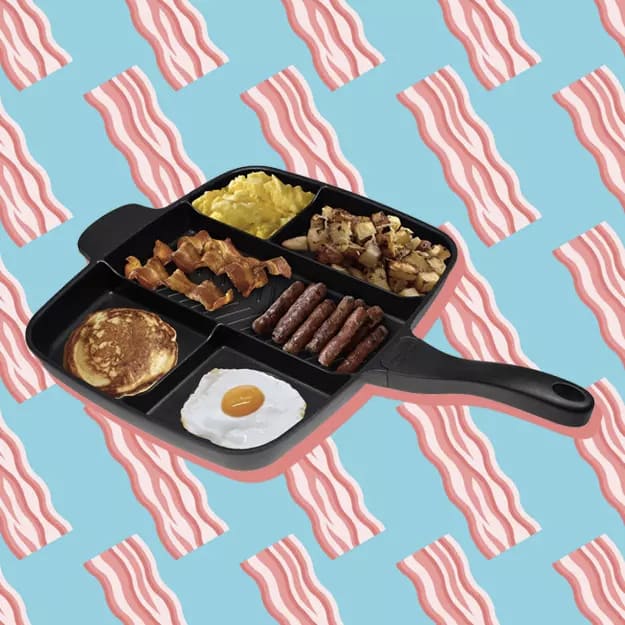 Promising review: "Now that I have cooked a few meals with this pan I can honestly say that I will no longer be needing all my other pans. It just does it all. Cooking multiple ingredients at the same time and then infusing them together to mix the flavors is something that I have never been able to do before. Keep the pan at a medium heat to always get the best cook because food cook differently and you can take your time in preparing your meal. I recommend this to pretty much anyone that likes to cook and mostly to the ones that dread it! A++" —Dan S
Get it from Amazon for $45.99.
2.A life-changing machine that turns boring frozen fruit into a delightful ice cream-like treat. You're gonna go bananas for this thing!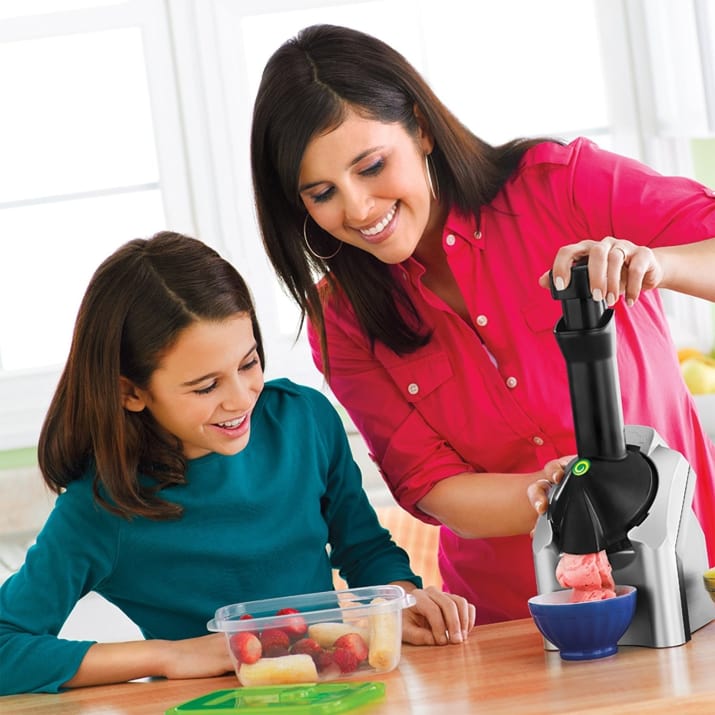 Nice cream is all the rage now! You get to enjoy a frozen treat and not even mess up your New Year's resolution to cut back on Ben and Jerry's.
Promising review: "I use this several times a week to make 'ice cream' from frozen bananas and other fruit. I do not eat dairy; this gives me that ice cream texture with out the taste and consequences of dairy. It comes apart easily for cleaning and the parts are also dishwasher-safe. Be warned: it is very loud. I mean VERY loud. I use earplugs when I use it." —Kathryn
Get it from Amazon for $47.50.
3.A pair of onion goggles so you can feel like a pro swimmer who never, ever cries — not even when cutting onions.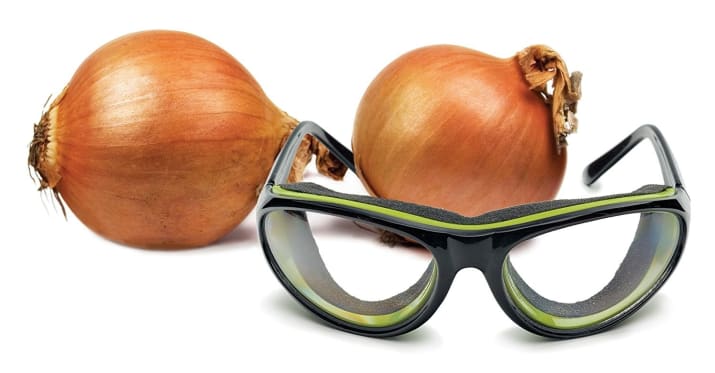 As weird as it seems to wear goggles in the kitchen, it's the only sure-fire way to keep onions from stinging your eyes. Now the only tears flowing are tears of joy because these things work so well.
Promising review: "These work pretty well. And they look ridiculous. I chose the tortoise shell print for that understated elegance." —Jennifer Guerrero
Get them from Amazon or Jet for $19.95 (available in five colors).
4.A Rub-A-Way Bar that was probably crafted by culinary wizards because it magically erases any odor from your hands. Say goodbye to your fishy, garlicky hands and hello to your new scentless, wizard lifestyle.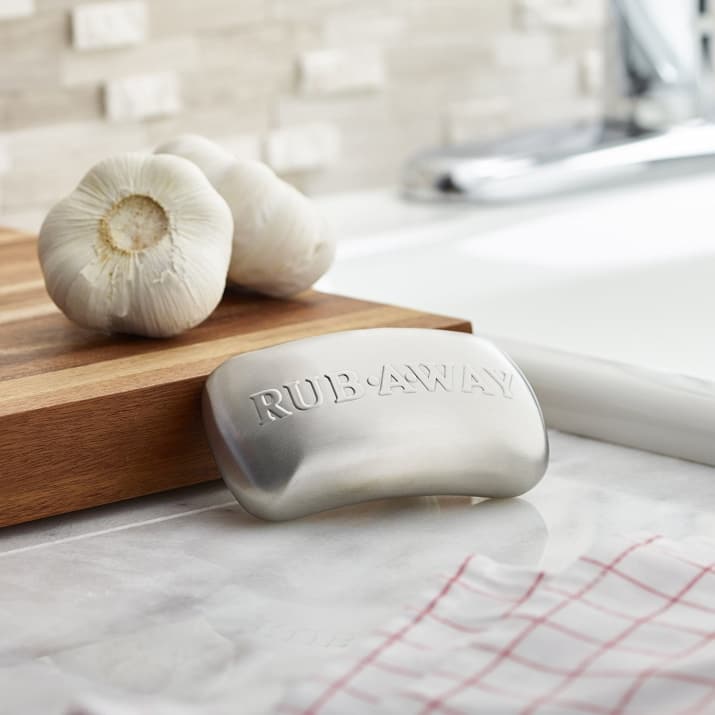 Use this bar like a normal bar of soap, with or without water. You know how garlic tends to linger on your hands long after you're done cooking? Not anymore!
Promising review: "This product truly works. My mother has always complained about the scent that sticks to her hands after handling onions and garlic. She tried washing her hands multiple times with various soaps and would still fall asleep to the potent smell of garlic on her hands. I finally heard about this product and thought I would gift it to her, and fortunately, it has worked! As soon as she handles either onions or garlic, she immediately washes her hands with the bar and the strong smell is gone!" —Kris
Get it from Amazon for $11.47.
5.A cute waffle stick maker because long waffles are ideal for dipping and dipping is ideal for a happy life.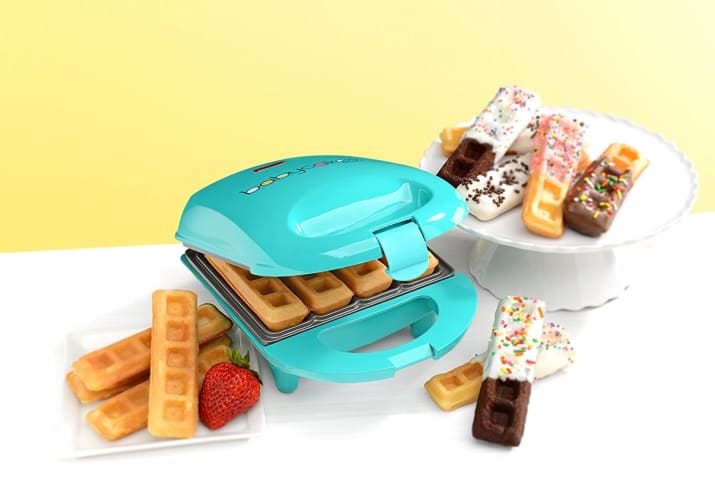 Promising review: "I had never used a waffle maker at home before, just those big bulky hotel ones, and wanted something small and easy to use. This is perfect. Fits right in the cupboard when not in use. Perfect for making quick waffles for my two toddlers, who also like the on-the-go aspect of the stick waffles." —ShoppingCritic
Get it from Amazon for $13.
6.A radish cutter that will really one-up your salad game. See? Eating healthy can be fun-gi.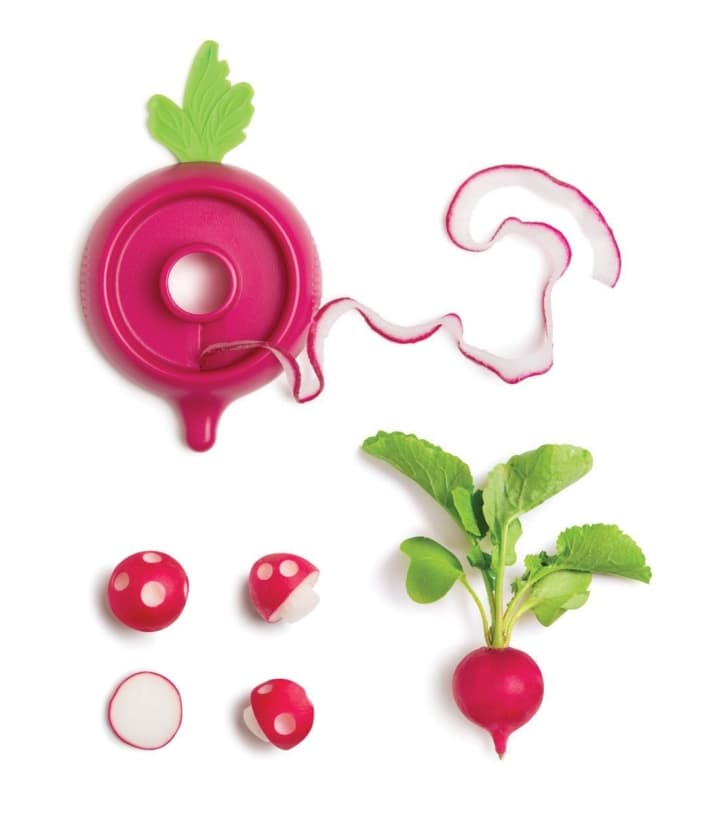 Promising review: "I love the look of carved veggies but don't have a ton of patience for the actual carving. This is pretty quick and makes cute radishes. The spots can get torn a little but doesn't ruin the effect." —TechLauren
Get it from Amazon for $8.95.
7.A sneaky storage tower you can slip into the no man's land between your wall and fridge (or wherever else you have some space).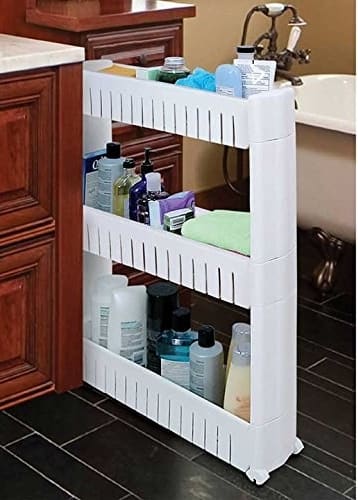 Promising Review: "I had exactly 5.5 inches between two tall cabinets in my kitchen. I bought two of these racks to use in that space and could not be more pleased! The plastic is heavy-duty, and the rack itself very sturdy. I was able to clear out my entire cabinet of all my spices, k-cups, and cooking oils. All of it fit nicely on this rack. Assembly was literally a snap — we had both racks put together as one in five minutes. My kitchen is very spacious, but the setup is bad, leaving me precious little in practical storage space. This was the perfect solution, at a very good price. I almost wish I had another gap between other cabinets so I could buy more." —Lady Bronco
Get it on Amazon for $24.99+ (available in two sizes).
8.A corn stripper to de-cob your corn and get it ready for elote, mixed veggies, or whatever dish you want to consume without pretending to be a typewriter.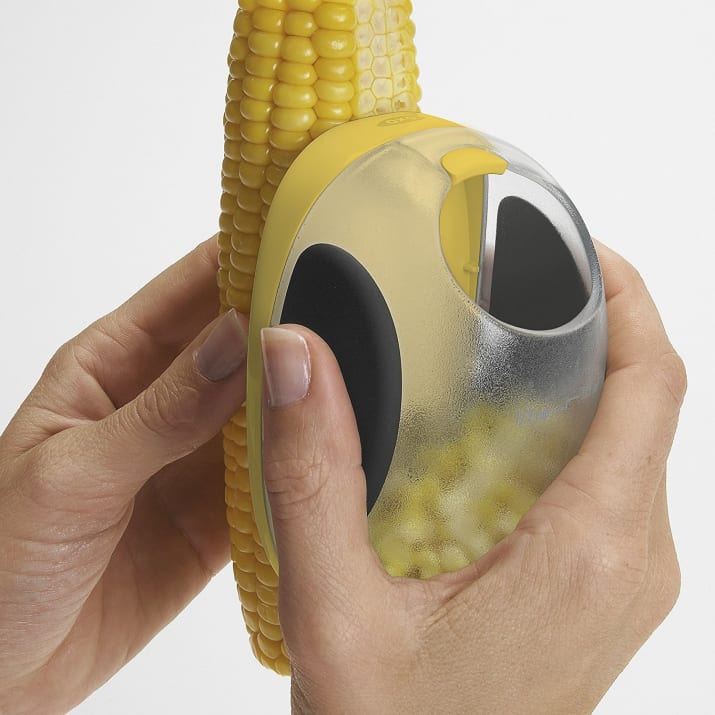 Promising review: "This is the fourth corn stripper I have bought and the only one that works well for me. It strips the corn well (with a bit of practice) and slides very easily." —Moe Rubenzahl
Get it from Amazon for $13.95 or Walmart for $20.51.
9.A dehydrator so you can finally make your own dried fruit and beef jerky and stop paying so much for your snacks.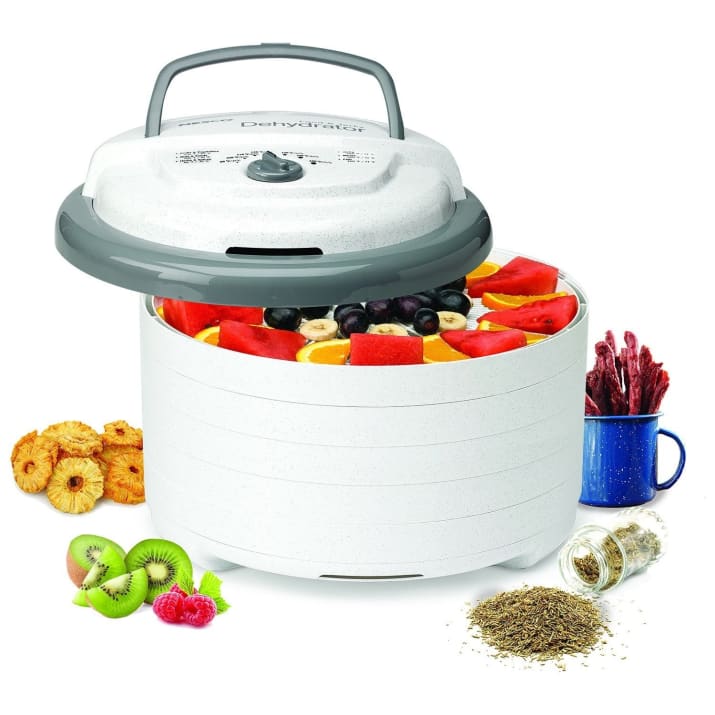 It can also help with preserving fruit, drying herbs, drying flowers, making tempeh, proofing sourdough, and a million other things.
Promising review: "I purchased this item a year ago and I could not be happier with it. It has exceeded my highest expectations. This is the best food dehydrator I have ever owned. It can dehydrate everything from beef to apples, and you will be absolutely astounded at how fast the product can complete the dehydration process. I've owned dehydrators that can take days to complete the drying process, this product can do what those do in hours. This dehydrator is accompanied with five trays and can actually be expanded to 12, I also like the fact that you don't have to rotate the trays due to the patented converga-flow system. It produces the best tasting dehydrated foods I've ever had, I'm an avid outdoorsman and have dehydrated everything from deer to turkey. I won't even look at a pack of Jack Link's anymore, in fact I'm disappointed that I ever purchased that stuff." —LSUTIGER92
Get it from Amazon for $75
10.A pot lid storage system to free up some much needed space in your tiny kitchen.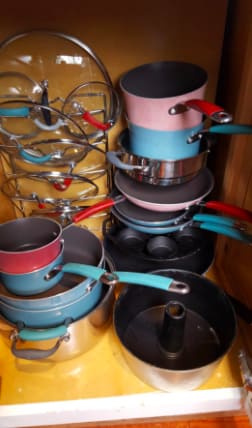 Spoons specifically made for dipping cookies in milk — and getting them out in one piece.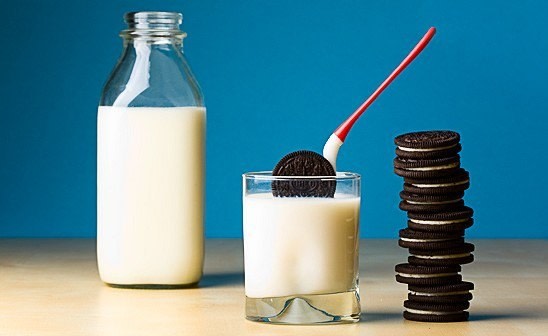 *extreme Bruce Almighty voice* And that's the way the cookie crumbles.
Get a set of five from Amazon for $15.97
12.A pair of shredder claws so you can feel like Wolverine while you're making pulled pork sandwiches.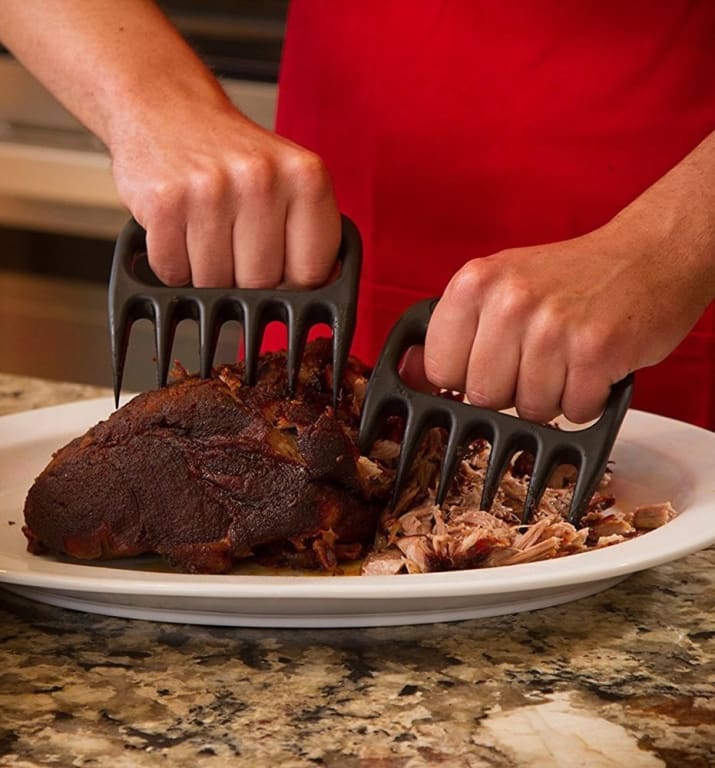 These things are awesome because 1. they're way easier to use than wimpy ass forks and 2. you're now an honorary member of the X-Men. Yay!
Promising review: "I have been doing a lot of pulled meat dishes lately, and the twin salad fork approach just took way too much time and effort for me to tolerate anymore. After using these, I mentally kick myself for having wasted so much time and effort doing it the hard way. They tear into a roast with simple efficiency: I stab, twist, pull, and the meat just comes right off." —Ronald N. Crawford
Get them from Amazon for $12.95 (available in six colors).
13.A cookbook stand with a protective splash guard to keep you from dripping marinara sauce on your beloved recipes.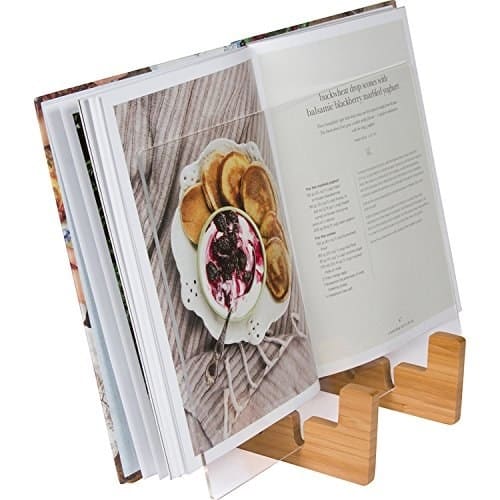 Promising review: "Everything from the cuts to the finish are very well done. Designed to accommodate various sized cookbooks. The case to hold it when you are not using it is a nice touch. There's a piece of clear plexiglass to protect your cookbook if you are a messy cook (the best cooks are)." —Donna C
Get it from Amazon for $28.
14.A KitchenAid immersion blender so you can blend stuff up right where it is without having to pour it into yet another container you'll need to clean.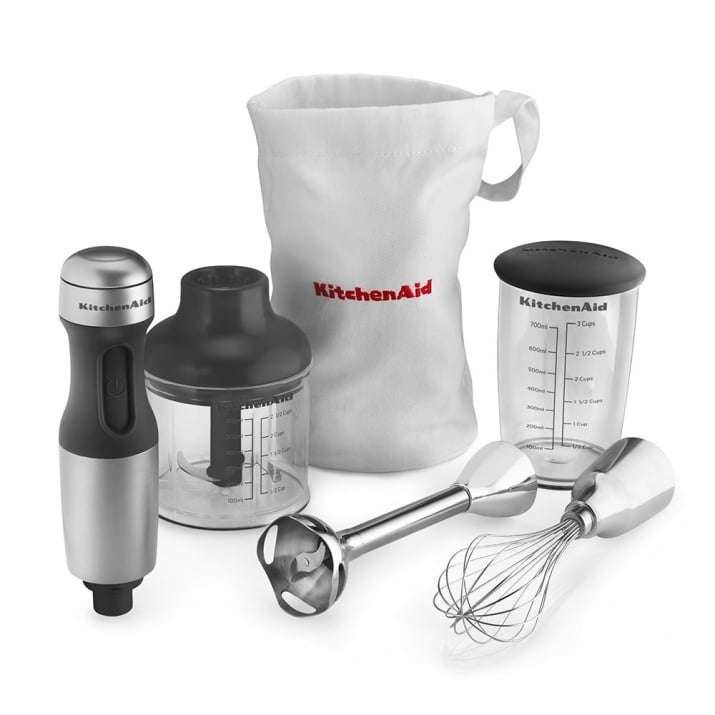 This kit comes with a blending arm, whisk attachment, chopper attachment, blending jar, and bag for safe storage.
Promising review: "We got our hands on the KitchenAid 3-Speed Hand Blender to whip up some cheesecakes and it overall did a quality job. The blender let's you blend, crush, chop, puree, and whisk. The chopper attachment is great for processing harder cheeses, nuts, and creating graham cracker crusts. The included whisk attachment whips creams and egg whites to fluffy peaks. You could blend, crush, chop, whisk, and puree smoothies, sauces, baby food, soup and more. Create endless culinary creations, quickly and conveniently." —Unbox Review Time
Get it from Amazon for $49.
15.A palm peeler for transforming your hand into a blade like some kind of kitchen superhero.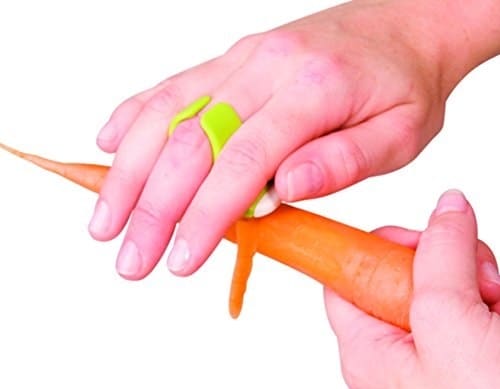 You can't cut your hand when your hand is the blade.
Promising review: "I have no skill whatsoever with cutting ANYTHING. I literally take half an hour to peel two potatoes, plus I risk cutting myself. With this product, I can peel potatoes (and other vegetables) in under five minutes. Also, the blade is pretty effective (or at least to me)." —Kevin
Get it from Amazon for $5.95+ (available in two colors).
16.A pack of flexible, plastic cutting boards that are color-coded to avoid any cross-contamination. Plus, it's always good to have more than one cutting board so other people, ahem, can help.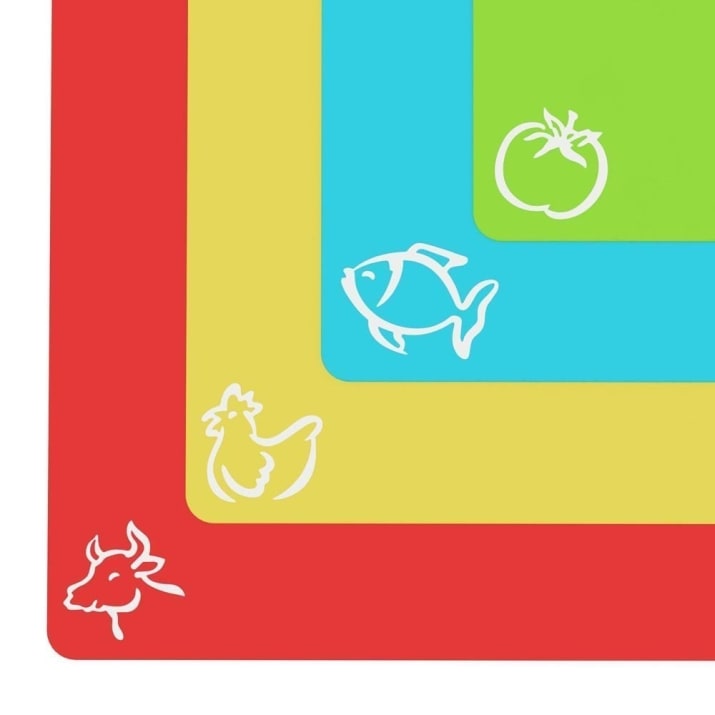 Promising review: "They're thick enough to feel 'substantial,' but still flexible enough to curve to make transferring my sliced/diced ingredients into the pan or wok much easier. The non-slip 'waffle-grip' bottom works well on my solid-surface counter, too, with no slippage. And these are color-coded so that you can keep the poultry mat just for poultry, the fish mat just for fish, etc." —L. Mountford
Get a pack of four from Amazon for $14.99.
17.A stuffed burger press so you can make Juicy Lucys (beautiful, cheese-filled burgers) at home.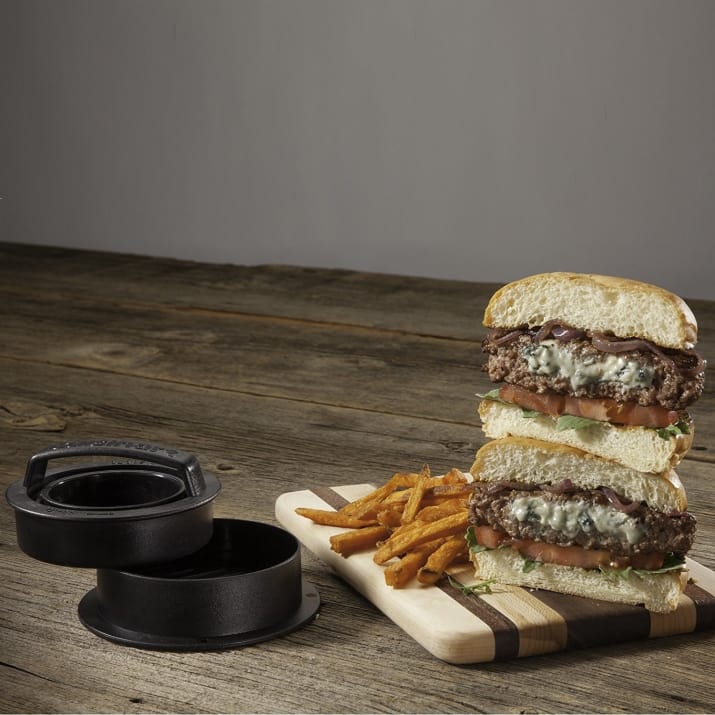 What's better than a burger with cheese on top? A burger with cheese on top AND inside. It's cheese all the way down!
Promising review: "We just got this and have used it twice already! It does a great job of pressing the ground beef and sealing all the goodness inside. We've stuffed ours with cooked bacon pieces and cubed cheddar cheese. Cooked them in a cast iron skillet, putting the lid on the pan after they developed a nice crust on the outside and had the best and juiciest burgers ever!" —T. Jackson
Get it from Amazon for $6.48
18.An air fryer for anyone who loves fried food but doesn't love all the guilt that comes with indulging too often.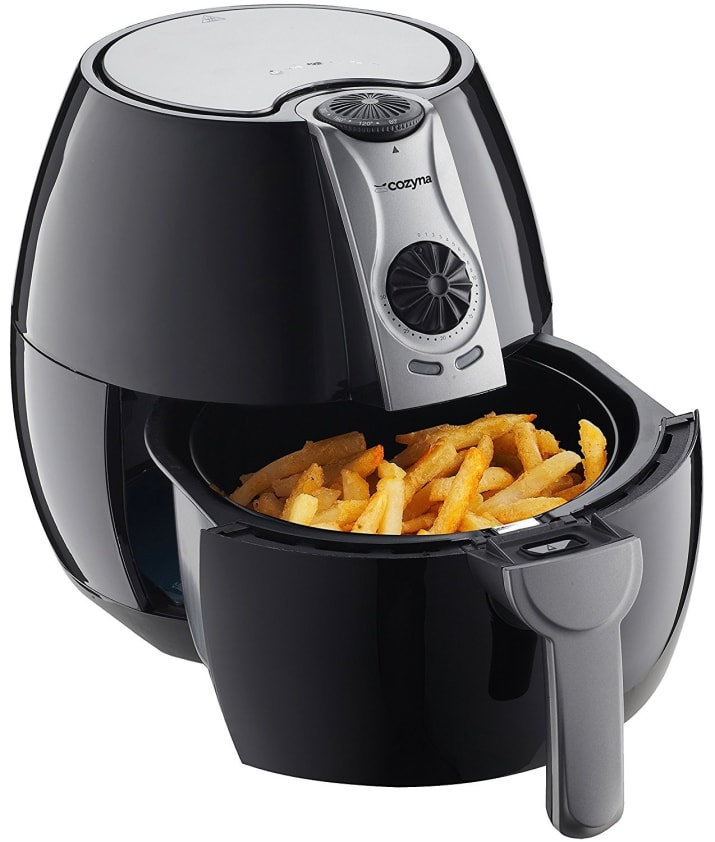 Promising review: "I bought this on a whim. It was a suggested lightening deal from Amazon. I'd actually never heard of an 'air fryer' before. Two weeks later, it's my favorite appliance in the kitchen. This is a convection oven. It's not a replacement for a deep fryer. It can't fry. It lends itself to a deep frying comparison due to its 'basket' and that it's exceptionally well-positioned to make traditionally fried food. It works really well on things like frozen french fries, tots, burritos, frozen breaded meats, egg rolls, etc. If you're into frozen foods (things you'd generally drop into a deep fryer for a couple minutes) you'll likely be very happy. This is an exceptional french fry cooker. So much in fact that I'd recommend this over a normal deep fryer for those types of foods. It cooks as well without all the oil and mess for that type of thing." —David S.
Get it from Amazon for $79.99.
19.A pair of cut resistant gloves so your fingers can live to julienne another batch of carrots.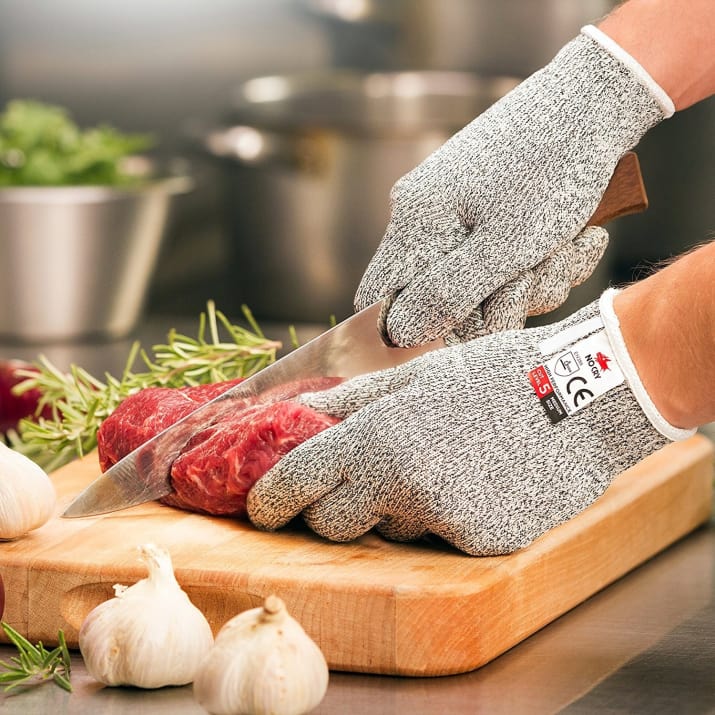 Promising review: "Just used these gloves with a SHARP mandolin to make razor-thin shallots for a made-from-scratch green bean casserole for the holidays. I'm SO happy I bought these because they WORK exceptionally well! I set my mandolin to the thinnest setting and used these gloves to get the finest thinly cut shallots. Love, love, love this product." —Shirley Anne
Get them from Amazon for $10.99 (available in four sizes)
20.A snappy strainer you can clip onto most pots so you can drain your pasta with one hand.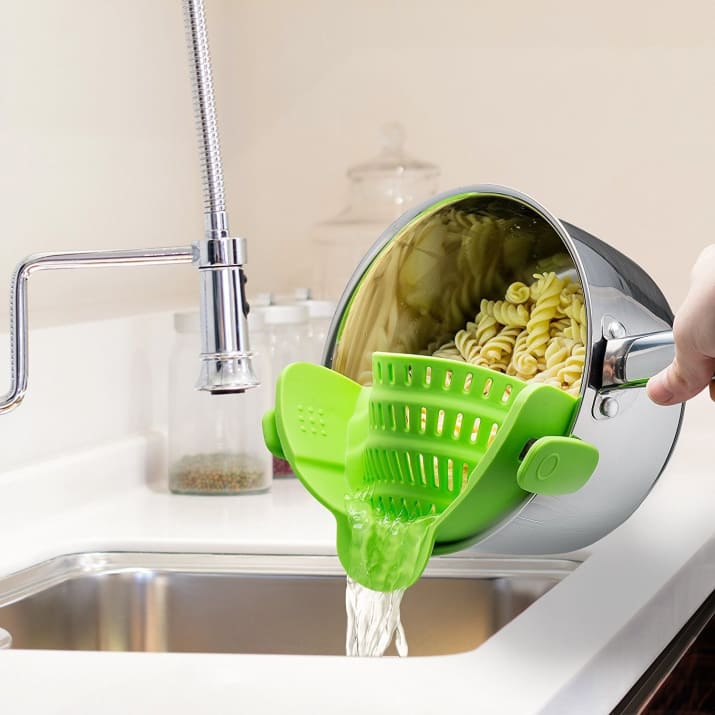 Look mom, one hand!
Promising review: "Oh my goodness. This strainer is WONDERFUL! I didn't have confidence that this gadget would actually work and I was WRONG. It works PERFECTLY! The clips really feel like they will last years and possibly forever. They don't seem like the type of clips that will give out soon and I love that. The material is actually quite thick and feels very high quality. This is not a chintzy plastic gadget. It's well made." —BlogReviewGirl
Get it from Amazon for $14.99+ (available in three colors)
21.A three-in-one avocado tool so you can whip up guac in record time and come out with all your fingers intact.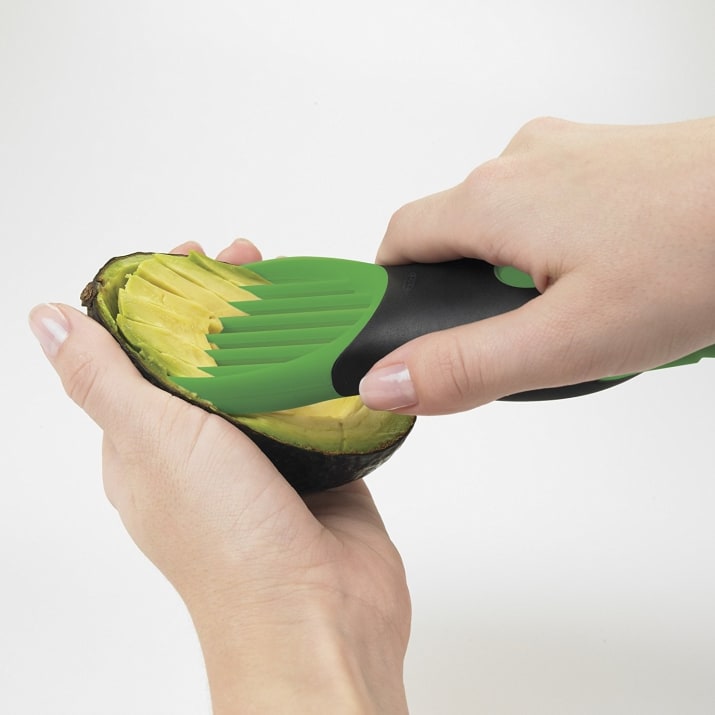 The beak-like appendage cuts open the avocado, the center circle takes out the pit, and the other ends scoops and slices the meat. Listen, you can do all this with a knife, but sometimes the knife slips after a few margaritas and then there's a lot of blood. Save yourself the trip to the ER!Promising review: "OMG! <3 <3 <3 I LOVE this 3-in-1 tool. I've been hesitant to buy it for the longest time but after getting a rather deep and painful cut on my hand while cutting an avocado I decided I had to try this tool. It took me about 15 seconds to cut, pit, and slice the avocado!!! It was crazy easy and fast." —Reader2008
Get it from Amazon for $9.99 (available in two colors).
22.A knork, or a knife and fork combo that puts the spork to shame.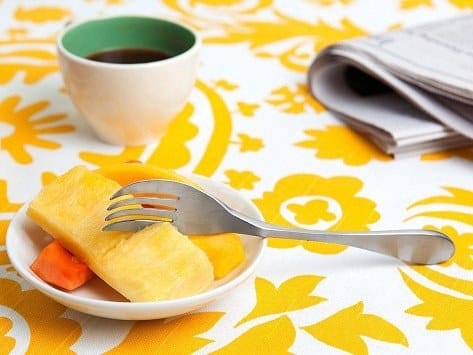 Promising review: "Knork is a wonderful utensil. You can cut and eat with it." —Tony
Get a 45-piece flatware set from Amazon for $137.26.
23.A spaghetti measuring tool to help out beginner cooks who are constantly making waay too much pasta for one person.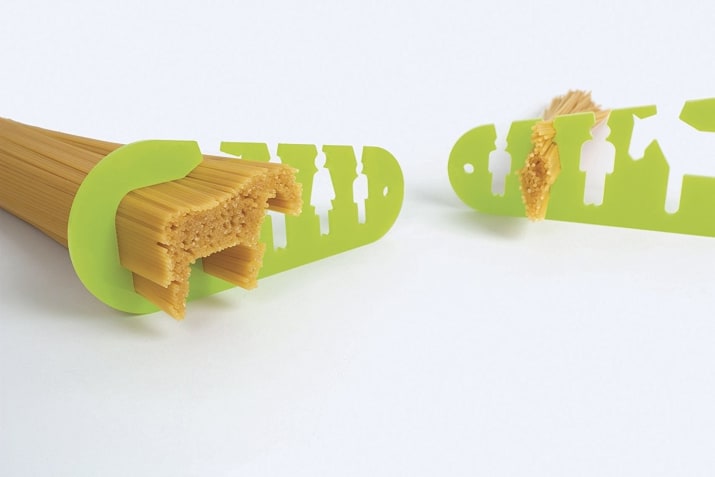 You can measure out four different sizes, whether you're feeding a child or hungry enough to eat a horse.
Promising review: "Perfect gift for my mom. She always makes too much food because she can never figure out how much to put in the pot. This will help and it's funny too. :D" —Breanna
Get it from Amazon for $12.95.
24.An angry mama that has literal steam coming out of her ears — steam that you can use to clean your microwave. Sometimes angering your elders pays off.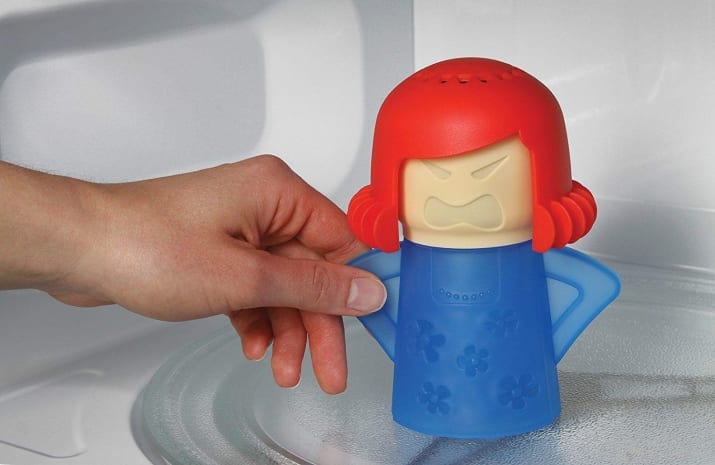 Fill her with vinegar or lemon water and then microwave her for seven minutes. After she's finished having a fit, the grime in your microwave will wipe right off.
Promising review: "Angry mama is awesome and hilarious! I couldn't help but laugh when I saw her online. She's super easy to disassemble and reassemble and the instructions are very clear. My microwave wasn't that dirty when I put her in, but when I took her out, the grime came off with extreme ease. I'd be interested to see how she does in a very messy microwave." —Nurse Kay
Get it from Amazon for $7.99
25.An olive oil sprayer so you can lightly dust your pan when you're sadly trying to eat lighter and healthier meals. RIP to your legendary 'Meat in the Grease' dish.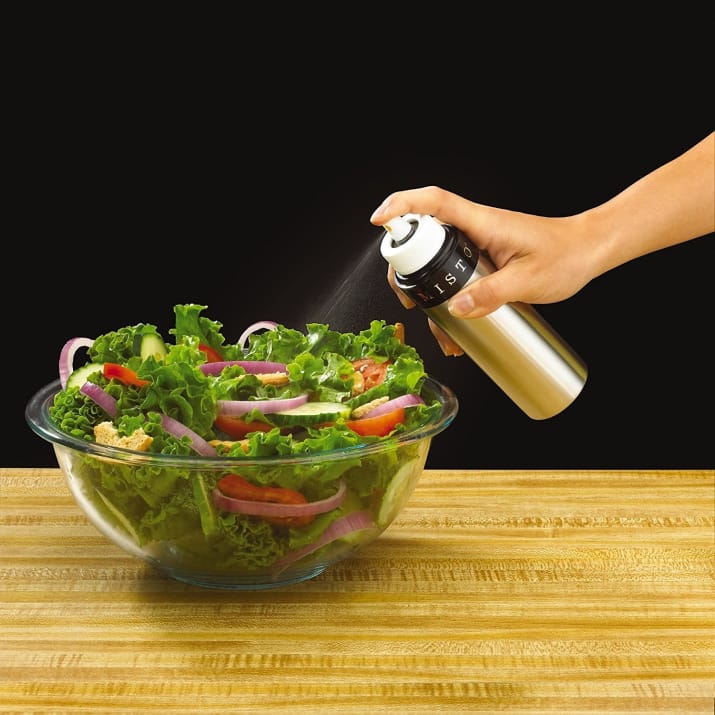 You can fill it with oils, vinegars, or lemon juice and spritz just about anything. It's refillable so it's also a healthier option for the planet. Smell ya later, PAM cooking spray!
Promising review: "What did I do before I found this thing? Oh, I remember, splash olive oil all over my vegetables to be roasted, and follow that with splashes of vinegar…now, I have one Misto with garlic infused avocado oil and another with vinegar that has been soaking up rosemary and thyme. (I also have one with my olive oil of choice, that I use to spray on my bread.) I not only use this for my roasted veggies but on my salads and proteins of all kinds. Now that they come in different colors it would be easier to have more than one. Don't fill more than half way and the pump spray takes getting used to but, it's a beautiful thing! Everyone should have one of these!" —FLSTCKT
Get it from Amazon for $7.99+ (available in two colors)
26.A pack of eco-friendly beeswax food wraps that offers a sustainable replacement to screaming at your tangled tube of cling wrap.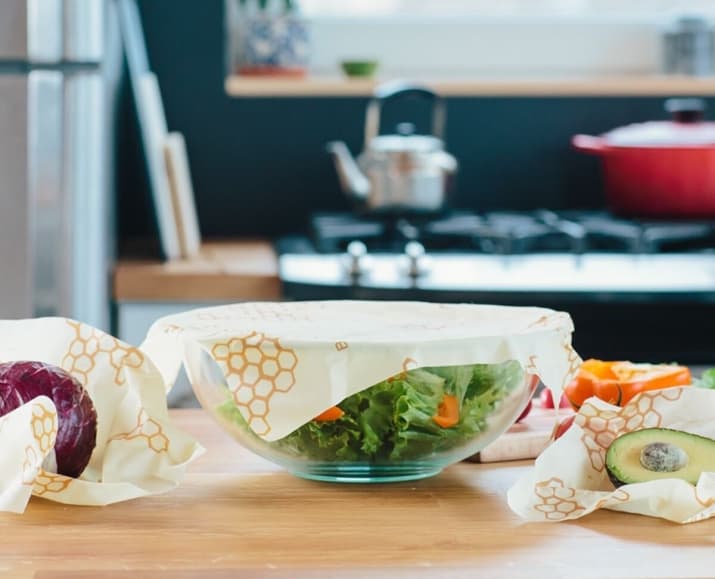 They're reusable and, thanks to the beeswax, cling to containers pretty nicely. Also, they just look cute with their honeycomb design.
Promising review: "I was skeptical. I was wrong. I have the large and medium size from this set. My favorite use for these wraps is for blocks of cheese. Cheese stays fresher and less likely to mold when it can breathe. When I wrap a block of cheese in this wrap it doesn't dry out and lasts way longer without molding — I'm talking weeks longer." —Specially Designed
Get a set of three from Amazon for $18 (available in three designs).
27.A splatter screen to protect your stove and your body from popping oil.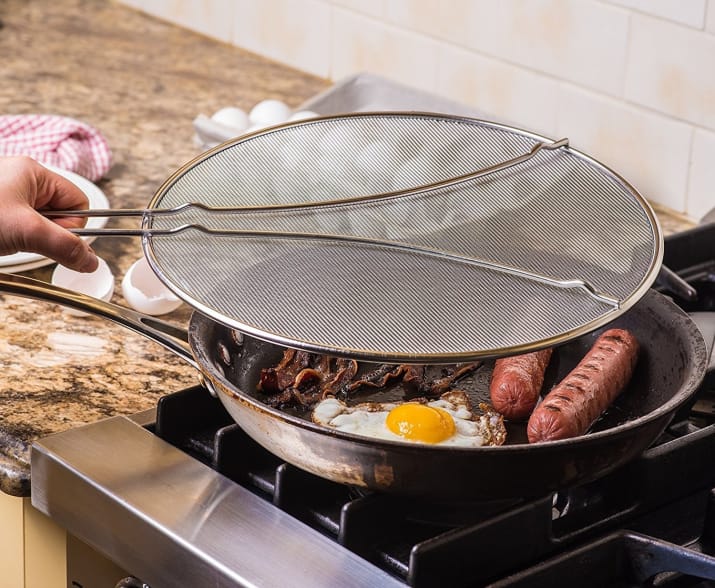 Promising review: "Before having this, I was previously using a splatter guard from the dollar store. There is a world of difference when using this one instead, and I believe it is worth every single penny. I can tell this will last me a long time and it's very durable. It's very sturdy, well-made, and prevents messes while cooking." —Chrono
Get it from Amazon for $9.99
28.A lucky iron fish that infuses your food with additional iron. It's the perfect pal for vegetarians or anyone who needs more iron in their diet.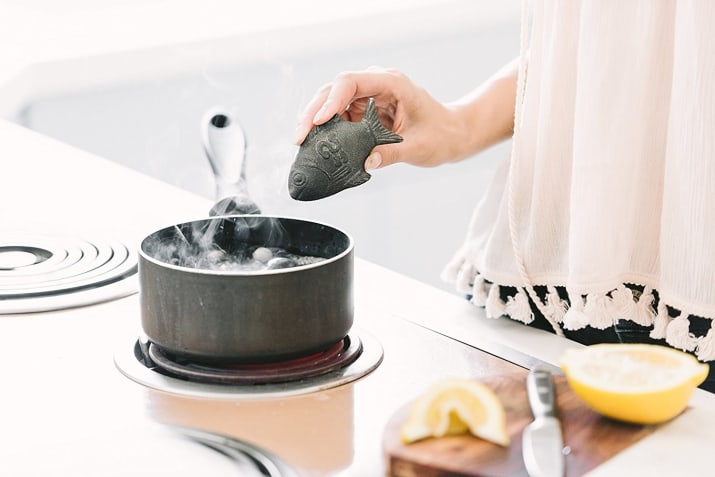 Boil your friend in a pot, fish him out, and then cook your newly infused meal.
Promising review: "Very pleased with the Lucky Iron Fish so far. It is easy to use, the water does not have any odd taste to it, and I feel like it has raised the iron level in my blood." —Lynelle G.
Get it from Amazon for $30.
29.A set of Himalayan salt shot glasses so you don't even need to put salt on your hand before a tequila shot.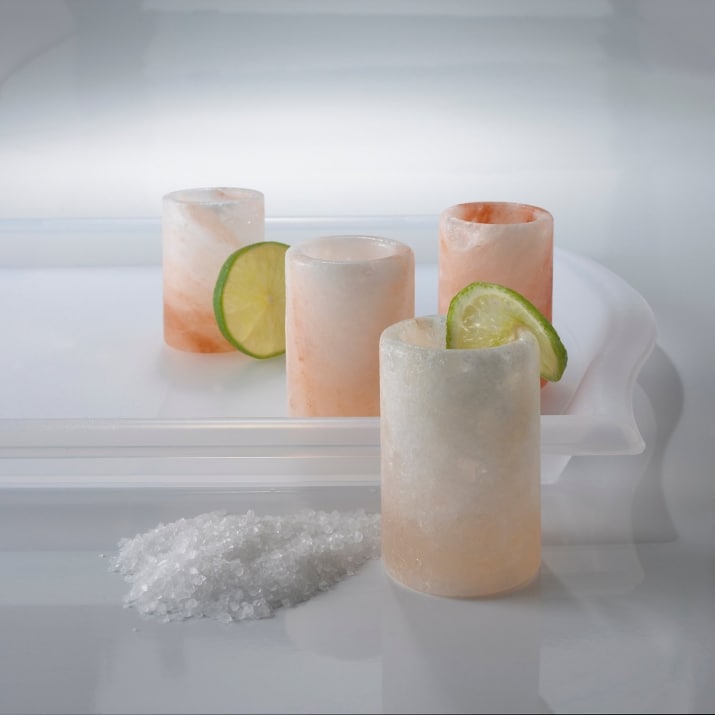 Promising review: "These shot 'glasses' are awesome. The taste you get when you finish a shot of tequila is excellent. You do need to be careful with them as they are some what fragile. Also to make them last you can't leave fluid in them. If you want to savor your tequila, you will need use a regular shot glass. These are only meant for a quick shot with a great finish. The salt is a wonderful flavor and you don't need to clean them as the salt is a natural disinfectant." —Doug Loney
Get a set of four from Amazon for $24.69.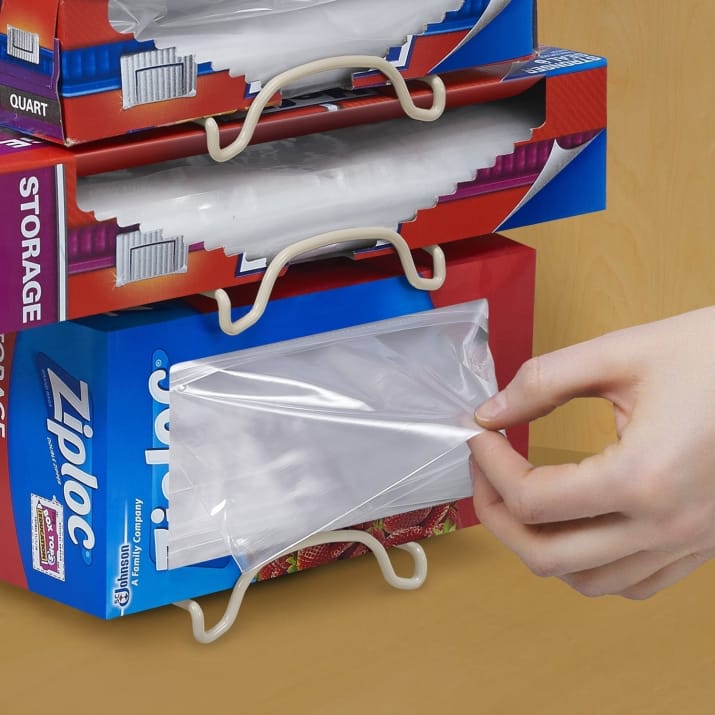 Promising Review: "Great adjustable design makes it easy to store any size box. It is extremely well-made. It's hard to find quality like this anymore and I appreciate it so much when I purchase something that I know will last forever. This one is a must for every kitchen." —Jennifer L BanahanGet it from Amazon for $14.99.
31.A spatula with a light in the handle so you can grill in the cover of darkness (so no one can ask for a bite of your food).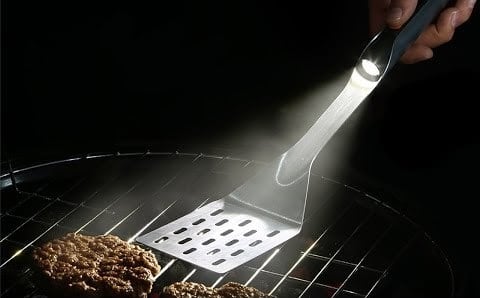 Get it from The Grommet for $19.95.
32.A pack of grilled cheese bags to ensure that you can cook your sammy in the toaster without setting your home on fire.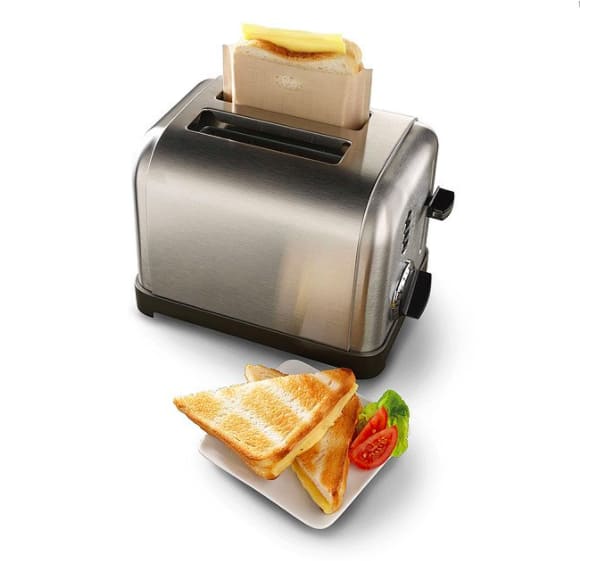 Get a pack of three from Uncommon Goods for $8.99.
33.And an iron throne for your egg so it can rule over the seven courses of your breakfast.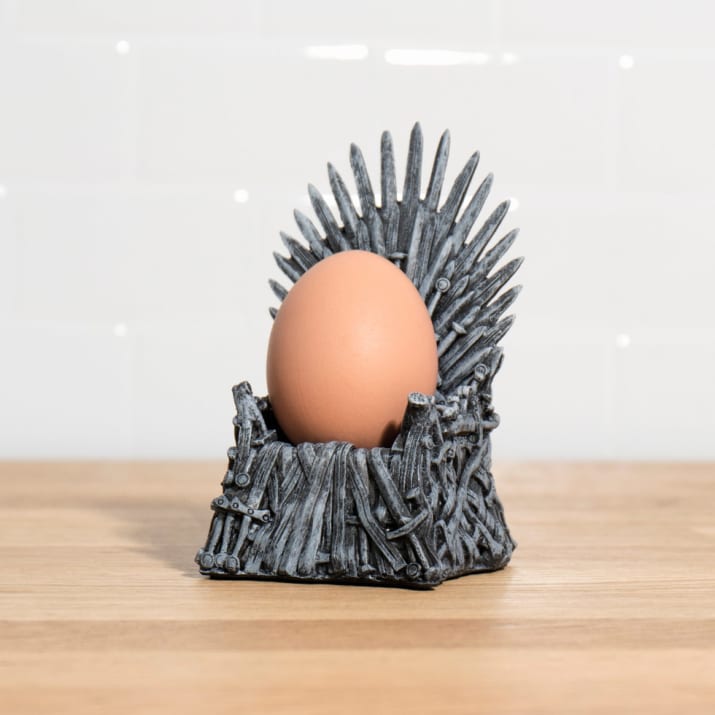 Get it from Firebox for $14.95.