1.
An inflatable pool float for your favorite summer activity, lounging in the pool and doing nothing all day long!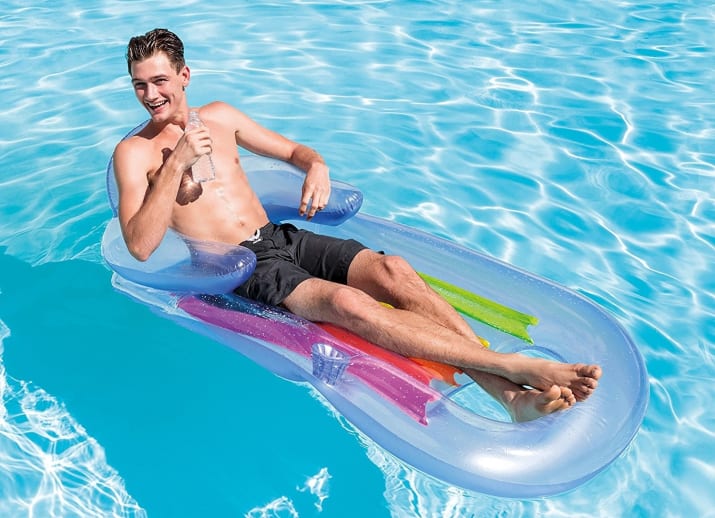 Promising review: "These are our go-to inflatable lounge floats for several years running. They are sturdy. I am a big and tall man and these keep me afloat for hours. Because the price is reasonable I buy two or three every year. Some for people in the pool and one for our Golden Retriever who likes to float on these also. I've tried more expensive inflatables for the pool but these are the best I have found for my needs. The dog has nails that can pierce thinner plastic but these hold up. Other brands/styles do not have the buoyancy that these King Kools do. I end up sinking in other brands because they are cheap. I like that you can put your legs through the large opening on the end and dangle your feet in the water or prop them up. Our dog likes the opening also, he puts his front paws in the water and periodically he dunks his snout and head in the water, its also a place to keep his tennis ball." —Karl
Price: $5.19 (available in two colors)
2.
A black picture frame to finally get started on that gallery wall you've been putting off hanging since you moved in last year.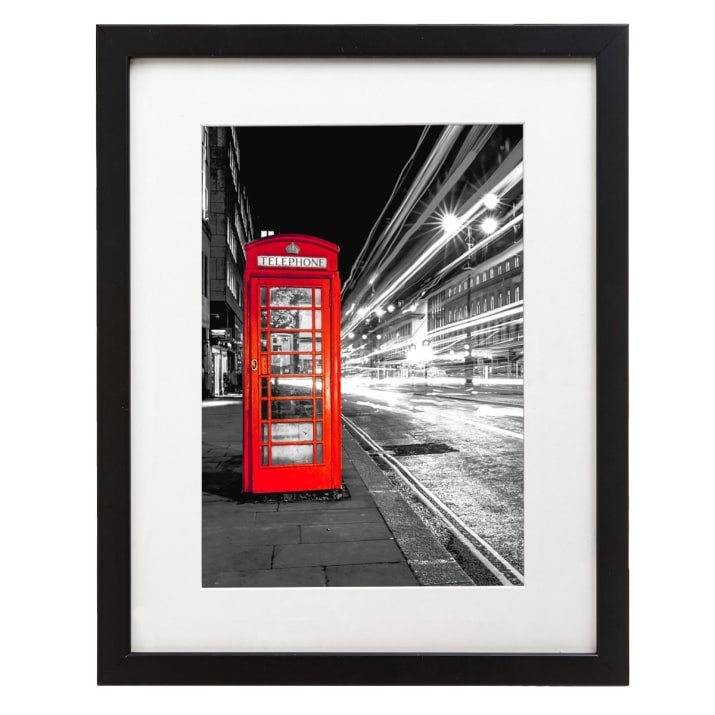 Promising review: "Fantastic little frames with a nice beautiful mat already in place! They are better than I even expected. Amazing value. I'm ordering more. I also love that the hardware to hang requires no tools, no drilling. Simple, solid, classy. I'm looking for more sizes!" —CM in NC
Price: $14.95+ (available in four sizes)
3.
A waterproof pocket-sized LED flashlight that can light up to 330 feet ahead of you so there won't be any surprises.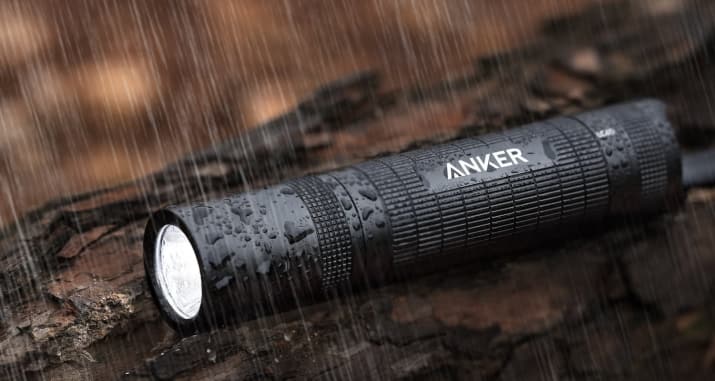 Has three settings: high, low, and strobe. Can use AAA or rechargeable batteries (not included).
Promising review: "I really like this flashlight. It's small and light, which makes it easy to carry around. It's very bright and provides a good amount of light. Not that you should, but looking into the light will definitely blind you. This in combination with the strobe feature that it has might come in handy to blind any sketchy people who might be trying to mug you. Lastly, the build quality is very good. This is no surprise since it is an Anker product after all. Overall, this flashlight meets my expectations and so far I'm very happy with it." —Walter F.
Price: $12.99
4.
A pop-up mesh hamper that'll fold up small when you don't need it.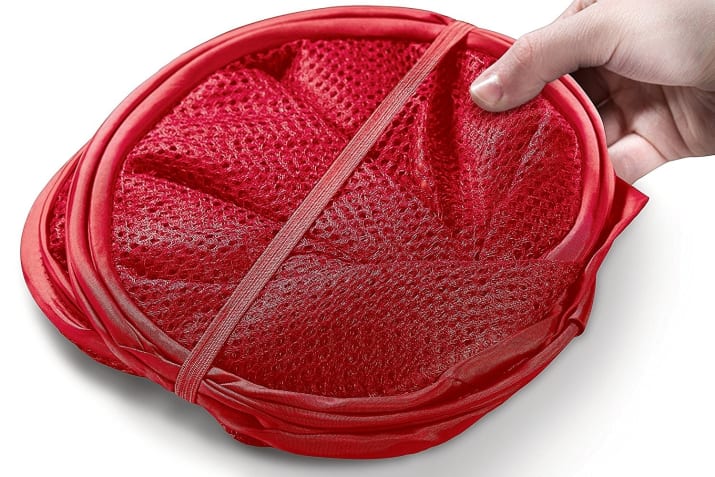 Promising review: "After my old plastic laundry basket cracked, I was somewhat taken aback by the price of a comparable replacement. I decided to try one of these, and I'm glad I did! First of all, because of its shape and handles, I can carry it with one hand, and as I am always carrying a lot of other stuff, that is a big plus. It even has a pocket in front that you can carry other stuff in! Secondly, because the stairwell in my house is narrow, it was hard to carry my old laundry basket downstairs without bumping into walls and doorways — not a problem with the new one! Thirdly, once the laundry is in the machine, I can fold this up and hang it from a doorknob. It probably won't last as long as a hard plastic laundry basket, but for the price, I can afford to buy another one!" —Bookfresser
Price: $6.99 (available in eight colors)
5.
A pair of mirrored aviator sunglasses for that cool Tom Cruise in Top Gun-style.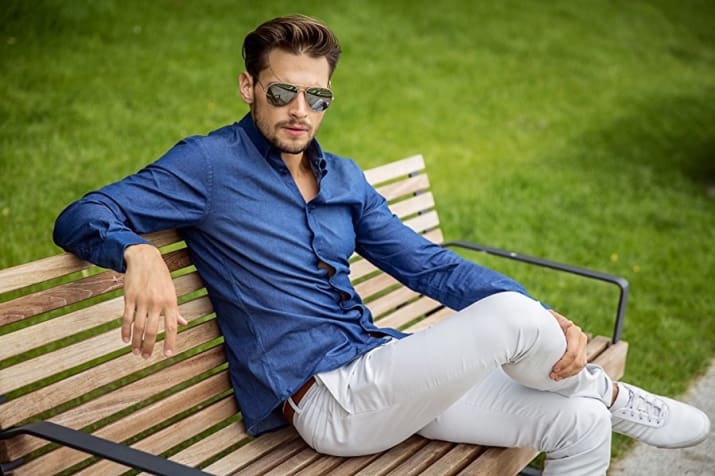 Promising review: "These sunglasses have turned out to be a huge bargain. Far better than anything I've had before, both in reducing glare, and protecting my aging set of eyes. It's hard to imagine getting the quality of lens, and very nice frames for a suspiciously low price. I'm a satisfied customer." —R. J. Nodes
Price: $9.99+ (available in six colors)
6.
A magnetic stud finder to save your walls from lots of unnecessary holes in your attempts to find the stud.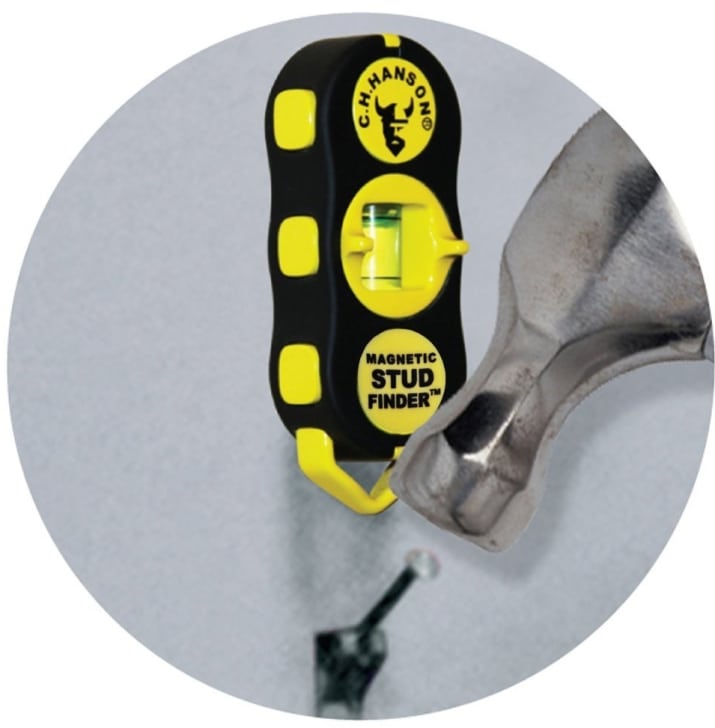 Promising review: "Ok, if you need a stud finder don't go spend $15–20 on one. Order this magnetic one. I bought a $20 stud finder that required batteries and ended up throwing it away because it wouldn't work and ordered this one instead. I didn't have high hopes since this magnetic one was so cheap but it's PERFECT if you are an amateur and not using it every day. I just moved and have been hanging a lot of things in my new place and this is perfect for finding studs. it's tiny and sticks to the studs perfectly. I can't say enough good things about this stud finder and I love that I will NEVER have to replace its batteries!" —Amanda
Price: $7.99
7.
An outdoor fire pit with a wildlife motif can give you that camping vibe without any of the pitfalls of actual camping.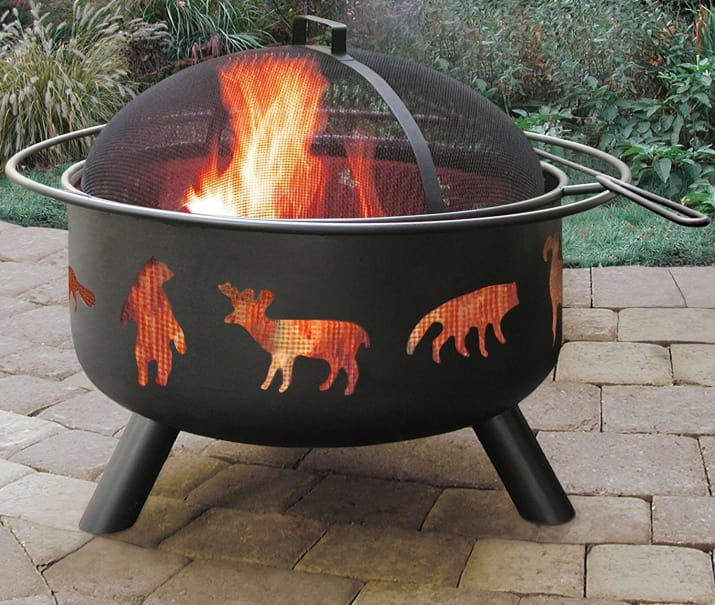 Promising review: "Stop everything and get this fire pit. I love it. I'm just going to say that this has to be one of my favorite items I own. The design rocks. The iron is solid. It's easy to assemble and easy to use! Every full moon we light up this lovely gem. It comes with a poker as well. Make sure to have a bag of sand or dirt on hand to pour into the bottom." —Amazon Customer
Price: $80.94 (available in two sizes, two colors, and three designs)
8.
A bottle of carpet shampoo that'll make that nasty mystery stain on your carpet go bye bye!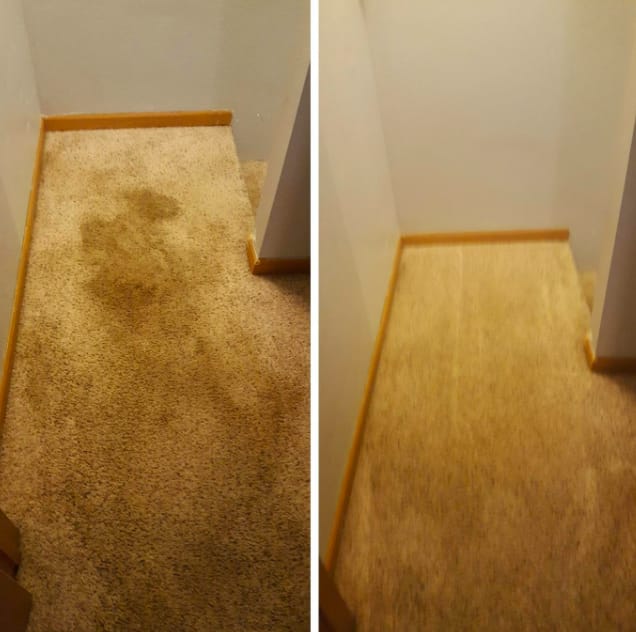 Promising review: "Absolutely love this product. I feel like I've tried everything on my carpets to no avail. After one cleaning and 24 hour drying period my carpets have never looked better. I would highly recommend even if there are pets in the household!!" —Melissa
Price: $22.99
9.
A vegan leather tote bag so stylish it may become your new go-to bag.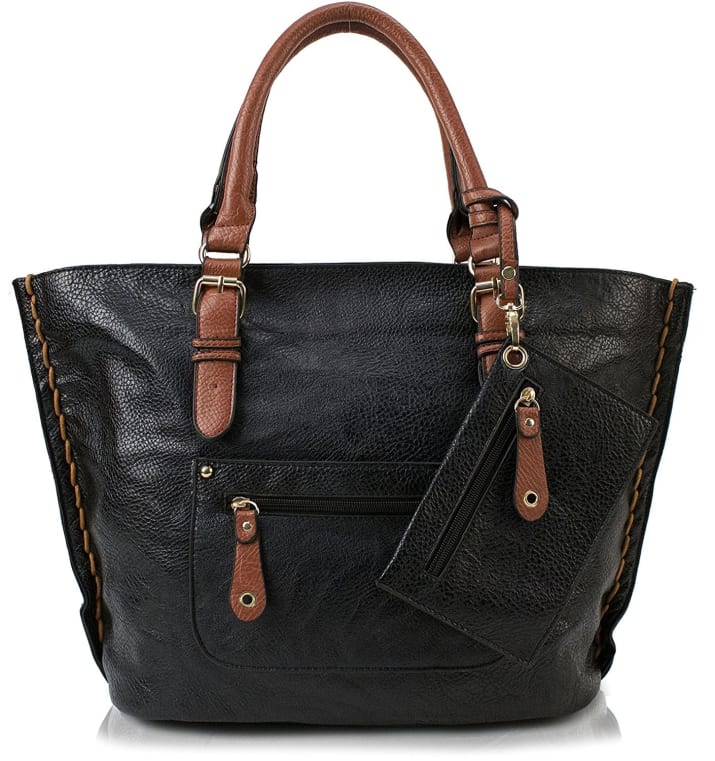 Promising review: "Wow. This bag is spectacular. It looks like it cost hundreds of dollars because it looks like the finest leather with hand stitching. Not only does it come with the small zipper bag and the long detachable strap, but there's a medium zip bag too, perfect to put makeup in. Has tons of room and pockets. I want one in every color." —Karenina
Price: $9.99 (available in four colors)
10.
A digital bathroom scale with numbers large enough to see even if you're checking when you're sleepy AF and bleary eyed in the morning!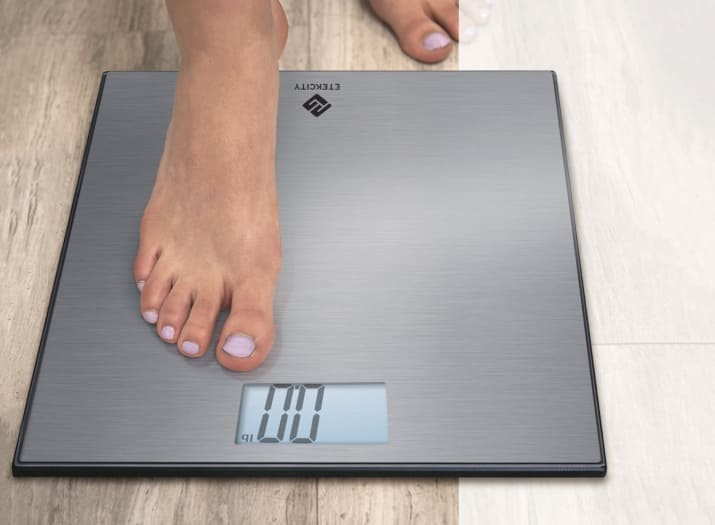 Promising review: "I love the brushed steel look of this scale. The grey silver blends-in most decor color schemes and looks so sharp in person! The dial is bright, large, and legible. I particularly enjoy the simplicity of this scale. There are no complicated functions or buttons to press or memorizing different people. My previous scale had all that and these features were just not used in our house anyway. It also helps that it uses two AAA batteries, so I can use rechargeable batteries on it." —Samsonid
Price: $21.99
11.
A toy airplane that's dishwasher-safe (so you can clean it up just as quickly as your kid dirties it).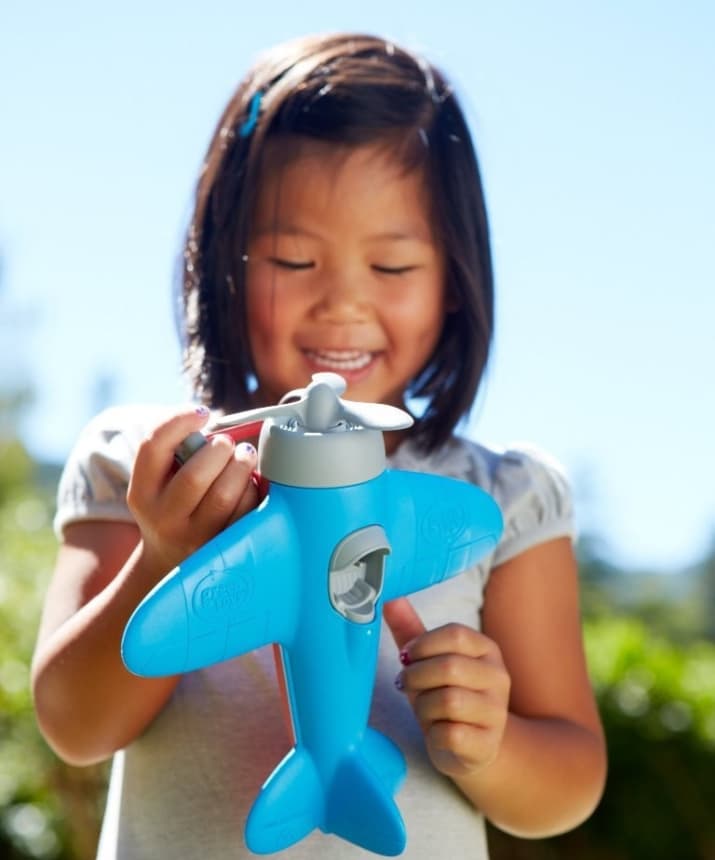 Promising review: "I bought a few things from the Green Toys brand while shopping for my son's first Christmas. I bought four different items, including this plane. I LOVE these toys and so does my 9-month-old son. They are super durable and heavy duty but not like the old-style toys from when I was a kid. These can take a beating but don't weigh 20 lbs., and are made of plastic rather than metal. My son throws these all around and loves crashing them into everything. I really love that they are made up completely of recycled plastic and made in the USA. That's just an awesome concept, especially for a children's toy brand. I have been recommending these to everyone and will continue to buy more from this brand down the line." —Lindsay D.
Price: $11.87
12.
A plant-based screen cleaner to make your screens look as good as new without any harsh chemicals.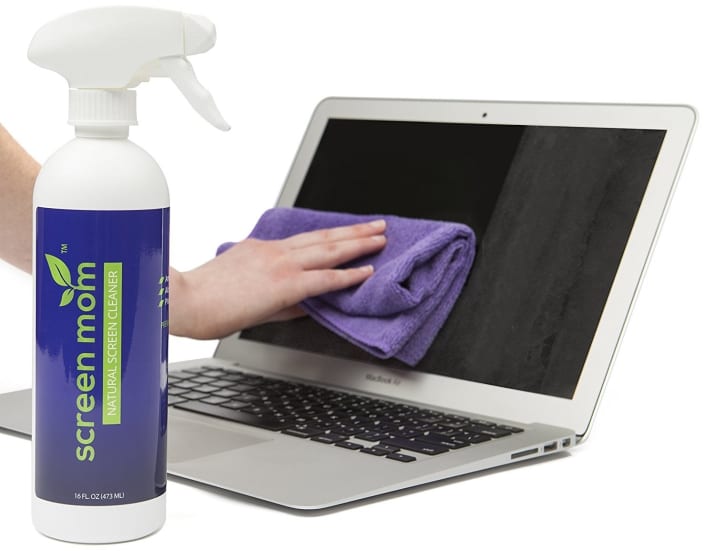 Promising review: "I have used a variety of screen cleaners over the years. However now that I am a parent I'm cautious of the chemicals that I bring into my home. I decided to give Screen Mom a try primarily because it is an organic plant based product. While I want a product that is safe for my family and gentle on my expensive electronics, it must be strong enough to clean all of the sticky little finger prints off of my TVs and computer screens. After receiving the product, I was impressed by the robust bottle and the trigger sprayer has proven to be much faster than the push top version. Screen Mom stepped up to the task of cleaning all of my devices and left a non-greasy streak free finish. I especially liked that there was no chemical odor and I feel better knowing that I am using a natural product." —J_P
Price: $16.95
13.
A shampoo brush — it could be the exfoliator you need to get rid of dandruff once and for all.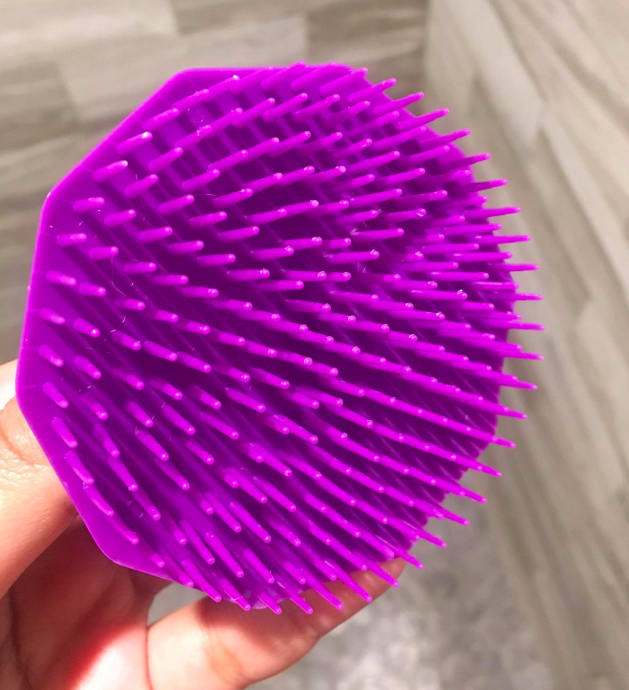 Promising review: "I never knew something so small and cheap would be the answer I'd been looking for. Seriously, if you have dandruff, you need this. I was going through so many different shampoos and scalp treatments trying to find something that worked, and nothing did. I read another person's review that said it helps wash and rinse better, so there's no buildup or residue, and you're left flake-free. Made sense, so I decided to try. Sooo glad I did! I don't have to use harsh, chemical-smelling shampoo anymore, I can just use the brush and a light tea tree shampoo (that wasn't working before the brush). It's like a nice scalp massage in the shower, and because it stimulates the scalp, even my hair is growing in thicker. The first week though, the flakes were worse, because the brush was scrubbing them off, so don't get discouraged. After that though, not one flake! I'm never going without this again!" —Circusmind
Price: $2.77
14.
A 50-liter trash can with a locking lid so pets and children can't get in and wreak havoc on your home with everything lurking inside it.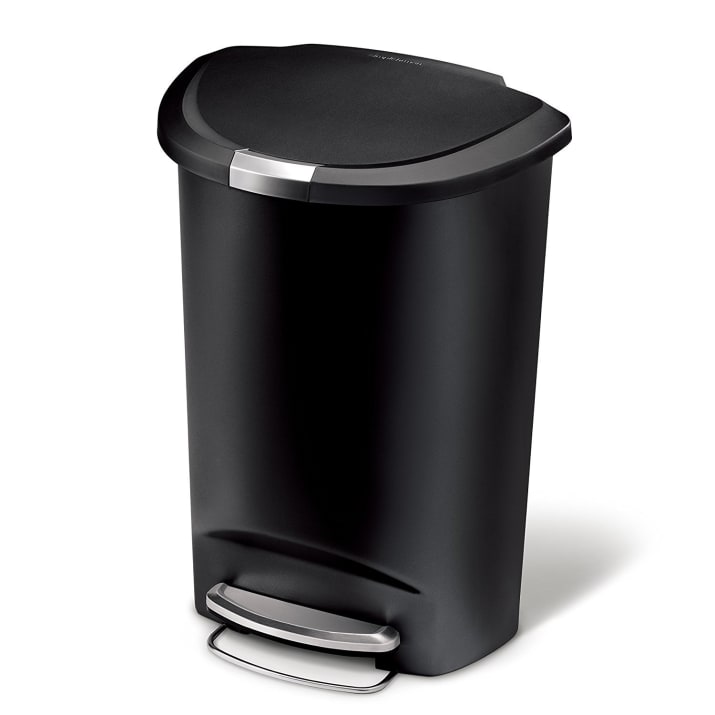 Promising review: "It is hard to believe that a trash can could make such a difference in one's life, but then again, it is used many times throughout the day. Our old can was stainless steel, but had gotten dinged and damaged from our dog getting into the trash when we were not home. This new can is plastic, but it looks nice and I don't have to polish it like the stainless one. The foot pedal is easy to depress and the lid opens nicely and then closes slowly. My favorite part, and the reason I ordered it, is that it has a lock on the lid that does lock very securely. I was skeptical that it would be tough enough to keep out our large German Shepherd, but so far so good!" —Tammy Pugh
Price: $49.99 (available in four colors)
15.
An elevated dog feeder with storage — it may help reduce the neck muscle strain your dog gets from bending to scarf down their food.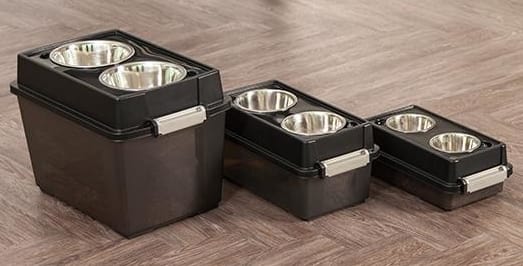 Promising review: "I bought this for our aging 110 lbs. shepherd mix breed and he absolutely loves it. It confused him at first, 'Hey Dad, why's my food so high?' He would take a mouth full of food and drop it on the floor to eat. After a couple days, he realized, 'I can just burry my face in and chow down.' I bought the large size and it fits him perfectly. The large is definitely meant for the taller breeds as my pup is a tall muscle machine. The hinges are sturdy and it does seem to seal airtight. The giant bag (40 lbs I think) fills it up to the brim with just enough room for a scooper. I love that he no longer has no bend down to eat (he's an old man turning 10 in a few weeks) as large dogs are prone to hip/joint issues." —Ga4rd2en0er
Price: $10.59+ (available in three sizes)
16.
A ceramic curling iron for creating stunning looks worthy of the red carpet.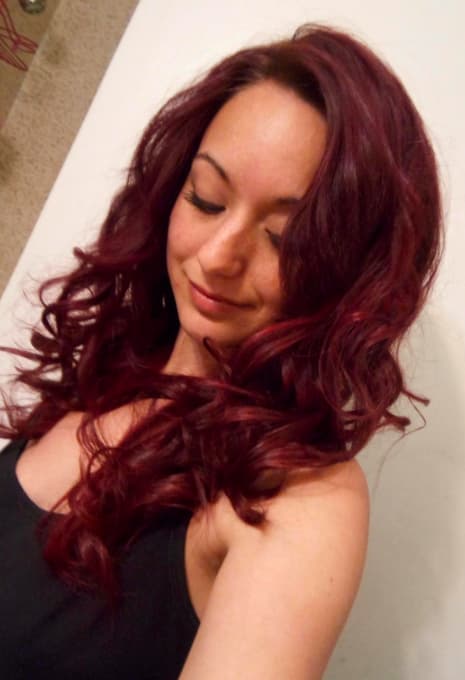 Promising review: "I love it, my hair is naturally curly and layered so I needed an iron that could handle my hair. This curling iron lets me create beach waves, tight curls, or just a sweeping flip. I like the control of heat settings; this makes it easier to do bangs at a low temperature and the natural curl at a higher temperature. The iron is lightweight, making it easier to hold and curl your hair, the style remains all day and even into the next day, with no frizz. I highly recommend the Infiniti Pro by Conair" —Marie
Price: $14.49+ (available in four sizes)
17.
A wall-mounted TV console — an amazing space saving solution for anyone living in a tiny apartment.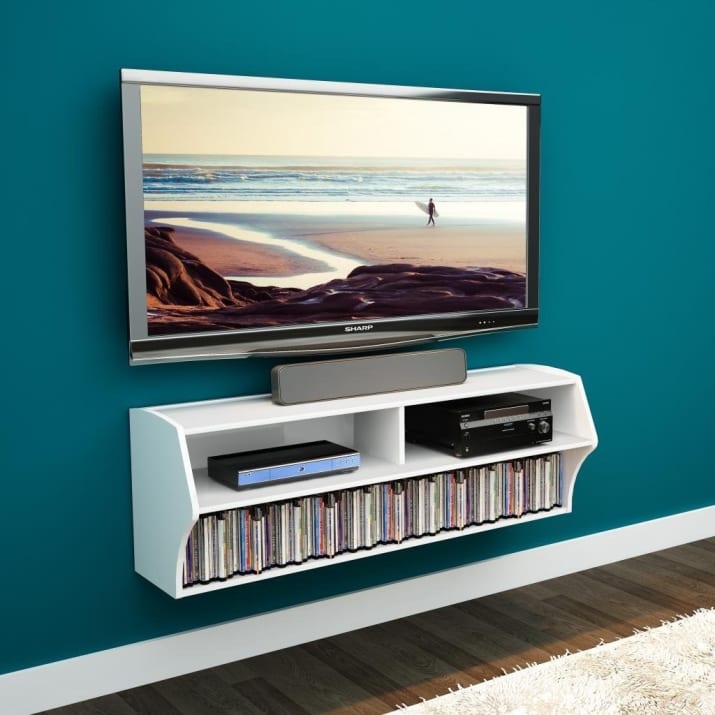 Promising review: "I purchased this to mount on my wall under my 48" TV that was already on a swivel mount. I had a two-year-old running around and a four-month-old to keep happy while I was assembling this. Mind you I am NOT very assembly savvy whatsoever, but I did it all by myself! It took me less than an hour to assemble and put the first piece on the wall. I had to have help lifting it to mount on the wall but it was a breeze! I was nervous ordering something this large online without seeing it in person before, but this unit is awesome! I love the three compartments and the hidden cord storage in the back. It even came with a touch up marker to fix any spots that you nick while assembling. Great buy!" —Brittany
Price: $103.42 (available in four colors)
18.
A wood TV tray set in case you're binge-watching a show and just CAN'T pull yourself away from the TV, even for food.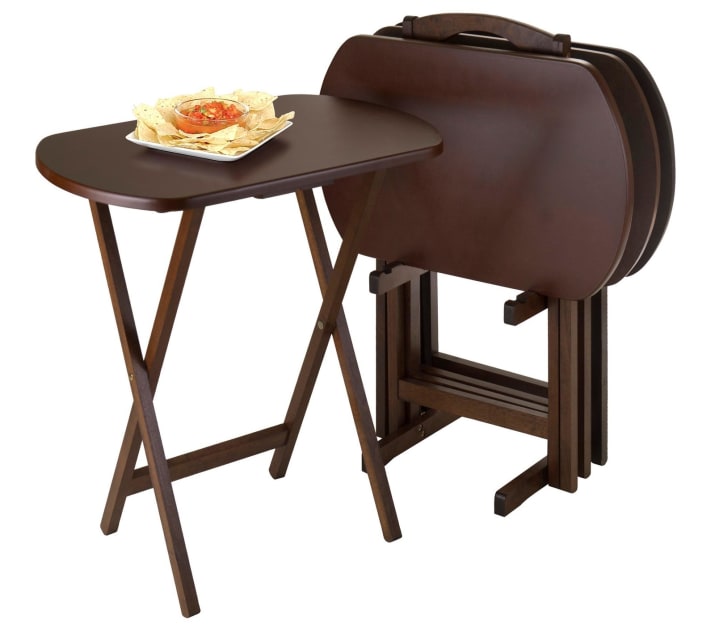 Promising review: "Very nice tables. I use them every night at dinner for my husband and I while we eat and watch TV. They're easy to maintain. You just wipe clean with a damp cloth. They're very durable and look great. I keep the rack in corner of family room where I can easily put tables when not in use. Very handy!" —Gail Buckley
Price: $67.86
19.
A tie/belt organizer to help you make better use of your closet space.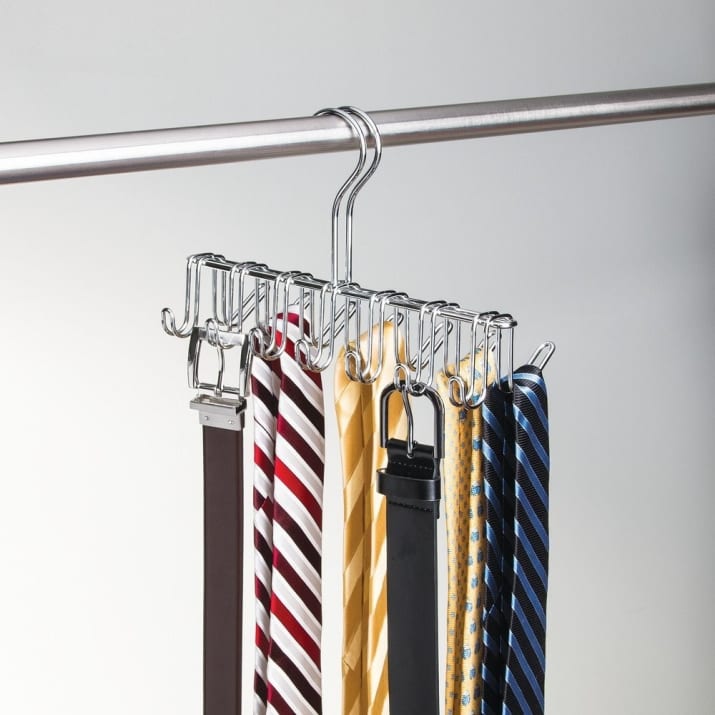 Promising review: "Perfect price! Does the job! I don't know why I didn't buy one of these or two a long time ago. My belts were taking up so much space in my closet and it looked like a clutter catastrophe! This little rack holds a ton of belts. I have 30 on there and there is still a ton of room for more." —A_Diva
Price: $8.83
20.
A pair of socks that'll say exactly what you're thinking for you.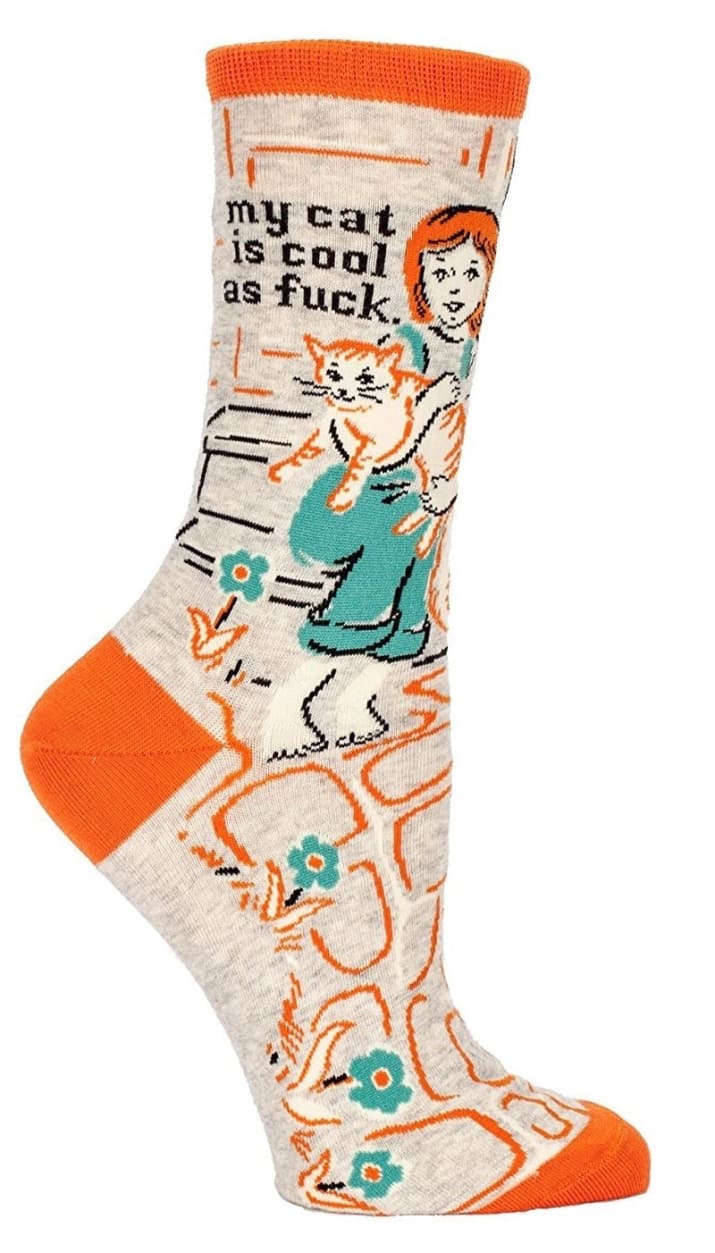 Promising review: "I love these socks. I secretly wear them to work because no one can see my socks and it makes me smile. They fit perfectly. I have worn and washed them several times and they are holding up well. The colors are still vibrant and no holes. After washes they do get that slightly shriveled look that dress socks get but look normal once on your feet. I have many pair of Blue Q socks and will probably buy many more." —Amazon Customer
Price: $10.99 (available in 35 colors)
21.
An LED floor lamp shelf for killing two birds with one stone.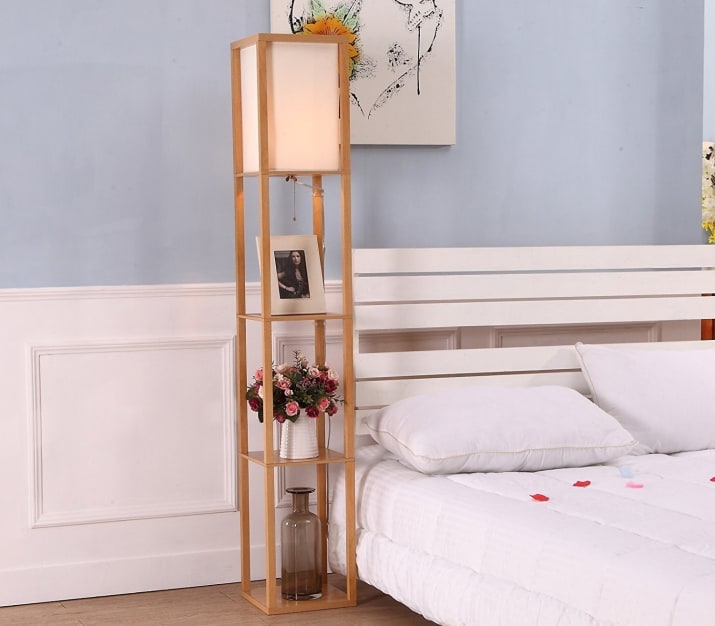 Promising review: "I love my new lamp. It was easy to assemble with a screwdriver. I like that clips come with it so I can hug the cord against the side of the lamp facing the wall in order to hide it and keep it from distracting away from the items I put on display. Even with the shade the room is nice is bright when I have the lamp on. I used the bulb that came with the lamp. I would definitely recommend this lamp for anyone who needs excellent lighting and wants to display some personal treasures." —Samantha Jones
Price: $54.99+ (available in four colors)
22.
A face moisturizer cream that may help improve the texture and elasticity of your skin.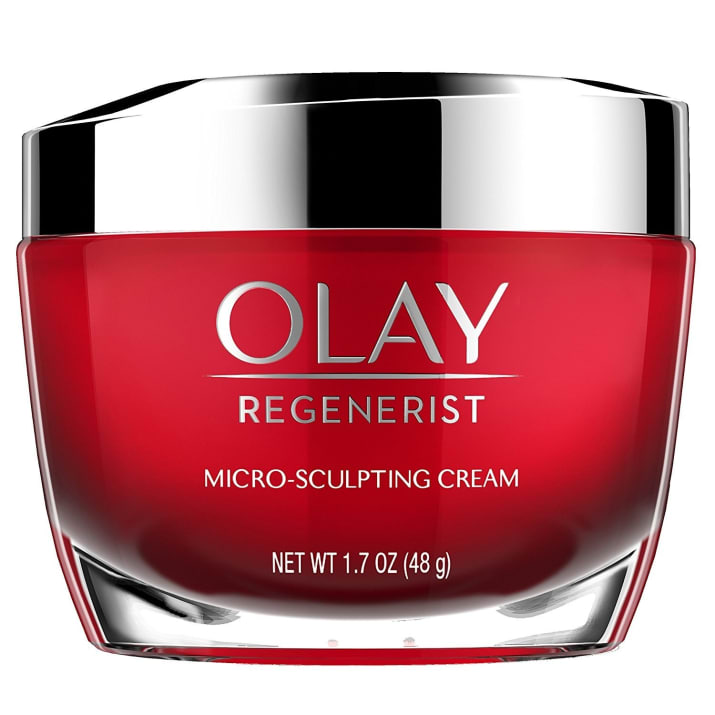 Promising review: "It was 100% better than any other facial cream. It lasted nearly five months. It's totally worth it. I used it every night before bed and every morning before leaving the house. It has slowly made my face appear more youthful and less blotchy, less dry, less wrinkled. I before had a problem with my face having discoloration spots. I had dryness that was the equivalent of having eczema, and horribly wrinkled areas and under eye rings. I just ran out this morning and will be buying another jar. Pretty good for just needing two jars for 10 months." —Miss Blonde
Price: $24.94
23.
A 1950s-style sleeveless dress — it's a glorious mix of sexy and glamorous.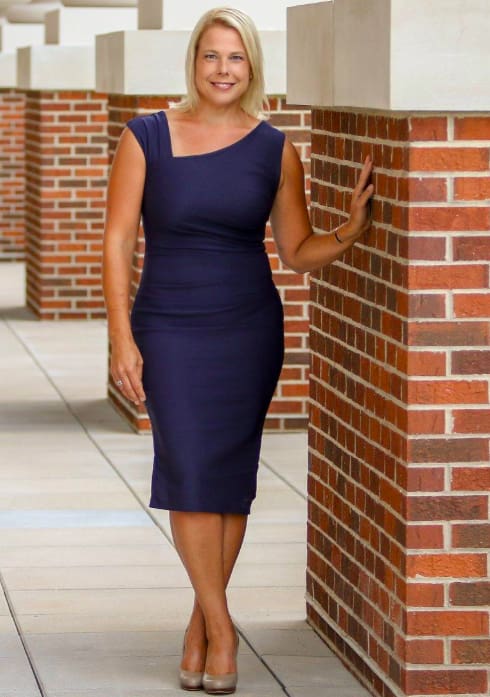 Promising review: "This dress was a big hit. It fits very well. I ordered yellow and it is actually a beautiful bright yellow. I got tons of compliments and heard the words 'sexy' and 'classy' all night long. I am 5'2″ and 124 lbs., I ordered the small. Highly recommended." —Lovelybrown
Price: $29.99 (available in 13 colors)
24.
A set of two bed pillows that'll feel like sleeping on a comfy cloud.
Promising review: "Very good. I was hesitant to purchase pillows online without having felt them, but even when buying in person it is difficult to judge how a pillow will feel under your head on the bed at night. These are the right size to fill the space and the pillowcases, and the quality seemed good in the description. The reality is that they are much better than I imagined. They are somewhat puffy, but they are also soft and resilient, so that when you lay your head on them, they collapse down, but not too much. They offer support and softness simultaneously, making them, in my opinion, the ideal bed pillow." —Applewhite Minyard
Price: $36.99 (available in two colors)
And now it's time to…