Amazon offers a 30-day return period, certificates of authenticity, and complimentary ring resizing with most orders. We've outlined a few essential tips to make sure you pick out the right ring and rounded up some of our favorite styles below.
The 4 C's
When you're in the research stage of finding the perfect ring, you'll want to understand and examine the so-called 4 C's of engagement rings: carats, clarity, cut, and color. The cut of the diamond actually refers to the proportion and angles of diamond–not the size. Clarity refers to the quality and level of impurities a diamond has. Note: fewer impurities=more expensive and shinier. Carat refers to the weight of the diamond, and the color refers to a slight hue the diamond may have. This is judged by a color scale from D (colorless) to Z (yellow tint). The less color a diamond has, the more expensive it will be.
 Know Your Budget
The general rule of thumb when determining the appropriate amount of money to spend on an engagement ring is about two month's salary. This standard is of course flexible, depending on the couple's style, financial position, and other personal factors. Fortunately, if you're not in the position to spend more than $1,000, there are plenty of beautiful and high quality rings available. Make sure to read the description thoroughly, and check to make sure that resizing and returns are accepted before placing an order.
1. 
Moissanite Diamond Accent Halo Engagement Ring
This classic diamond ring features a rounded square-cut seated on a delicate 10k white gold band. This universal style makes a statement without looking overly showy.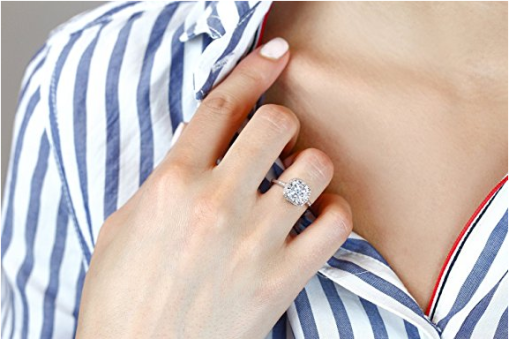 Buy: Gem Stone King Moissanite Engagement Ring $459.99
2. Round Cut Bezel Engagement Ring
This simple engagement ring is ideal for women who prefer a more modest ring that doesn't make a huge statement, but still has a bit of sparkle. This simple ring feature bezeled diamond on an, on-trend rose gold band.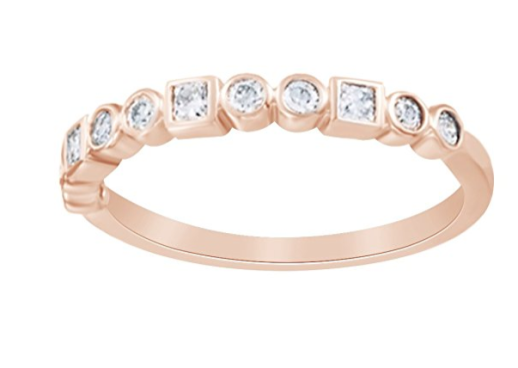 Buy: Affy Natural Bezel Diamond Engagement Band $562.19
3. Chandni Jewels Split Shank Diamond Ring
This stunning 14K ring offers a unique design with a split shank band that offers an art deco appeal while still looking modern. The center stone is a 0.37 Carat, giving off an ultra dazzling effect in the light.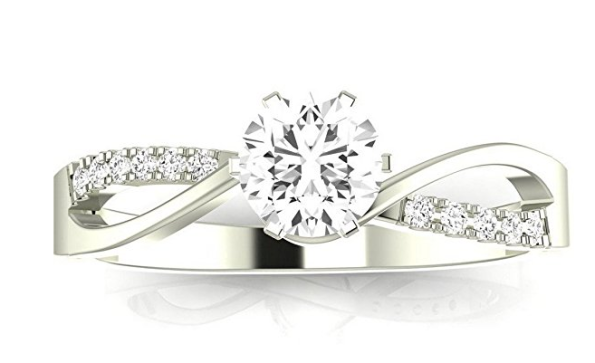 Buy: Chandni Jewels Split Shank Engagement Ring $750.00+
4. 14K White Gold Diamond Engagement Ring
This classic style features a center 1/2 carat diamond cut in a round shape. The diamond has also been IGI-certified, and been assessed and authenticated by the International Gemological Institute's expert gemologists.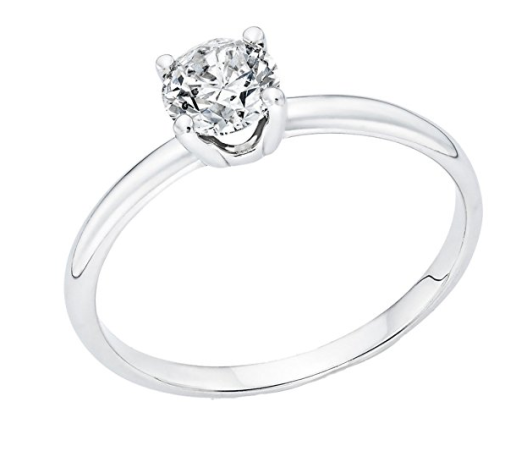 Buy: NDStore 14K Classic Engagement Ring $699.99
5. Classic Halo Engagement Ring
This classic halo style engagement ring features a center stone with a 0.75 carat rating. The 14 K rose pave band is encrusted with side stones that have a clarity rating of SI1-SI2 and a color rating of G-H.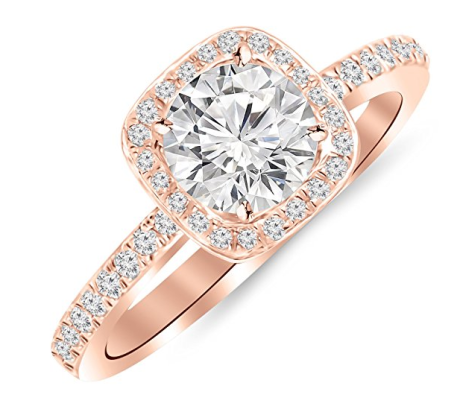 Buy: Houston Diamond District Classic Halo Engagement… $1,753.00+