1. John Frieda Hot Air Brush — a total game changer for babes yearning for a pro blowout look without cramping their arm or using a flat iron.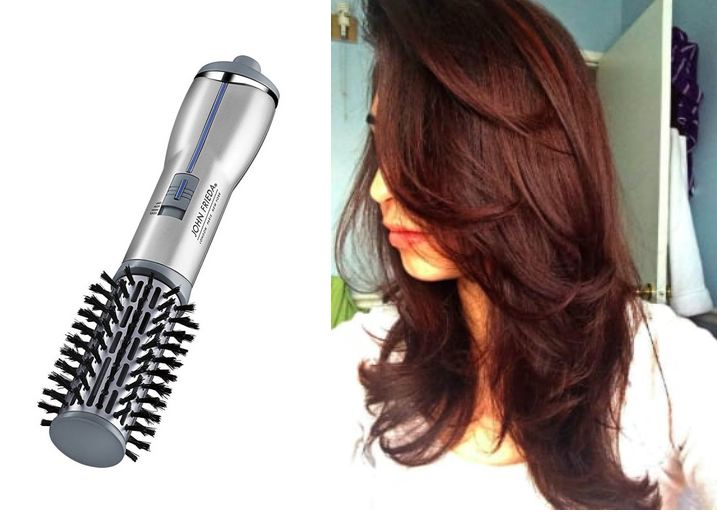 Promising review: "I got tired of trying to do a professional blowout on myself using my hair dryer with a regular round bush. After searching for a hot air brush I came upon the John Frieda brand and was amazed by the reviews, so I decided to give it a try. I recommend letting your hair air dry first and foremost. If you're like me and it takes your roots forever to dry, then go ahead and use your regular hair dryer with the flat nozzle thingy to dry your scalp first and just let it air dry. I was extremely happy with how easy it is to use. I am always pleased with the results. At times I even do the Kate Middleton blowout!" —Jasmine
Price: $34.99+ (available in 1″ or 1.5″ barrel sizes)
2. DevaCurl SuperCream to give your natural curls the boost and definition they crave, without ingredients like sulfates, parabens, and silicone.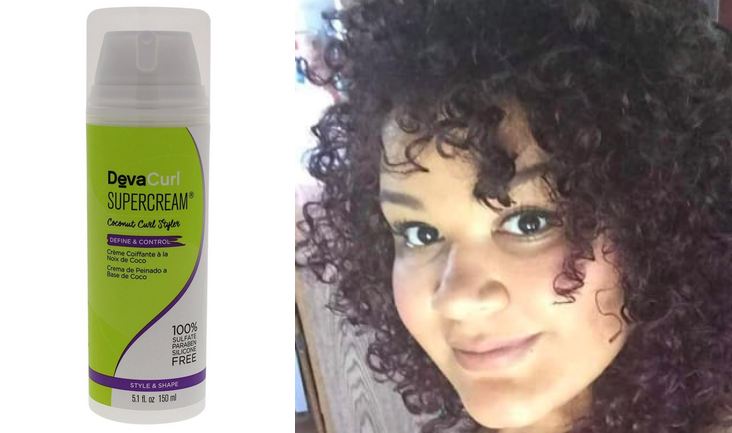 Promising review: "YES, YES, YES! Finally I found a curling cream for my natural hair. I'm am black (not bi-racial) and have between 4a and 3c natural hair. This product works so well! I find it works best when used on wet hair to do twist outs overnight." —Amazon Customer
Price: $18.09
3. An Invisibobble hair tie for pulling your hair out of your face without suffering the consequence of unsightly hair dents later.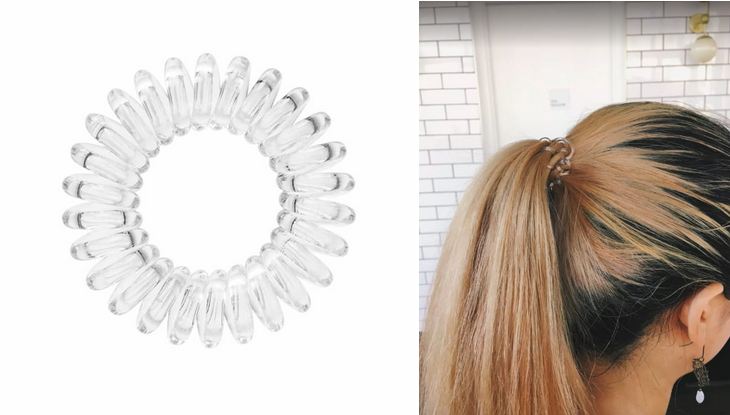 Promising review: "I'll never wear any other ponytail holder! These work so well! My hair doesn't break and I'm constantly wearing it in a bun. I was surprised how well these worked and held my hair tightly in place. The best part is that after a day they shrink back to the size they originally started as." —Sarah
Price: $7.95 for three
4. A Scalpmaster shampoo brush that'll do wonders for detangling your strands and make your scalp feel ohhhh so good.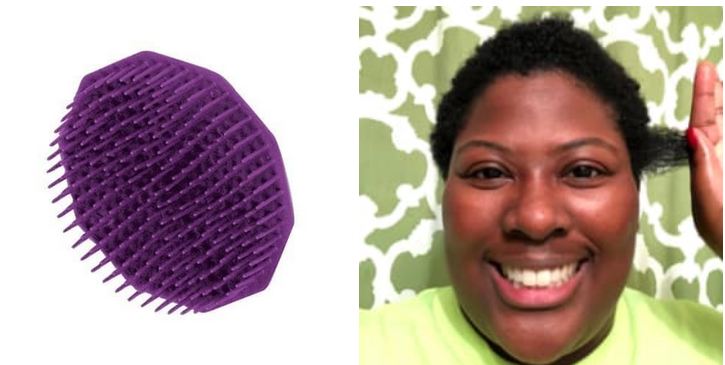 Promising review: "OH MY GOODNESS!! I absolutely LOVE these shampoo brushes for detangling (I also use them for scratching my scalp if I have an itch while detangling). I have type 4 tightly coiled, kinky hair and these work PERFECTLY for detangling my hair type without ripping out my hair." —💜Kiki.L.G💜
Price: $2.77
5. Michel Mercier Detangler to get your locks looking right from the start because you don't have Marsha Brady time.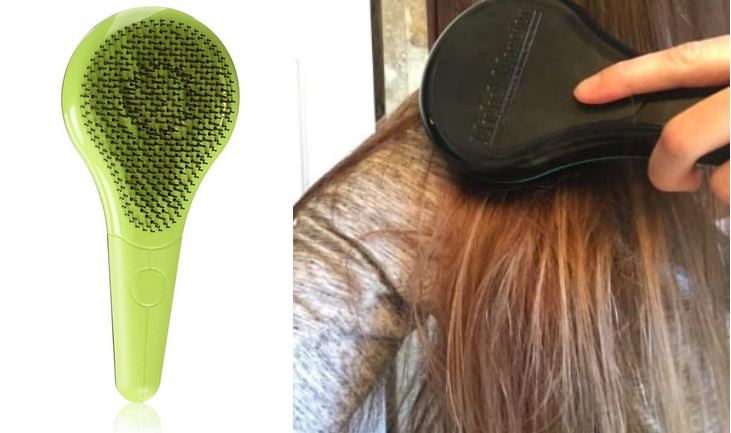 Promising review: "Absolutely love these brushes! I have one in my bathroom, one in my purse, and one for my 2.5-year-old daughter. This brush gets out her tangles with no tears or whining! Others got stuck and brushing was a nightmare. Yes, it feels cheap. Yes, it makes a hollow, horrible sound while brushing. But it works! It doesn't break or pull your hair. I was skeptical because of the cheesy commercials, but I just love these things. My daughter and I both have long, fine hair that tangles easily." —H. Devaney
Price: $13.10 (available for fine, normal, or thick hair)
6. Berta Hair Curling Iron as a budget-friendly solution to finally achieve the beach waves of your dreams.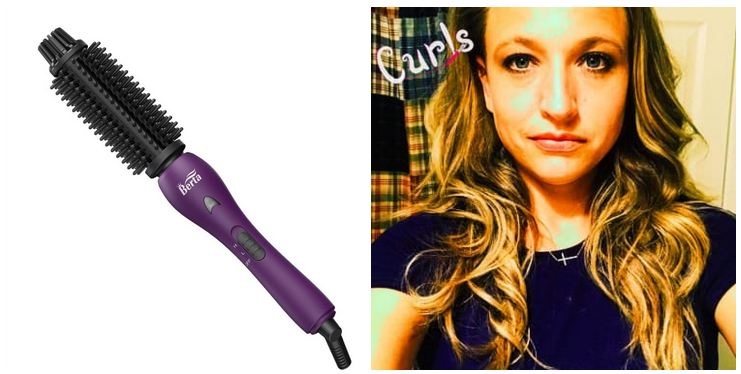 Promising review: "This curler is AMAZING! For anyone who knows me (even a little), you know I always have my hair up! I love beach waves, but I HATE fixing my hair and have ZERO skills when it comes to it. But this is so simple! It took me about 10 minutes to do and this was my first time ever using it on my hair. (Pic was taken about four hrs after curling and still going strong!) Couldn't be easier, curls hold, and are the perfect wave. AND IT'S SUPER CHEAP!" —KVardell
Price: $25.99
7. Lime Crime Unicorn Hair for a serious dose of color without having to remodel your bathroom afterward.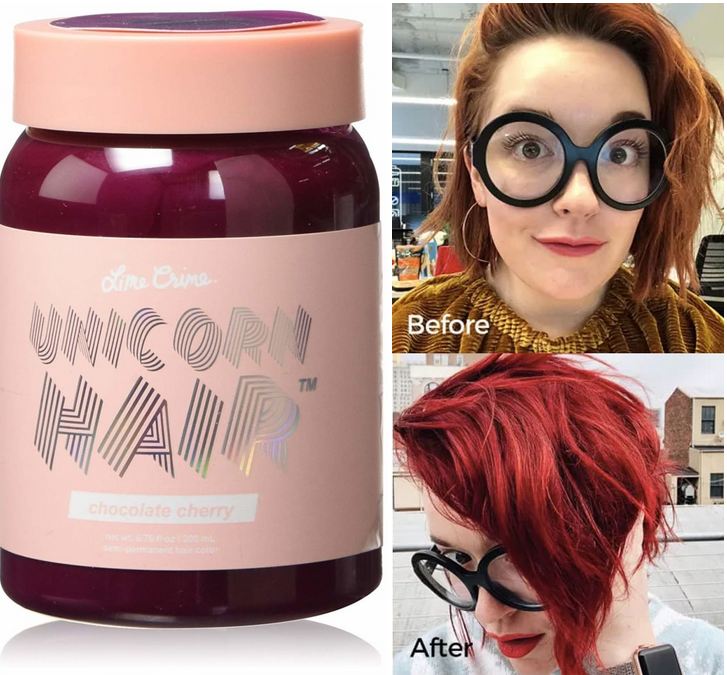 Promising review: "Been coloring my hair crazy colors for around 15 years now. Have used everything from Manic Panic (my previous fave) to Ion to Special Effects to Splat, etc. This is the best one yet. It smells delightful. The jar is larger than a jar of Manic Panic. Consistency is about the same as Manic Panic. The color is brilliant and super shiny and my hair is super damaged but it looks healthy with the color on because of the shine. Doesn't leave a blue crime scene in the tub like a lot of blues do. Didn't fade at all with the second wash. So far, this is the best color I have ever used. Have only washed twice so I'm not sure how long it will stay this brilliant but judging by the fact it didn't fade a single bit with the second wash, I'm hoping and crossing my fingers it will be long lasting!" —Flesheater
Price: $16 (available in 16 colors)
8. InStyler Straightening Brush — it'll help you get smooth AF hair in half the time it'd take with a traditional straightener.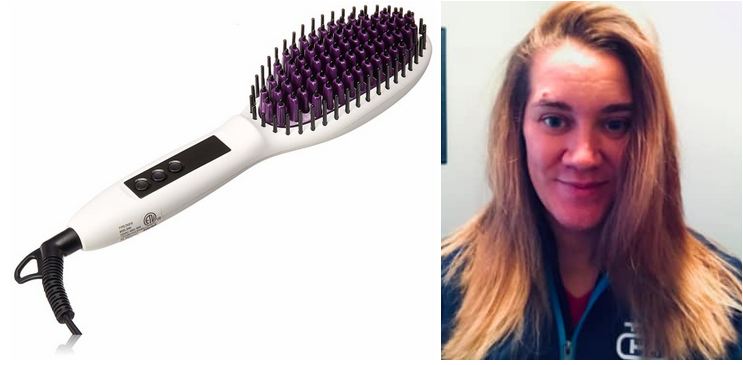 Promising review: "This product is incredible! I have long, thick, wavy hair that gets really unruly around the roots. Previously, I would use a flatiron to straighten around the roots and smooth out the rest of my hair. In half the time, I get an even better result with this brush. It straightened around the roots and calmed the frizz all over, while still giving me volume and no stick straight hair that I hated when using a flat iron. It heats up quickly and I was able to smooth out my whole head in under 10 minutes. This product is ideal for someone who wants to keep the body/volume of the blow dry while smoothing out the kinks, frizz and waves. Love love love!!!!!!" —Elizabeth Kenney
Price: $46.69
9. John Frieda Brilliant Brunette Shampoo that'll have you seeing double the glam in your revitalized locks.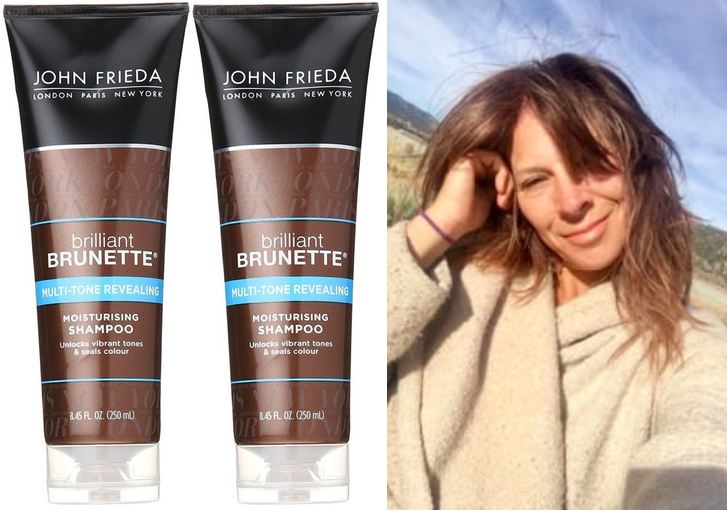 Promising review: "I have finally gotten to the point where the gray is fairly noticeable (about 10%). I have never dyed my hair, but I wanted something to bring some life back to my aging hair and lessen the appearance of gray hair. For me, this is perfect. It does not cover all grey, so if you're looking for that, you will be disappointed. It does brighten your natural color a bit, add a great shine, and obscure the gray a bit. I switch off with the clear glaze by John Frieda, and I'm happy with both." —purbear
Price: $12.98 for two
10. Curls Blueberry Bliss Control Jelly to lock in your luscious curls without feeling crunchy or stiff.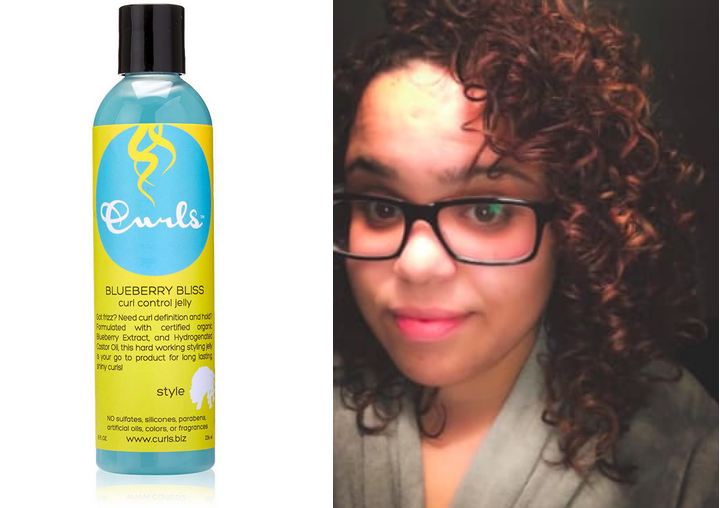 Promising review: "This product is beyond amazing! I've tried so many organic products in my hair and they were all too thick and heavy and had strong smell. This stuff is so light in both scent and texture. This is now my permanent and favorite hair product." —Erica
Price: $14.19
11. Clip-in hair extensions — they may just become your new holy grail because they're so damn convincing.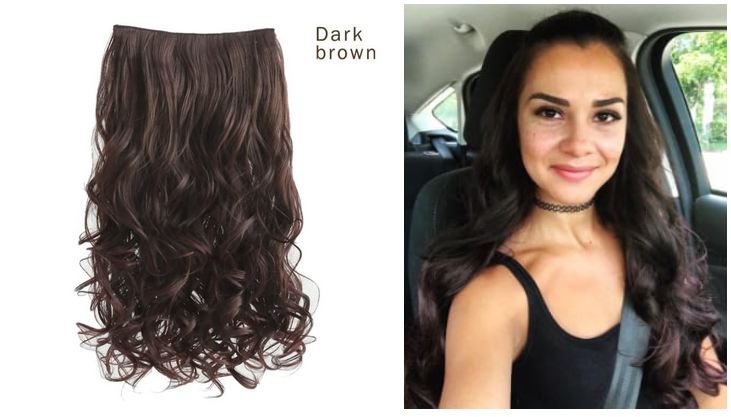 Promising review: "I CAN'T BELIEVE ALL THE MONEY I SPENT on natural hair extensions until i got these. OMG I'm so amazed by how natural they look. They are super voluminous and soft. I bought two because my hair is really short and I like to use a huge amount of hair, but even with one you can rock lots of hairstyles." —JE
Price: $8.99 (available in four lengths, 22 colors)
12. Fanola No Yellow Shampoo for toning down any unsightly yellow tones in gray, light blonde, or streaked hair.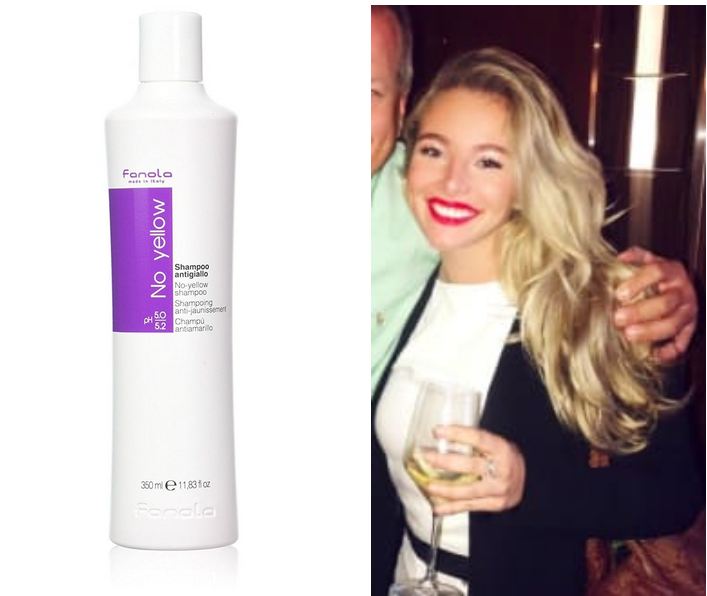 Promising review: "The best blonde toner out there. I have used Schwarzkopf toning mousse, Joico purple violet shampoo, Clairol shimmer lights, among others, and this is far and away the best of all. Not only does it remove any and all brass from my hair, it is also PH balanced and reduces porosity, unlike other color depositing toners out there. Great for damaged, frizzy hair. I have a lot of tones and contrast in my hair, so I do not leave it in very long. 20 seconds max, otherwise I'll end up with some violet streaks in my hair. If you leave this in for over a minute your hair will turn purple, if that's what you're going for." —Kkol
Price: $13.98
13. Not Your Mother's Beach Babe Texturizing Dry Shampoo — it'll give your dirty hair a major boost while leaving behind a hint of tropical scent. (I love this stuff.)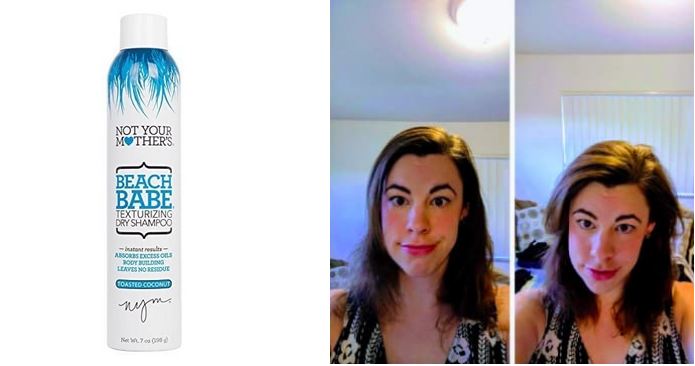 Promising review: "I think this is perfect. The smell is WONDERFUL. I have dark hair and there was no white residue, which is something I experience with most dry shampoos. My hair feels clean, not coated with powder. My previous favorite was Tresemme Volumizing, but this is a million times better." —Lindsvanleer
Price: $3.57
14. Bee hair clips for creating quite the buzz about your 'do.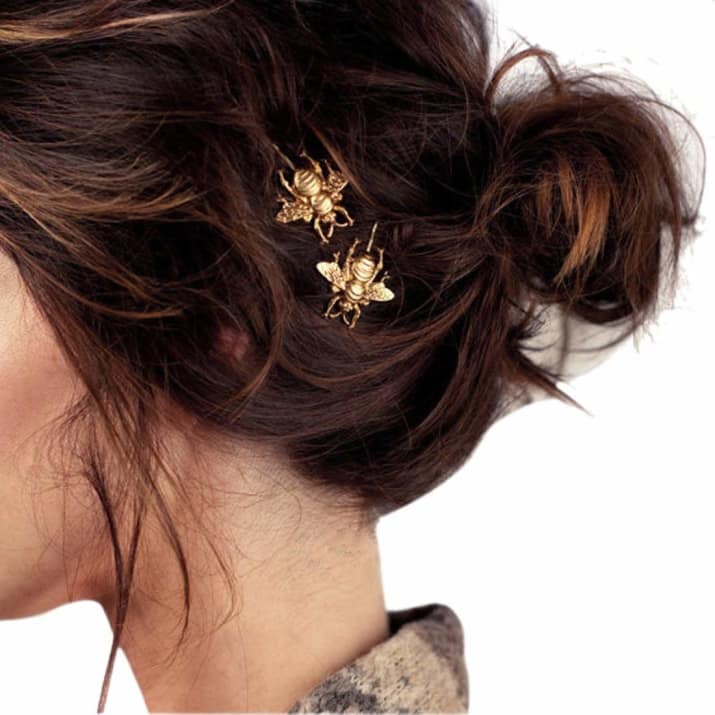 Promising review: "These are adorable. I have super thick wavy hair and was concerned the bees would get lost…but they are the perfect size and look great. The ends are dull and uncoated, so be careful taking them out…they will tug on your hair. Overall, fabulous though:))" —Tilly 08
Price: $4.60 for two
15. Remington Curling Wand to give you angelic curls ASAP with a super quick warmup time.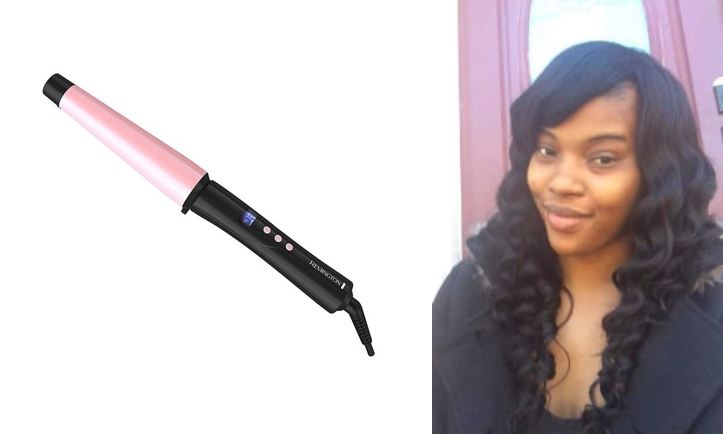 Promising review: "I have both of the wands, big and small, and love both of them! I got the smaller one for Christmas and ordered the bigger one right after. The bigger one is more for like loose waves while the smaller one is curlier. Before I asked for a wand (these are my first wands I've ever used and owned) I watched a ton of YouTube tutorials on styles and such so you could do that to get a good idea. But DEFINITELY get these wands. They're inexpensive with long lasting curls and a nice smooth barrel. Unless you want the curls/waves to blend together, try alternating which way you curl. Like curl away from your face, then toward your face, and so on. Also be wary of how big your sections are because that definitely affects the outcome of your curl." —Sydney and Spencer
Price: $20+ (available in 0.5–1″ or 1–1.5″ barrel sizes)
16. ArtNaturals Argan Oil Hair Mask — it can deliver a serious dose of moisture, which is perfect for people who do a lot of heat styling (like me!).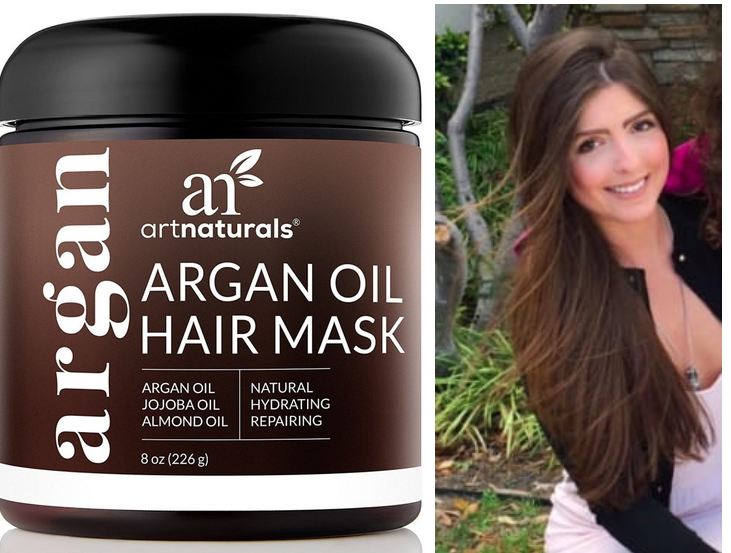 Promising review: "I don't know what this stuff is made out of, unicorn spit? Mermaid mucus? Whatever it is, it is magic. I had it and used it periodically and forgot about it. Then discovered it again and was reminded, again, how really awesome this unicorn spit is. It turned my dry wiry hair into silken locks. My daughter has super curly hair. I have straight hair. I don't know what to do with it. I didn't know that curly hair needs unicorn spit. I put some in her super poofy dry curly wispy hair. And viola! magic! Her mane was tamed with a much softer feel and nicer curls. This is how I found it worked best. Wet hair. comb through the unicorn spit, tie it up or put in a cap, continue about your day (hopefully at home), and let it sit for 30 mins to 1 hr., wash it out as normal. Instagram hair model time! Get this unicorn spit before unicorns go extinct." —Purple Lotus
Price: $12.95
17. Living Proof Perfect Hair Day for replacing so many of your post-shower hair products like it has for me!!!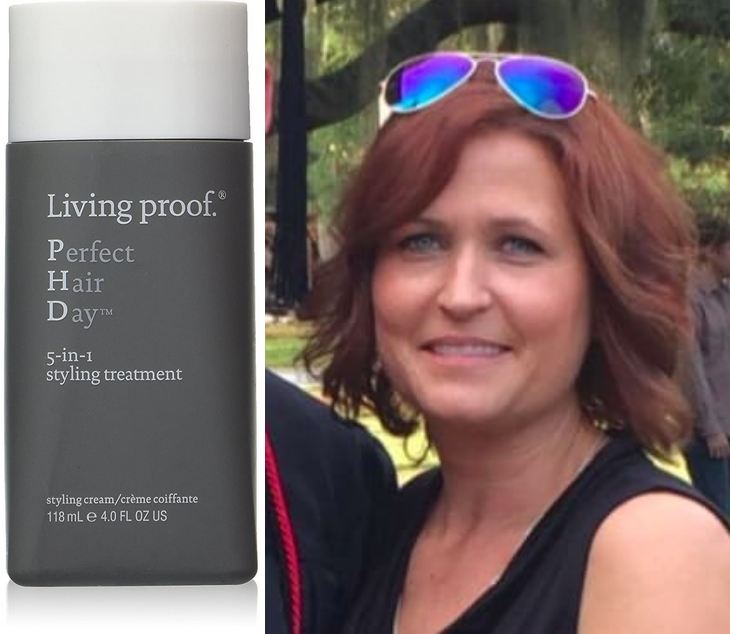 Promising review: "A MUST HAVE hair product! I have fine hair that looks great for about 10 minutes after styling…. Then, poof, flat as a pancake! My daughter had this product when we went to my son's college graduation, and told me to give it a try. We were in South Georgia where the humidity is brutal, and my hair looked great the entire day! I am now on here to purchase my own bottle. Literally it only takes a pea sized amount for your entire head of hair, so this small bottle will last you awhile. I spend $25 per bottle on just root lifter alone, not counting protectant and styling mouse. So this will save me tons of money because it is all I need to have that perfect hair day! I have included a picture that was taken at the end of the day so that you can see how well this product really works." —Tanya
Read up on why this product is my holy grail.
Price: $17.48
18. Hask Monoi Coconut Oil Treatment — it do wonders for keeping your rainbow tresses looking their full glam potential.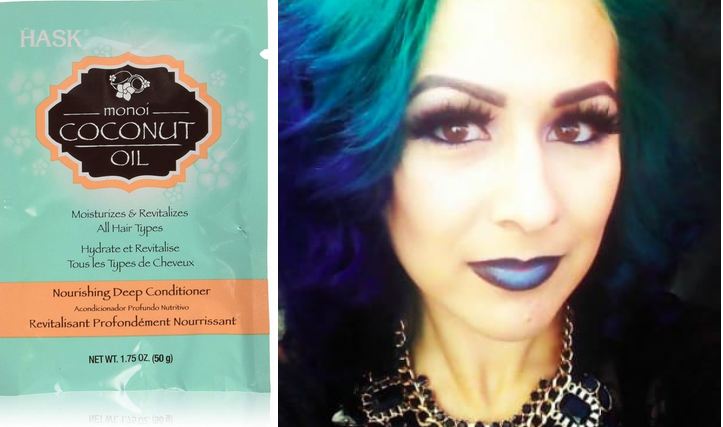 Promising review: "They travel well and I get 2–3 uses from each one, depending on the condition of my hair. The Monoi oil smells great and all of these conditioners are quite effective for me. I have shoulder-length green and purple hair using temporary dye by Jerome Russell. I often tease my hair and sometimes use a flat iron. These conditioners are gentle on my color and help me deal with my massive '80s-sized hair mess. Everyone always asks me how I can dye my hair and keep it so healthy! Besides not having to worry about redoing the color (minus my roots) more than every few months, I constantly hydrate my hair with products like these!" —RebeloutionV
Price: $1.99
19. Flexible curling rods for twisting and turning your way to lovely spirals without the heat damage.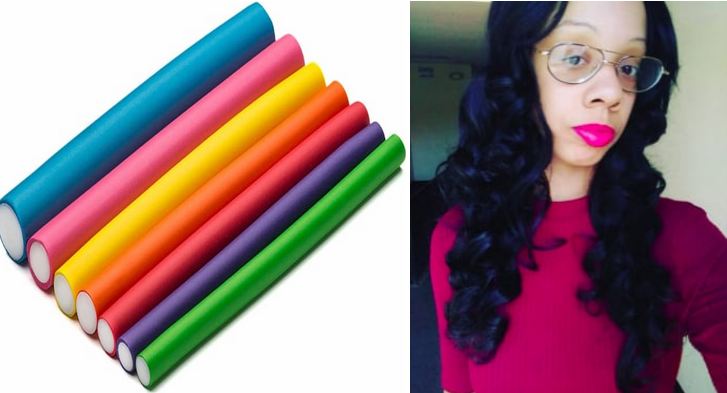 Promising review: "I really love these flexi rods. They give you a large number for the price rather then going to the store and being overcharged. My curls always come out beautiful and bouncy" —Amazon Customer
Price: $12.99 for 42
20. Herstyler Hair Repair Serum to gloss up your mane because serum is basically highlighter for your hair and you deserve to shine.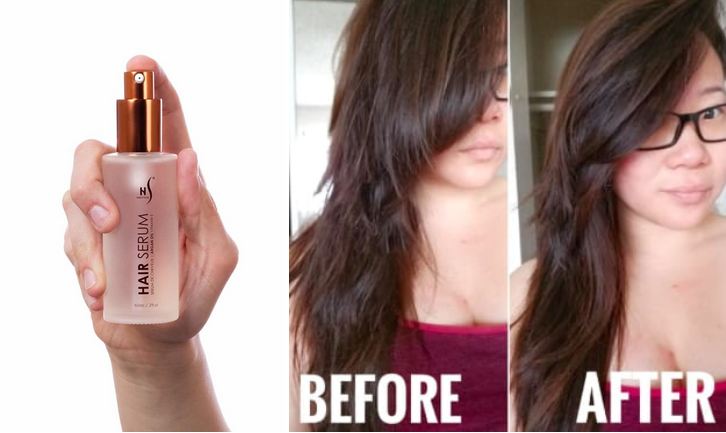 Promising review: "Gives my hair the perfect texture it needs to look great for the day. Great non-greasy feel and Argan is the first ingredient on a very short list of ingredients for the price." —Savannah
Price: $11.99
21. Neutrogena Anti-Residue Shampoo that'll help remove product buildup and start you off with a clean slate.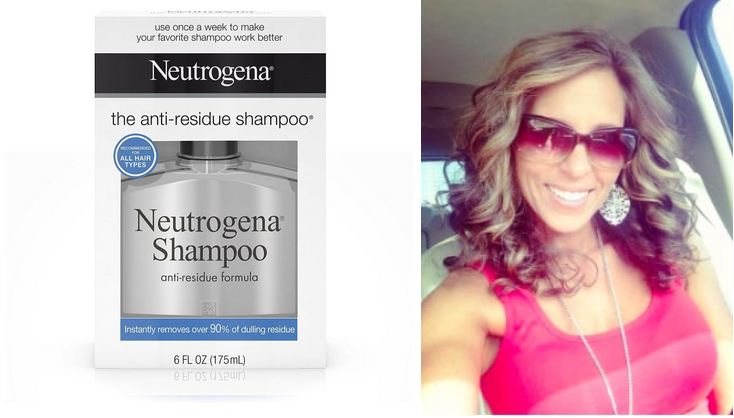 Promising review: "I love this clarifying shampoo! I have used it for years. It's hard to find so I order from here! LOVE! If your hair starts to feel weighed down or yucky from product or hard water, this shampoo is a must for you!!" —Tiffini campanella
Price: $4.79
22. Revlon One-Step Hair Dryer — it'll be a dream if you can never quite get down the coordination required for a blowout. Oh, and it'll style your hair in half the time!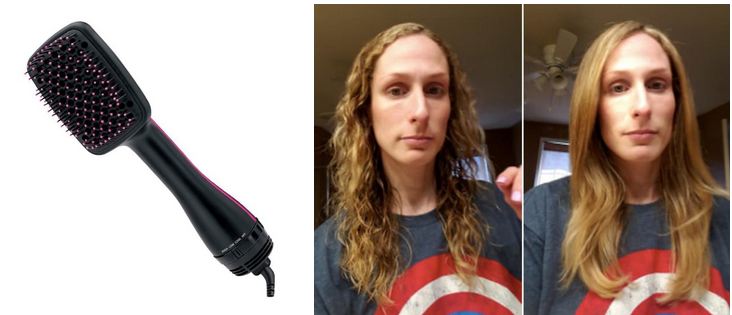 Promising review: "I have very curly hair that forms ringlets in some areas and looks like I used a crimping iron on others. It is very difficult for me to blow dry and it stays very frizzy until I flat iron it. If I just let it air-dry it can take hours. This little gem took my partially air dried hair and smoothed it better than they can at the salon. I'm absolutely shocked. I would pay $150 for this if I had to and I will never be without one again. It dried my hair fast and left it soft and voluminous. I went ahead and flat ironed it anyway for the extra smoothness, but i don't think i HAD to. Anyway, buy this immediately. I am just disappointed that I didn't find it earlier!" —Sarah B
Price: $29.99
23. The Bed Head Wave Artist Deep Waver with deep barrels for voluminous ways in a scandalously short amount of time.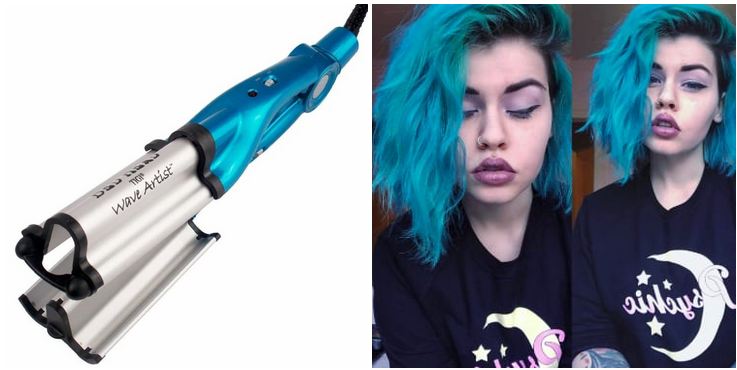 Promising review: "Amazing product. I have straight hair and this allows me to have thick wavy, mermaid hair in less than 5 mins. Recommended it to all my friends." —Jonnie
Price: $19.99
24. Chi Iron Guard to pair perfectly with your go-to Chi (and other heat styling tools). It'll help reduce heat damage while you achieve your ~smooth~ desired look.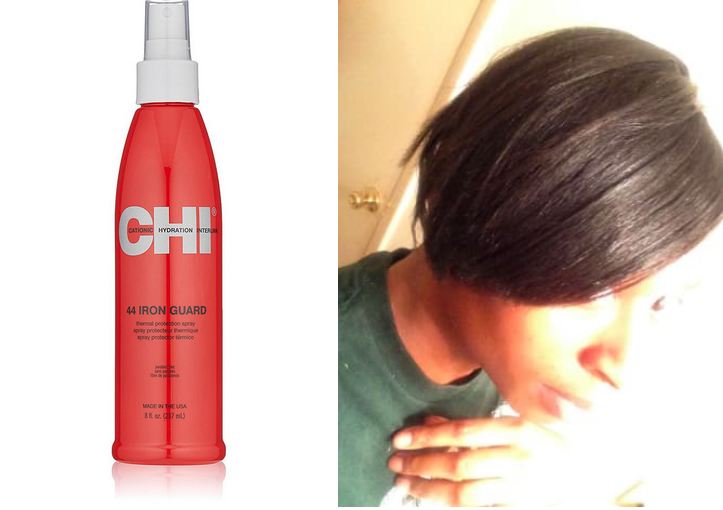 Promising review: "I'm truly amazed. I'm black with 4c hair and it got it bone straight. No frizz! No hard hair! Just silk!" —ReviewPimp
Price: $15.06
25. Remington Wet2Waves Styler for buying you a little sleeping-in time by drying AND creating waves in your hair at once.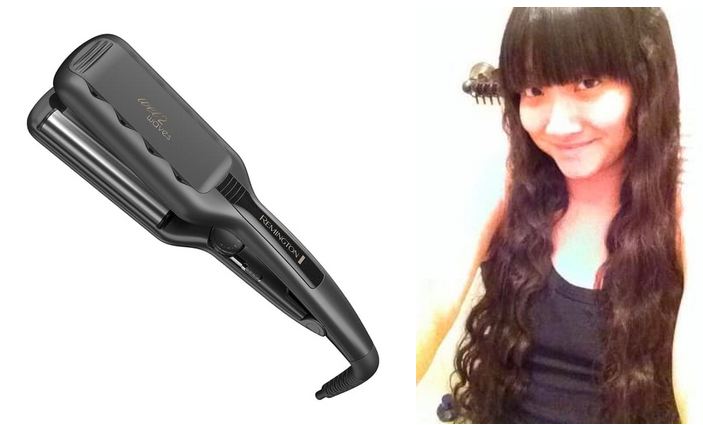 Promising review: "Styled my shoulder length hair from damp to done in less than 10 minutes. I am so happy with this and I was really worried as I have had cheap-o products before and for more expensive too. This product is super cheap, worked better than it says, gives a cute result, and my hair feels soft and is 200% fuller than before. So happy I bought it!" —Rachel
Price: $23.99
26. Silk18 Conditioner to finally give you a super shiny look without weighing down your hair.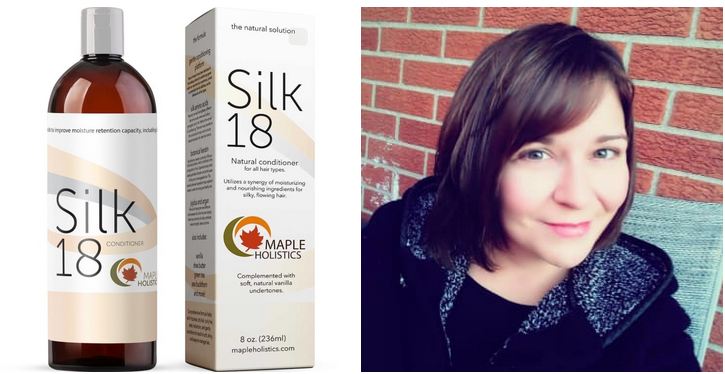 Promising review: "I've used so many different conditioners in my life from drugstore to high-end brands. I always see women with shiny hair and nothing has ever worked on my hair. I have very straight, thin hair. A lot of conditioners weigh it down. This conditioner didn't weigh my hair down and made it shiny and healthy looking! My hair usually feels so dry but I've found my go-to conditioner!!! So happy I found this!!! Would highly recommend!!" —Sara S.
Price: $9.95
Now go show off those tresses: