Product Description
Your soaking time is about to get much more comfortable and relaxing with the Everlasting Comfort Luxury Bath Pillow. We created our bath pillow to take your baths from ordinary to spa-like bliss in an instant. Every detail was scrutinized and meticulously thought out so we could provide you with a bath accessory that's worthy of your time away from the hectic world.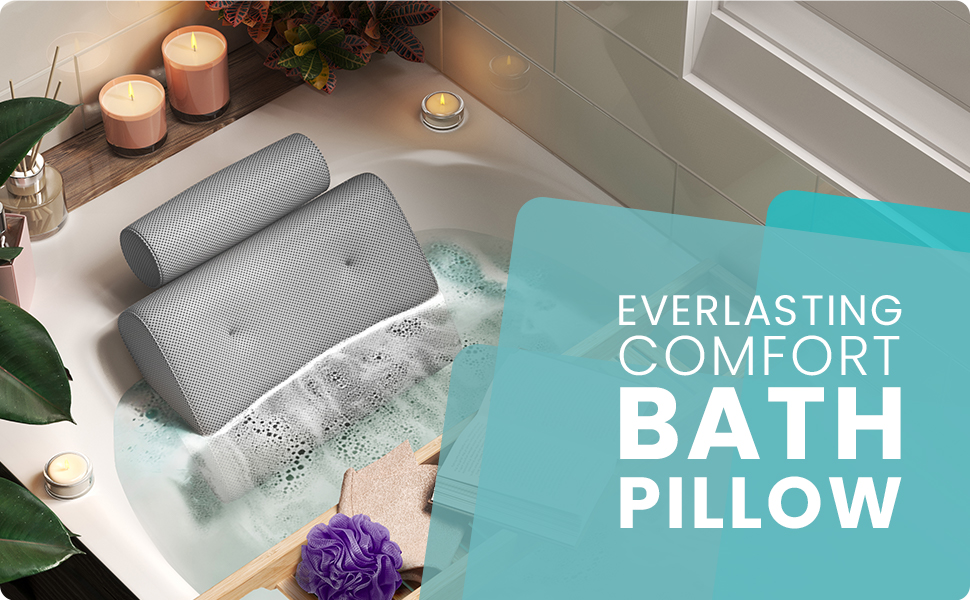 The Everlasting Comfort Bath Pillow is made from soft and supportive foam that molds to the contours of your back. The foam's elasticity will ensure every nook and cranny of your back is cradled. Hard tub surfaces put pressure on your back, neck, and head. Our pillow is designed to relieve this pressure and provide pain relief so you can maximize your comfort. Our bath pillow comes with a back cushion and neck pillow, so you can lay back and take the pressure off your upper body. It features powerful non-slip suction cups that keep it from moving while allowing you to adjust it to your ideal position. It's the most universal bath pillow available and works for anyone big or small. The cover is made from a breathable mesh and includes a built-in hook for quick drying. Just hang it up after you're done, and your new bath partner will be ready for your next relaxation session. We also included a deep side pocket so you can store any bath essentials you need while you relax and get your zen on. To complete your bath suite, we included a loofah to help you feel refreshed and clean.
At Everlasting Comfort, we stand by our products, which is why we include a lifetime replacement policy. If anything should happen to your bath pillow, we will replace it without charge. With the Everlasting Comfort Luxury Bath Pillow, you can stop suffering and start relaxing in the sweet embrace of comfort during your baths.