1.
A hanging chaise lounger for laying out, relaxing, and soaking up some rays, so you can work on your tan.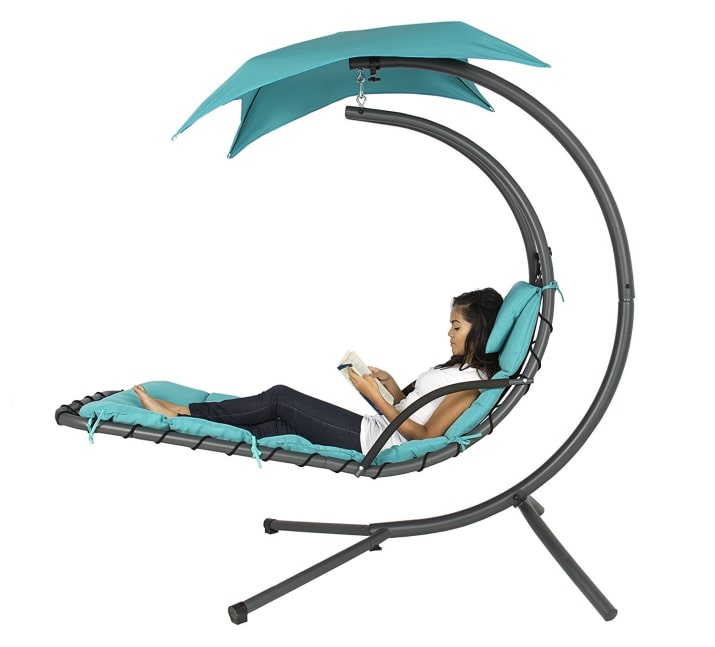 Made with a powder-coated metal frame, water-resistant PVC-coated polyester cushions, and features a detachable umbrella so you can use the chair indoors as well. It has a weight capacity of 265 lbs.
Promising review: "I am very pleased. Looks beautiful on my patio! Super comfy and I love the gentle swaying motion. The perfect place to relax with a good book on a sunny day!" —Dawn P
Price: $148.45+ (available in three colors)
2.
A cooler table to use at all of your backyard gatherings — the top holds drink glasses and noms, while you fill the bottom with ice and keep those bottles chilled.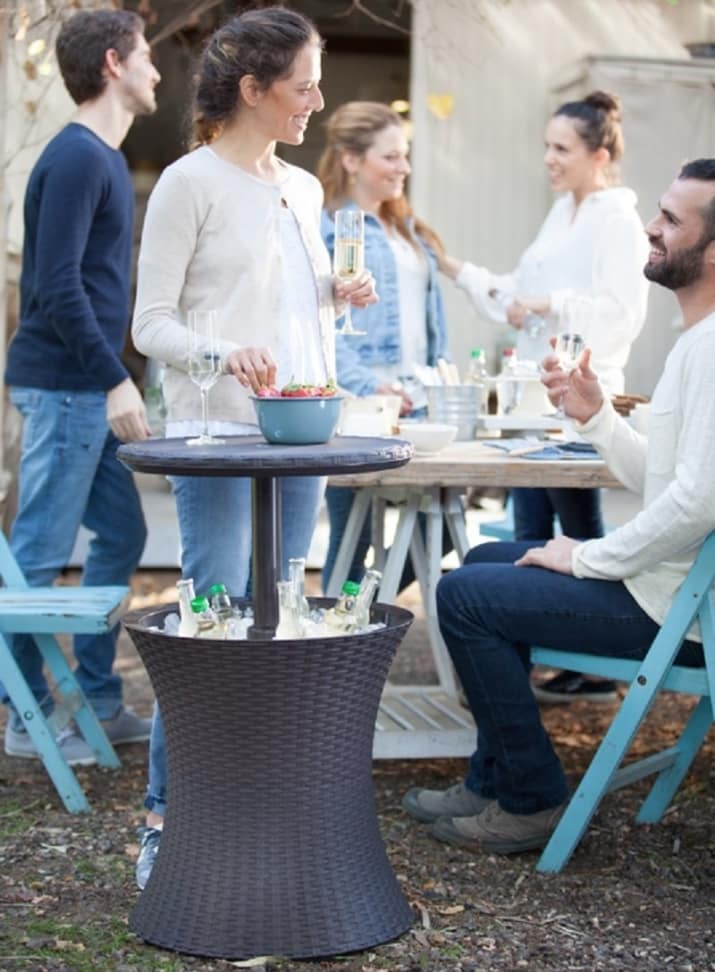 Made from 100% recyclable and durable, weather resistant plastic. It can keep drinks cold for hours, and a drain plug feature makes for an easy clean-up job.
Promising review: "The table is very easy to assemble with only two parts and three small screws. The top lifts and locks into place very easily. The 'cooler' section is larger and deeper than I thought, so you can fit a good amount of bottles or cans in there. When the top is extended, this can be used with bar height chair — not so much for dining, but perfect for cocktails." —RGARCH
Price: $77.57 (originally $81.34, available in four colors)
3.
A five-piece outdoor furniture set that'll make your friends think they showed up at a celebrity patio, when really it's just your glamorous space.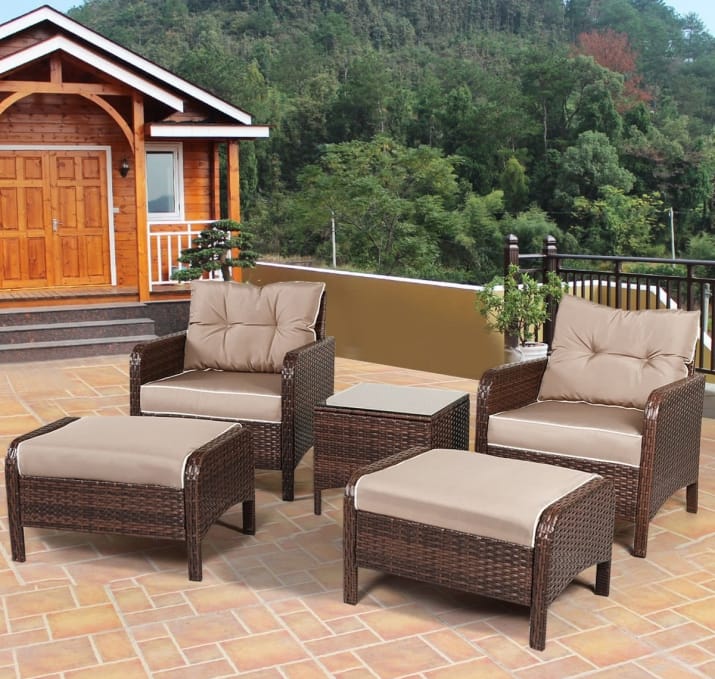 Conversation set includes two single sofas, two ottomans, and one coffee table, plus thick cushions to make everything more comfy. All cushions come with zippered covers, which are removable and machine-washable. The glass table top can be cleaned using a wipe or by blotting.
Promising review: "Absolutely thrilled with my purchase. They are out on the front deck and it looks great. Great value for the money." —Patricia In The Country
Price: $339.99 (available in two colors)
4.
A compact folding table for bringing out when you need just a tad more space at your outdoor gathering, or taking on-the-go during all your summertime excursions.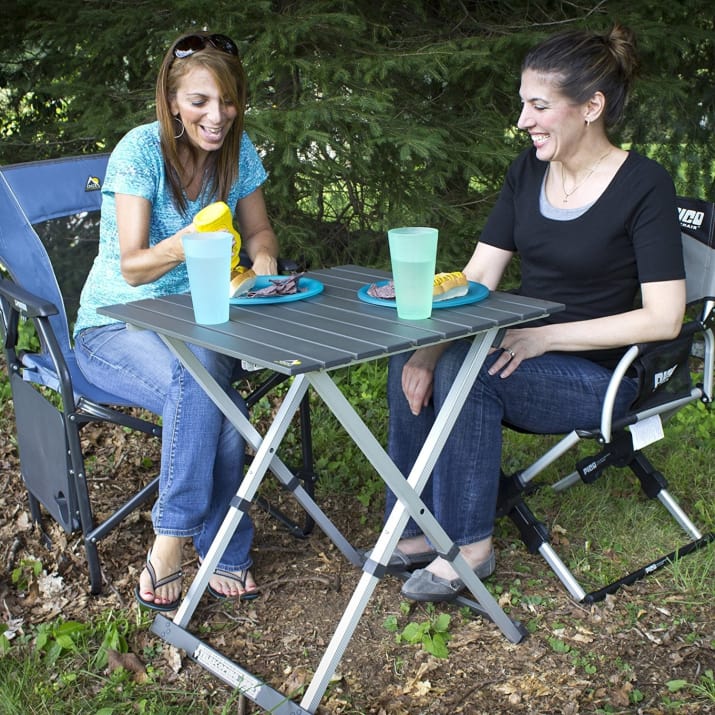 Table can seat up to four people, and the top can support up 60 lbs. worth of items.
Promising review: "I am very happy with this table. Considering how lightweight and compact it is, it is VERY sturdy! I can tell that it's durable and will withstand a lot of use and abuse. The mechanism to extend and retract the legs is a bit heavy at first, but it seems to break in a little bit after a few times. We take this table tent camping with us and have used it for our tent heater. It's so convenient to move to wherever you need it! My husband also uses it as a BBQ table when we grill in our backyard." —M or S
Price: $49.99
5.
A kiddie picnic table complete with an umbrella to give the little ones a gathering space of their own, while making sure their sensitive skin stays protected from UV rays.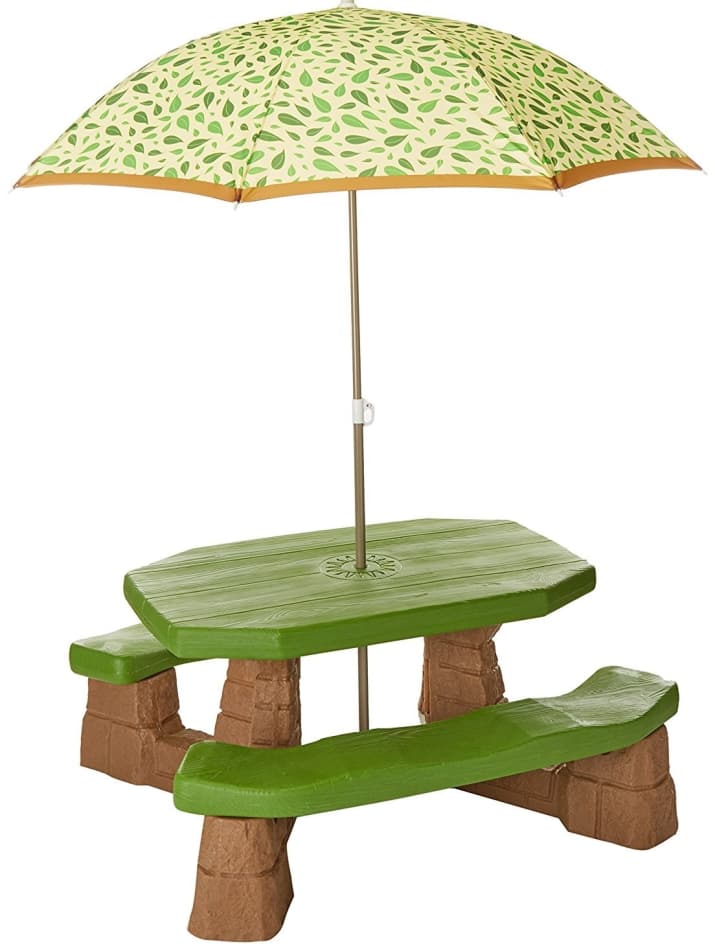 The umbrella can block 97.5% of UVA and UVB rays. The table can be used both indoors and outdoors, with minimal assembly required. It can hold a max weight of 300 lbs.
Promising review: "This table is one of the best buys that we have gotten for our kids. It is much bigger than it appears and that is why we like it. We can fit about six kids around it with room in between them. It is very sturdy and well-built." — Biegelsworth
Price: $99.99 (originally $114.99)
6.
A durable glider bench that'll make the perfect addition to a garden — you can sit and admire those gorgeous flowers you worked so hard planting, you deserve it.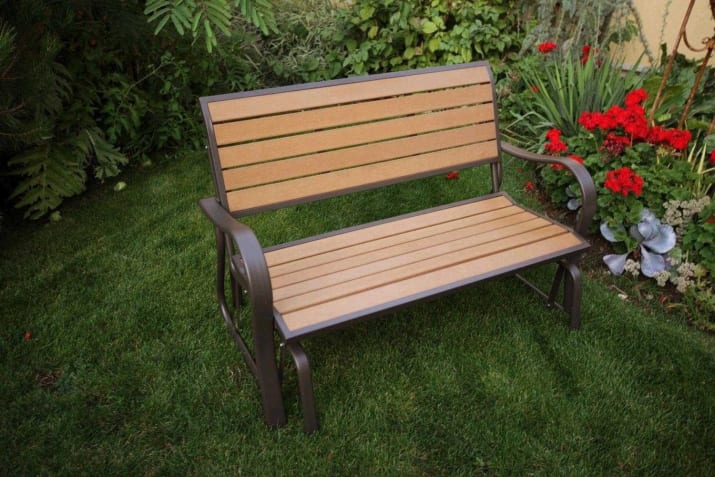 Made of UV-protected polystyrene that is resistant to warping, cracking, chipping, and peeling. It's easy to assemble, too!
Promising review: "This took about 90 minutes to assemble. The glide is smooth and silent. The materials are good quality and will not require any maintenance. It is better than expected and perfect for our needs." —Samantha Brewer
Price: $166.67 (available in two finishes)
7.
A set of two cushioned barstools for plopping your butt down on while enjoying a cold one with your crew — ahhhhh.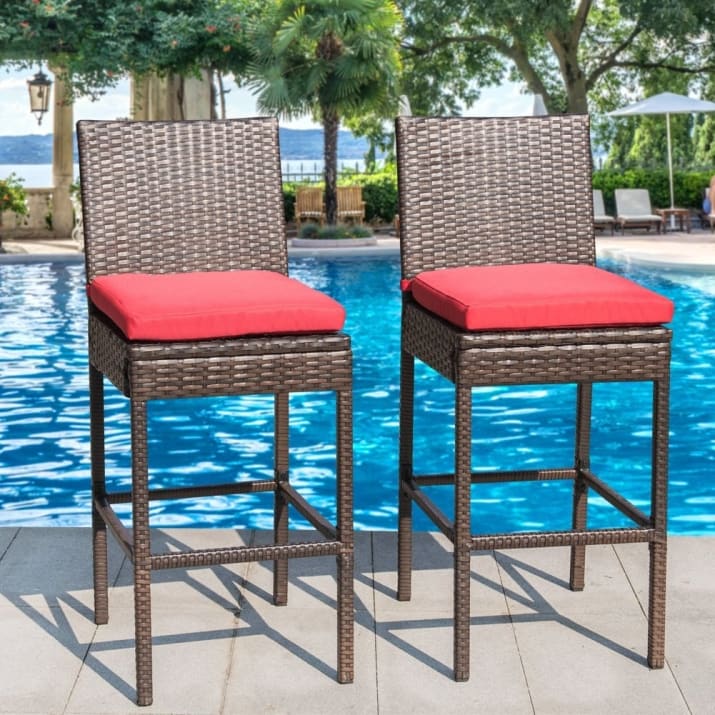 Bar stools are made with durable, weather-resistant PE rattan wicker from an aluminum frame. They are lightweight for moving around, and easy to assemble.
Promising review: "So far, so good! Chairs are sturdy and the color of the cushions are very nice. We've had lots of rain this summer and these have held up well." —Elizabeth Goodman
Price: $149.99 (available in two colors)
8.
A set of two accent pillows to ~complete~ the look of your brand new furniture pieces, while providing an added bit of comfort.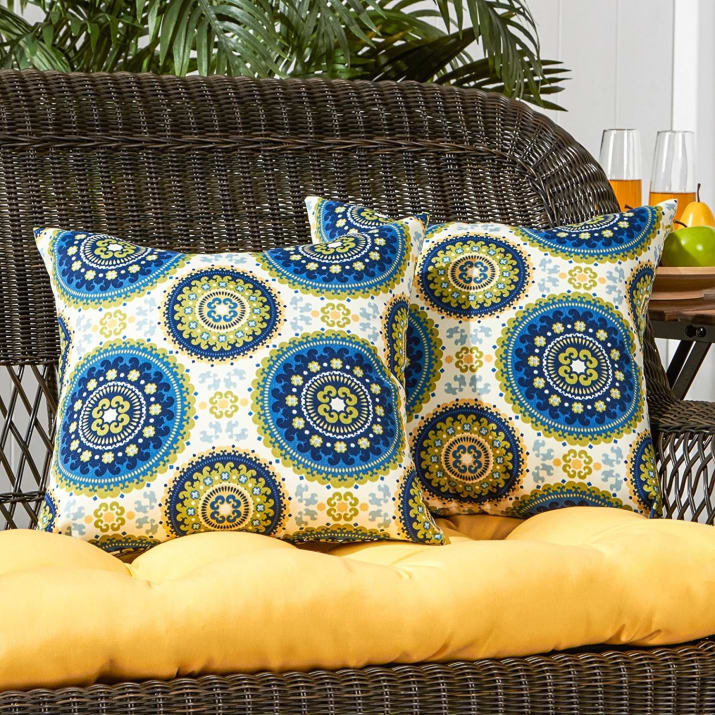 Made of 100% polyester, and UV-resistant outdoor fabric. Pillows are both stain-and water-resistant.
Promising review: If I could leave more stars I would, these pillows are fantastic. They look exactly as represented, the size is perfect for what I needed. I love that they are made from durable material, and will be easy to clean. I already ordered two more to complete the look." —R. Marsden
Price: $33.09 (originally $36.99, available in 23 colors)
9.
An outdoor coffee table that'll be happy just sitting there, holding you and your guests' food and beverages, hoping you can take the time just to admire it a little.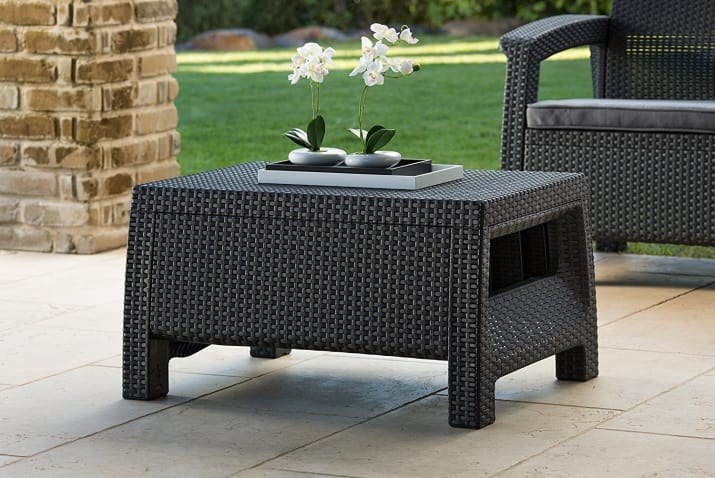 Table is made of durable, weather- and UV-resistant resin and its open-woven texture means no fraying.
Promising review: "So surprised how nice this is, even though it's plastic. It look much better than some of the wicker pieces you find. It looks like a quality table and it literally took less than five minutes to put together. No bolts, it all snaps together very well." —Korgy
Price: $35.87 (originally $38.70, available in two colors)
10.
A set of two seat cushions to plant your arse in and make yourself comfy, oh yeah, they're gonna make your chairs look reallllly awesome.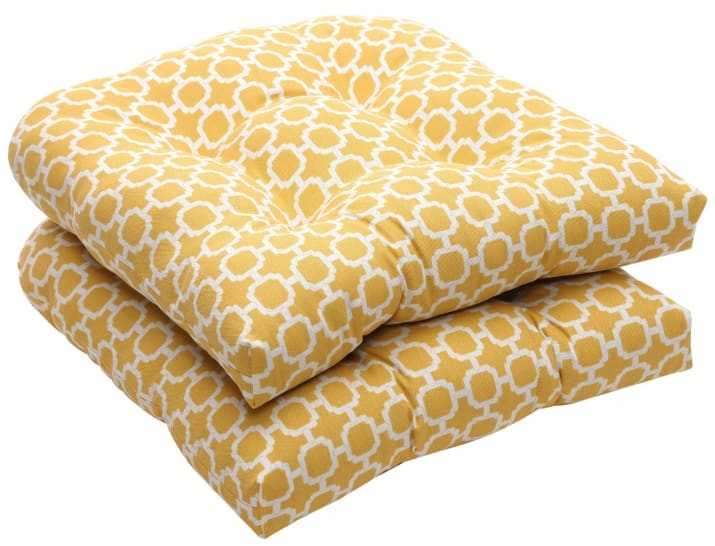 Made of 100% polyester, and is weather- and sunlight-resistant. To clean, you can lightly spot clean or hand wash with mild detergent and cool water, and air dry. Requires a break-in period of about three to four hours.
Promising review: "I like these cushions because they are VERY thick and comfortable. The color is beautiful — I ordered a very vibrant, rich red. They fit my chairs perfectly. Highly recommended." —Kristie
Price: $41.32 (originally $47.99, available in 31 colors)
11.
A loveseat with storage space underneath the bench area for a piece of furniture boasting DOUBLE functionality.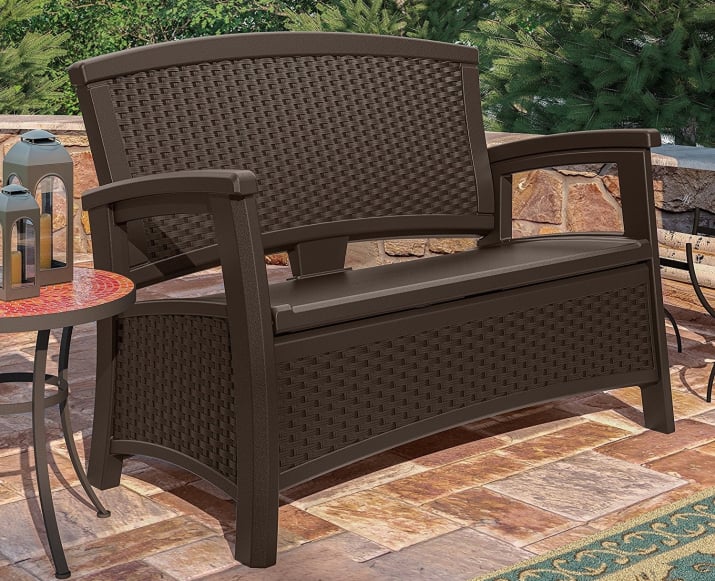 It can comfortably fit two people at a time, and the loveseat is durable and lightweight for easy movement. Storage compartment capacity is 23 gallons.
Promising review: "The seat was not too difficult to assemble. Took about 30 minutes. With an added cushion, the seat is comfortable and most importantly, durable. It can withstand the weather and a good power washing." —Amazon Customer
Price: $169 (originally $189.99, available in three colors)
12.
A wooden Adirondack chair to add some style and flair to your back lawn and, of course, an extra spot to sit in.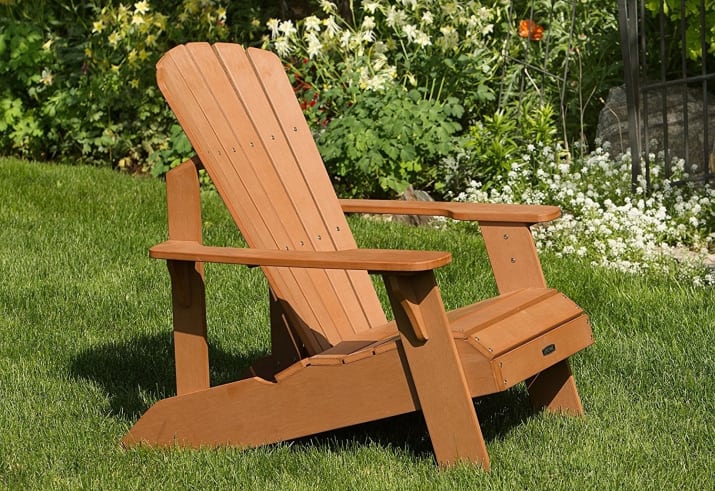 Chair is made of UV-protected polystyrene, and durable weather-resistant polystyrene, the wood won't rust, crack, chip, or peel. Minor, easy assembly is required. It's stain-resistant and easy to clean. It comes with a two-year limited warranty.
Promising review: "I love the style of Adirondack chairs but other ones are so expensive. This is very stylish and durable, as well as comfortable. It looks great in my backyard." —Marcia Brinkley
Price: $157.99 (available in two finishes)
13.
A bench featuring some super pretty detailing that'll look good anywhere you choose to put it, plus it's *SO* worth the price.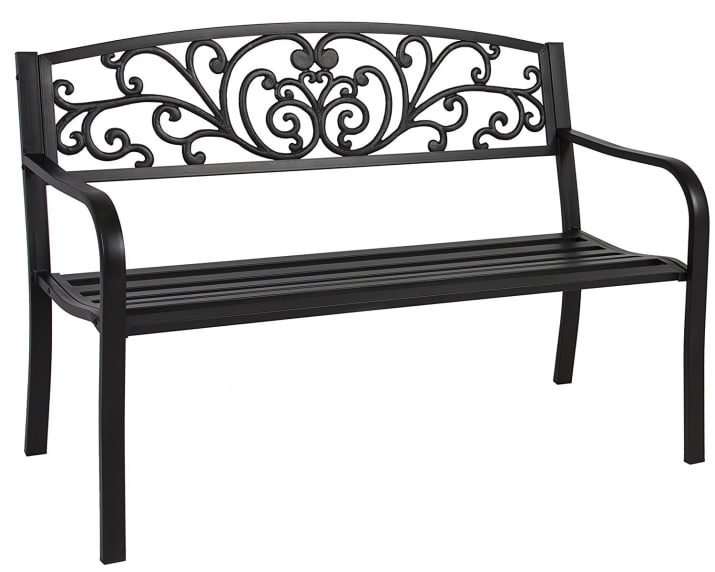 Bench is made of a steel frame, so it's super durable. Instructions will help make it easy peasy to assemble.
Promising review: "This bench was easy to assemble and has worn well the past few months. Guests are comfortable sitting on it outside, (I added a cushion that I purchased separately). The back is heavy and the rest of the frame is a little lighter. It works well for my use." —Cyber Shopper
Price: $71.99+ (available in three finishes)
14.
A set of two zero gravity lounge chairs with attached holding trays perfect for getting sun-kissed while keeping your snacks, drinks, and other necessities close.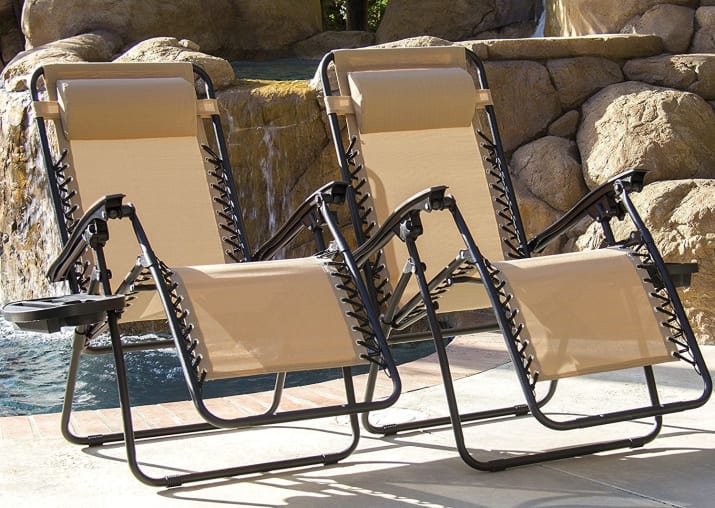 Chairs are made with quality UV-resistant mesh, a sturdy steel frame, and removable pillows. Plus, the holder tray is detachable. They're built with a lockable reclining system and replaceable elastic cords. They're easy to transport for camping trips, beach trips, and more! Each chair has a weight capacity of 250 lbs.
Promising review: "Great chairs, great price! They are lightweight and comfortable. We use them a lot. Love the side table for cups, cell phone, sunblock, and snacks." —Amazon Customer
Price: $71.94+ (originally $74.94, available in two colors)
15.
A set of two swivel chairs to adorn your patio with and get comfortable in, all while enjoying a yummy burger or hot dog.
Each chair has a weight capacity of 250 lbs.
Promising review: "We needed two extra chairs for our porch. These fit the bill. They are comfortable and sturdy. We use them for just sitting and also they fit up nicely to our patio table. The price was amazing." —Margo Beach
Price: $158.44 (originally $199.99)
16.
A wooden table that'll be great in keeping paper plates, cups, and plastic silverware on so your guests can access what they need easily.
Table is easy to assemble, and the wood looks and performs like teak. It's easy to maintain with hardwood oil.
Promising review: "Considering the budget price, this is a really nice, quality table. The packaging was good and assembly super easy, just bolt four legs on. The finished item is strong and stable, and looks great." —GN Douglas
Price: $116.76
17.
A patio deck awning for an added layer of sun protection, and also to keep hot, bright rays from shining their way into making your home feel like a sauna.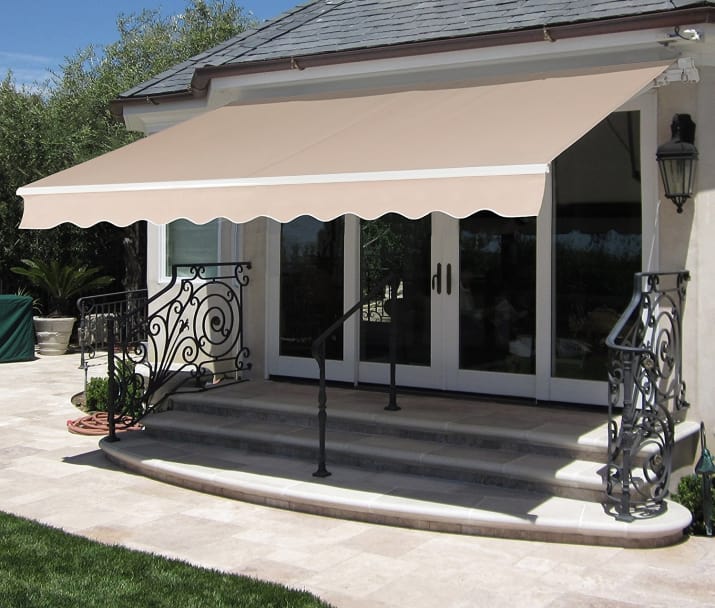 The awning is made of UV- and water-resistant polyester, over a powder-coated aluminum frame.
Promising review: "Awning mounted above my patio door which gets the afternoon to evening sun. Relieves the heat that can build up through the glass doors. I am very happy with the product." —Gem's Girl
Price: $154.99 (originally $165.99, available in two colors)
18.
A swinging lounge chair to curl up in with a pair of sunnies, good book, and cold drink. Just make sure your friend gets a good camera angle of you sitting in this v Insta-worthy seat.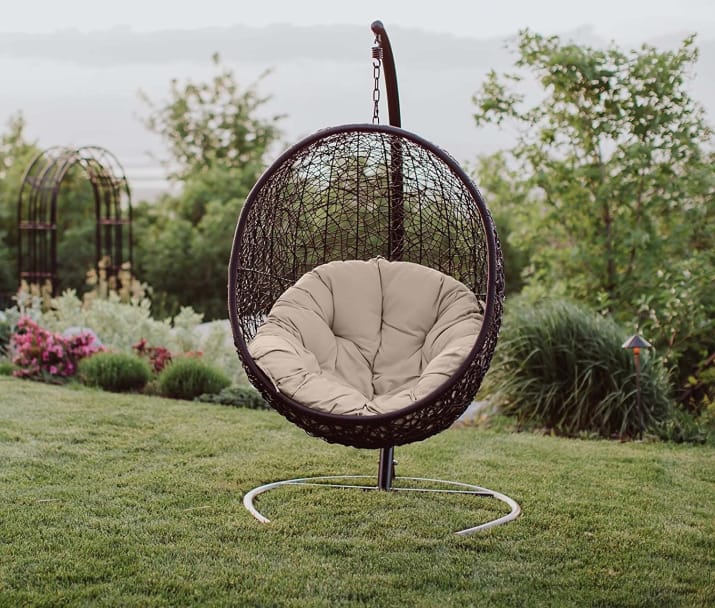 Made of a sturdy powder-coated steel frame, with a woven synthetic rattan seat. The cushion is covered by a machine-washable cover that's water- and fade-resistant.
Promising review: "I absolutely love this chair. I received it faster than scheduled, which was a really nice treat. It's super comfortable and I look forward to sitting in it everyday!" —Classie Pierre
Price: $618.38 (available in six colors)
19.
A solar-powered LED light umbrella that'll take everything you thought you knew about outdoor umbrellas to a whole new and sophisticated level you cool thang, you.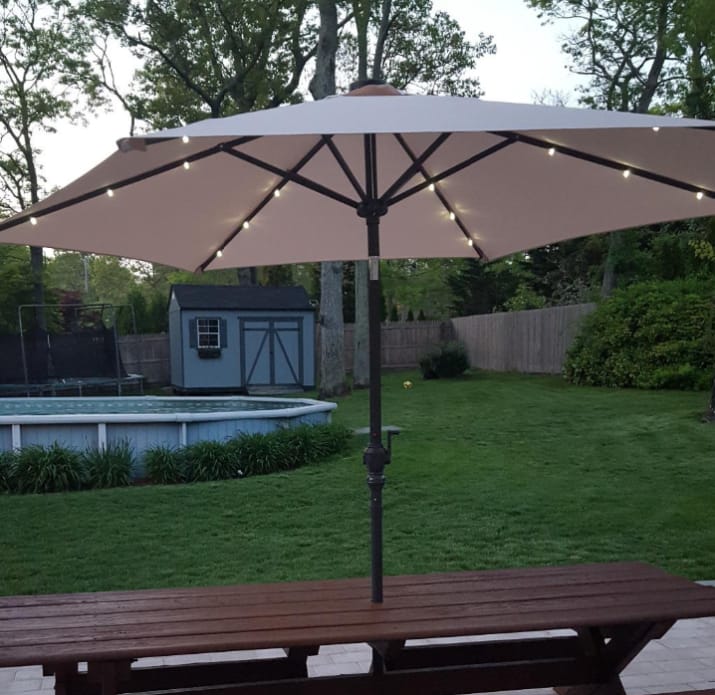 Umbrella is made of 24 LED lights total for sunshade during the day and energy efficient lighting at night. It has an on/off switch for the solar light and easy tilt operation thanks to just the push of a button. The breathable fabric blocks UV rays and guards against water and mildew.
Promising review: "This is the cheapest you can spend on an LED solar umbrella. I was worried it would be total crap, but it's not! The lights have an on/off switch and are very bright." —lionspaw3
Price: $69.99
20.
A chaise cushion for the only acceptable way of laying in a chaise lounge: TBH, if you don't have a cushion, it's gonna be pretty, pretty uncomfy.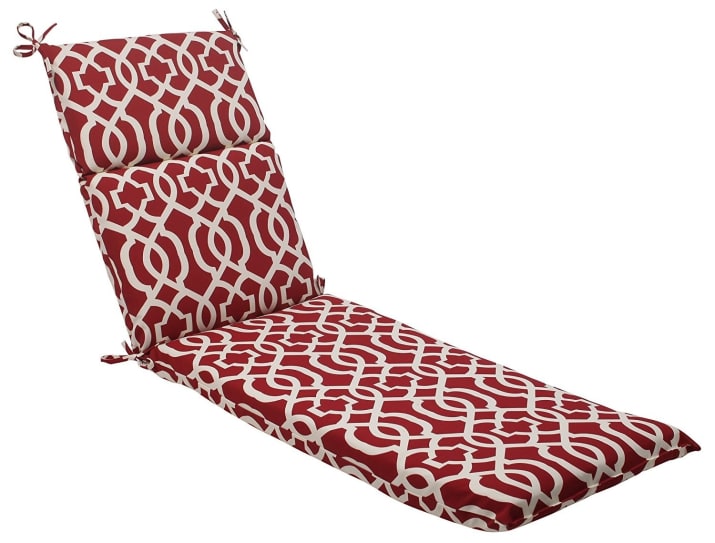 Cushion is made of 100% polyester that is both weather- and sunlight fade-resistant. Attached ties help keep it securely fastened to your chaise. To clean, either lightly spot clean or hand-wash with mild detergent and cool wash, and air dry.
Promising review: "I really like the depth of color on these cushions. They really elevated the look of my metal chaise lounge chairs. They are plenty thick and comfortable to lay on, and they repel water quite well. I do, however, recommend treating them with some sort of waterproofing spray." —MaxTex
Price: $78.84 (originally $95.99, available in 18 colors)
21.
A chaise louge with a cushion that'll make your own pool area look like some boujee hotel pool, minus the travel and the room service.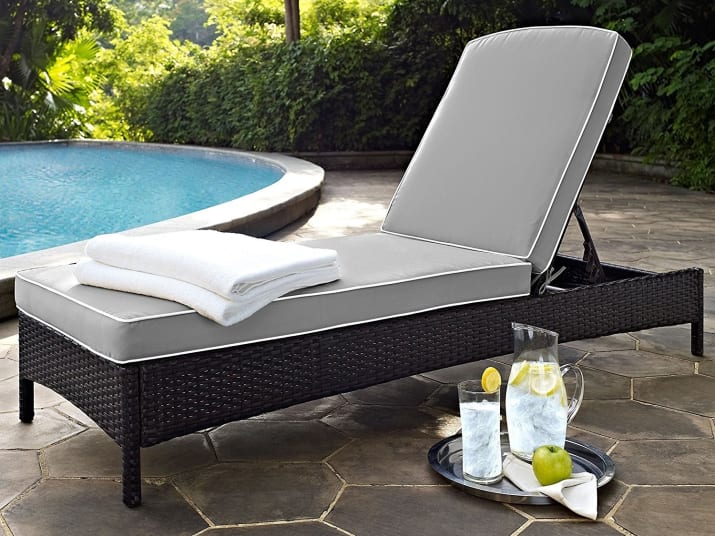 Chaise lounge is made of high-quality steel frame and UV- and fade-resistant outdoor wicker. Plus, the cushion is moisture-resistant. It has six different adjustable positions.
Promising review: "Easy to assemble. Very comfortable. No Velcro, but ties keep the cushions from sliding. Dark brown wicker is plastic, but very realistic. Great buy." —Kay Dickerson
Price: $242.99
22.
A gliding loveseat for getting comfy on with your fave pal, while enjoying good convos and good alcohols.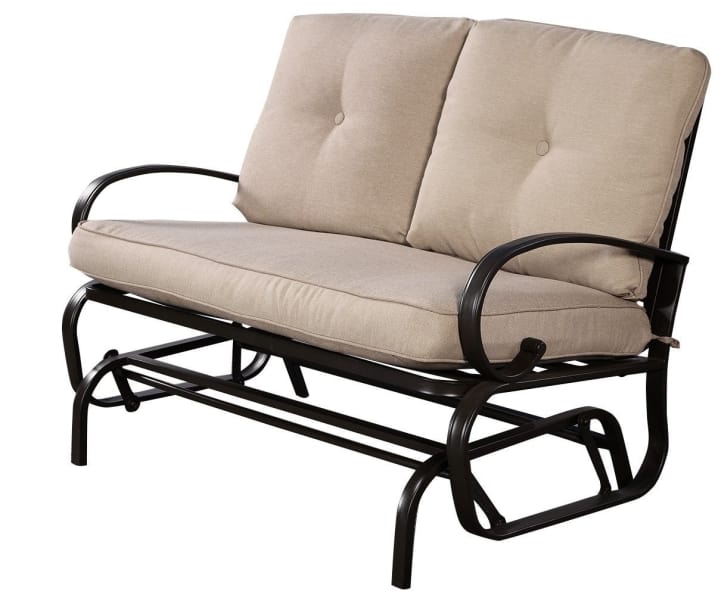 It's made of a steel, powder-coated frame so the bench is sturdy and durable. It has back and seat cushions for added comfort. It can support up to 500 lbs. Minor, simple assembly is required.
Promising review: "I got this for my parents' Christmas gift and they love it! It was relatively easy to set up, but I think you definitely need two people because you need to hold it while you assemble it. I had a friend come to help me, and it took about an hour. It's comfortable, and it doesn't rock too much — their dog is able to jump on it without it being dangerous. I highly recommend, and love sitting on it when I go over to see them!" —Ari
Price: $139.99
23.
A BBQ storage table/prep station to use when it's time to get down and dirty with the grilling.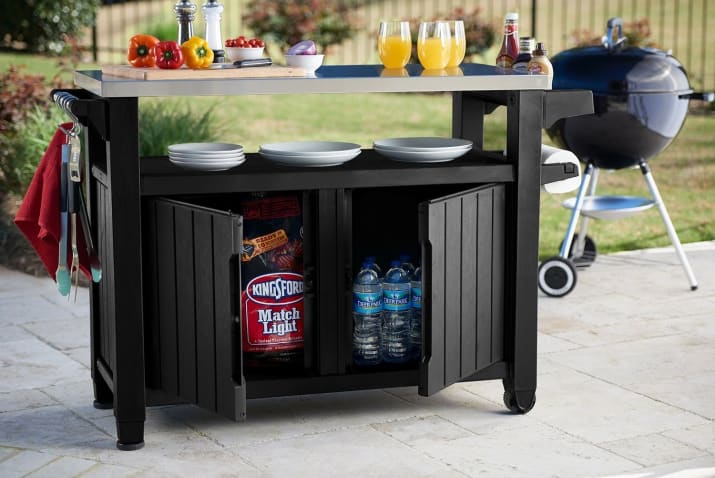 Cart is heavy-duty and weather-resistant. The stainless-steel top means extra durability. Total storage capacity is 78 gallons.
Promising review: "I was a little concerned this might be a POS, but it turns out to be one of the best finds I've made on Amazon in a while! We have a small grill and wanted a nice cook space outdoors with some storage and this cabinet is awesome! A combination of very durable plastic composite and stainless steel. The 'pop together' installation was not only remarkably easy, it seems impressively rugged. We love it!" —Craig
Price: $232.10 (available in two finishes)
24.
A set of four stacking chairs that'll come in handy when you need extra spots for your guests to sit (plus they're easy to store away when the partay is over).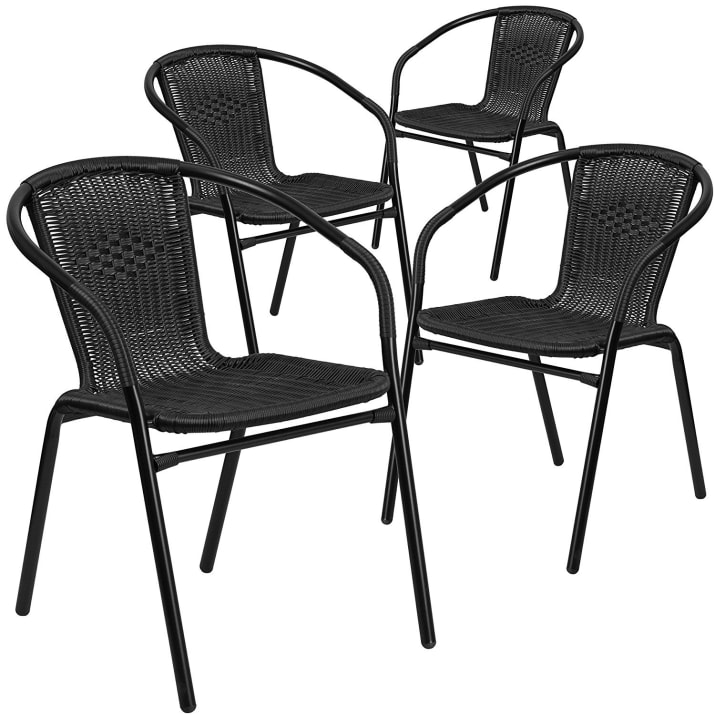 If you decide to order more, it can stack up to 23 chairs.
Promising review: "I bought these to use as outdoor chairs for our fire pit. The chairs are sturdy, attractive, and surprisingly comfortable for what they are. We are happy with the purchase." —Tanya
Price: $109.36+ (originally $126.59, available in three colors)
25.
A set of two reversible decorative pillows that'll really prove you don't mess around with this thing called interior design, or I guess, exterior design since it's outdoor use? YOU GET MY POINT.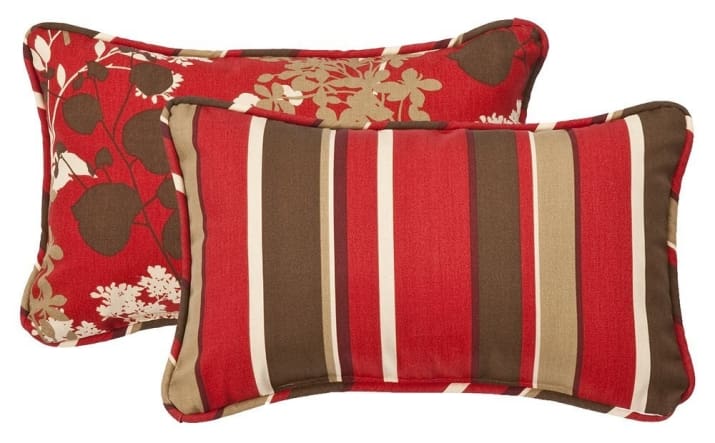 Pillows are made of 100% polyester that is weather-and sunlight fade-resistant. To clean, you can either lightly spot clean or hand-wash with mild detergent, cool water, and air dry.
Promising review: "Perfect outdoor pillows. They look exactly like the picture and have lasted a long time for me, now. They seem strong and durable to handle the outdoor climate. I don't always have mine in direct sunlight, so I imagine overtime they would fade if you had them in constant sunlight. They have a lot of stuffing and make a great addition to patio cushions." —melissa8076
Price: $35.62 (originally $40.37, available in 20 styles)