We hope you love the products we recommend! Just so you know, HomeKnows may collect a share of sales or other compensation from the links on this page. Oh, and FYI — prices are accurate and items in stock as of time of publication.
1.
A skeleton bodysuit for getting to the ~bones~ of what Halloween really is — the one day a year it's normal to dress like this.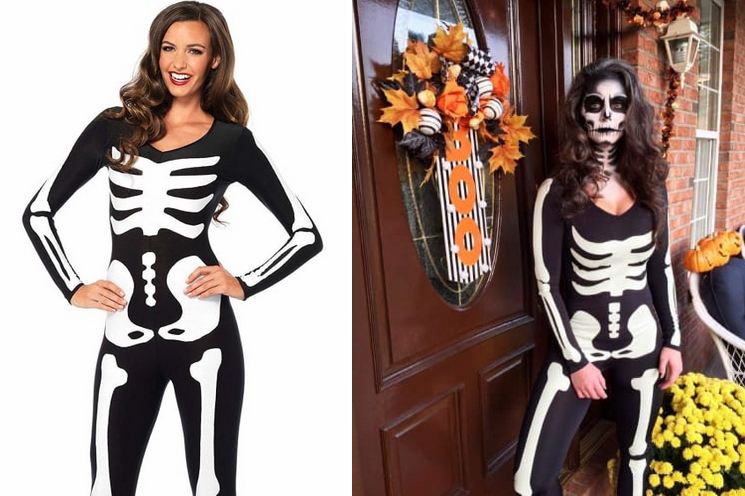 It glows in the dark!!
Promising review: "I purchased this costume to wear for Halloween this year and am so pleased! And it's comfortable! You will definitely want to wear black undies with this, because you can see light colors through it. I'm 5'5″ and 146 lbs., and I wear a size M top, and 8 bottoms, and the medium fit me very well!" —Savannah Englebach
Price: $35.95 (available in sizes XS–XL)
2.
A hilarious reenactment of Alan from The Hangover trilogy to get if you wanna dress up this October 31st, but also can't get too crazy, because the Jonas Brothers are gonna be in town.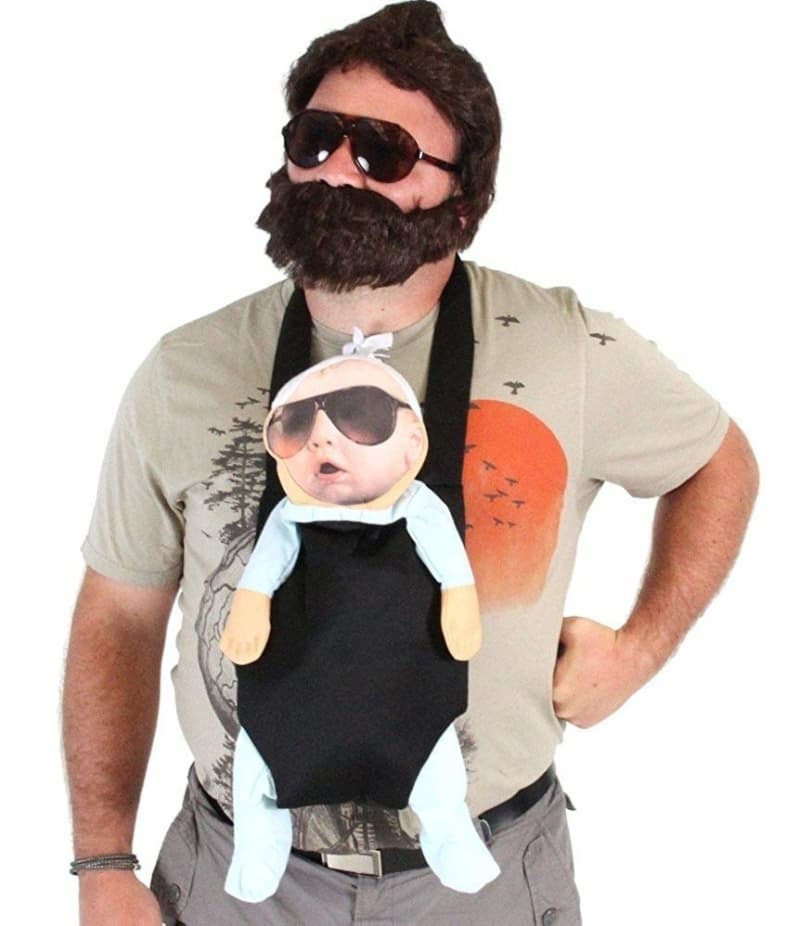 In my wildest dreams, TBH, still holding out for a JoBros reunion.
It comes with a T-shirt, a pair of glasses, a plush baby carrier, a wig, a beard, a mustache, and of course, a fake Baby Carlos with a screen printed face.
Promising review: "Yes, the baby is flat and a little strange looking, but that somehow adds to the crazy costume. I got lots of compliments walking around downtown Las Vegas, and several people stopped me to take pictures. Glad I found this, as it beats a lot of the generic costumes found at local Halloween shops." —James C. White
Price: $49.95 (available in sizes S–3XL)
3.
A butterfly wing shawl that'll look seriously majestic on your Insta grid, plus there are so many beautiful colors available, your whole crew can dress up with you!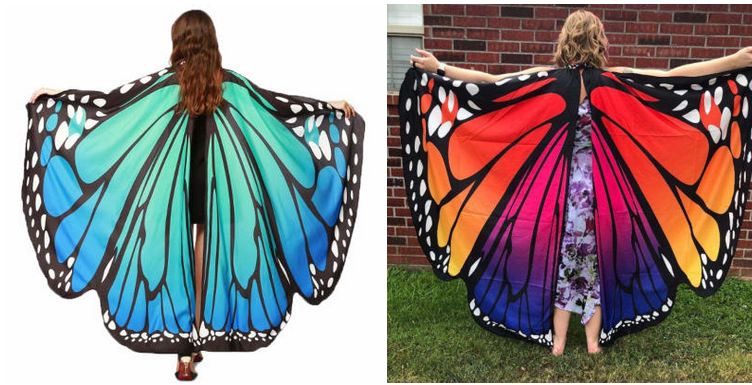 Promising review: "Totally awesome!! Order ASAP for Halloween. Well-made, drapes like a charm, and flutters nicely like a butterfly does. I got pink/purple, and the colors are bright, but not gaudy, and they complement each other nicely. Can't wait to wear this with a little black dress, and a pipe cleaner headband I made." —Laura D.
Price: $13.49 (available in 42 colors)
4.
A witch costume for those who want an adorable, lovable twist on a classic costume choice.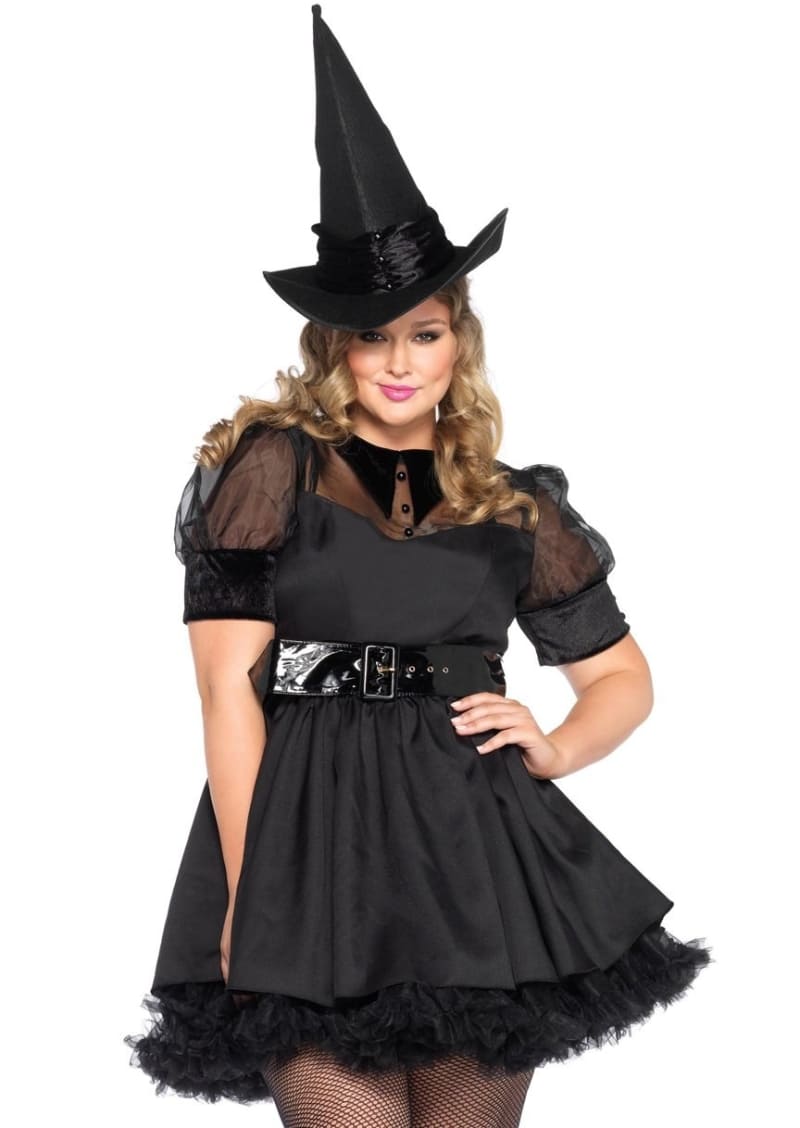 Includes the dress, the hat, and the belt! Recommended to hand-wash.
Promising review: "Honestly, I picked this costume because it was inexpensive and would arrive in time for my Halloween party. I absolutely loved it! I ordered a black petticoat from Amazon and picked up a cheap broom at my local Halloween store." —Cabaret_
Price: $37.89+ (available in sizes XS–3XL)
5.
A tacky traveler costume to channel your comical side, or ya know, maybe this is how you walk around when you're on vacay. You do you.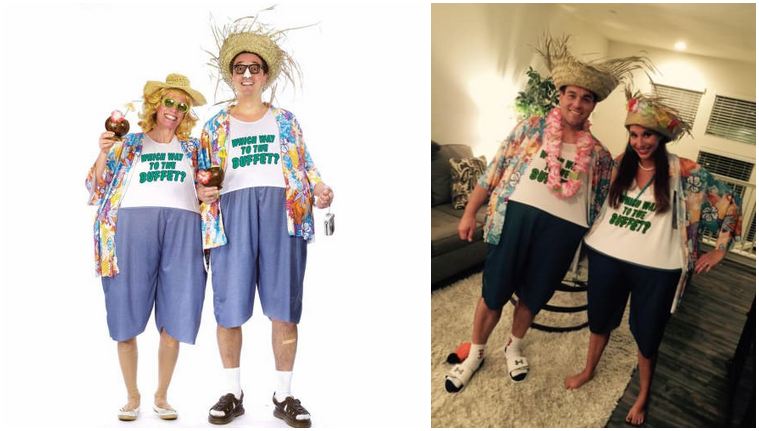 Just includes the jumpsuit! Recommended to hand-wash.
Promising review: "Great costume! My boyfriend and I were a hit at our Halloween party. It's comfortable and easy to wear. What we loved too was that you can add so many different accessories to make this costume even better. I highly recommend this costume for a cheap and easy costume that will be a definite hit at a Halloween party!" —Jen P.
Price: $26.99
6.
An inflatable dinosaur costume to get you lots of looks, lots of laughs, and maybe some scared faces, but like, in a good way.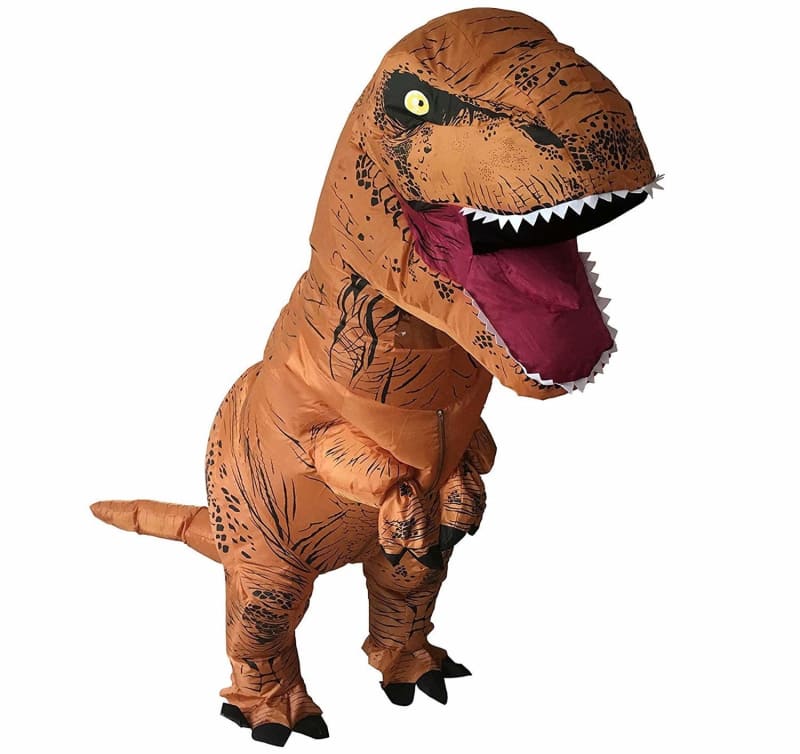 Fits most people between 5'3″–6'5″. Requires four AA batteries (not included).
Promising review: "This thing is as hilarious and just as fun as it looks. It fits my son, who is about 5'10. Just be aware that the actual costume "'head' is significantly higher than yours. That is, while wearing this costume, you will be about 8 ft. tall." —Philippe Desrosiers
Price: $51.98
7.
A hippie costume that'll have you spreading love this Halloween, which honestly, our world can use a lot more of at the moment.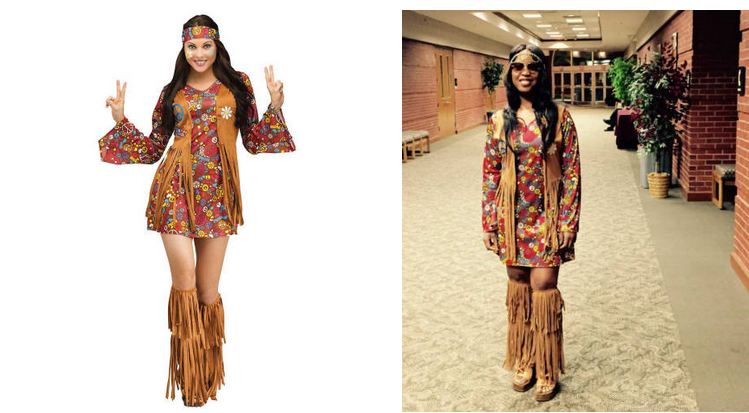 Includes the dress, vest, headband, and boot covers. Recommended to hand-wash.
Promising review: "This costume is absolutely amazing for the price! I got sooo many compliments at a Halloween event! Very fun to wear. Great fit also. I am 5'4″, and a dress size eight, and the M/L fit perfectly. I did add a safety pin to the front to keep the vest in a good position. The boot covers also add a great touch. This is so worth the price and more. So glad I got it." —Brandi Singleton
Price: $25.01+ (available in sizes S/M–3XL)
8.
A taco costume for wearing the best food in existence (don't @ me on this) on your body. Doesn't include guac.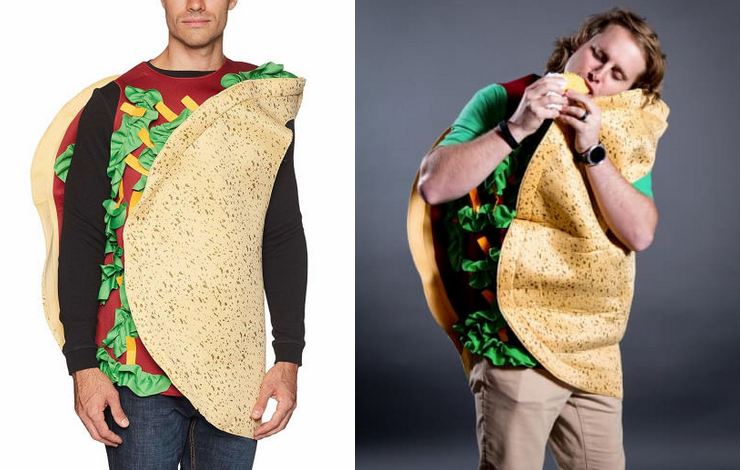 Recommended to hand-wash.
Promising review: "If you think the taco is weird and that people will judge you, you are 100% right, which is why you should buy it. When you're out killing it on the dance floor, taking names in this taco costume, you are going to be judged as the greatest person in the room. Some people take the more scandalous route when it comes to Halloween, this costume isn't for those people. This costume is for the legends, the trendsetters, the kings and queens of their social communities. Prior to wearing this costume, take a few moments to mentally prepare for the amount of attention and sheer jealously that you are going to encounter. Be prepared to walk into a room and for heads to turn, drool to pool, and mouths to drop." —Tylor/Jess
Price: $28.82
9.
A monkey outfit made of warm, soft fabric to go absolutely bananas over — we stan a cute and comfy costume.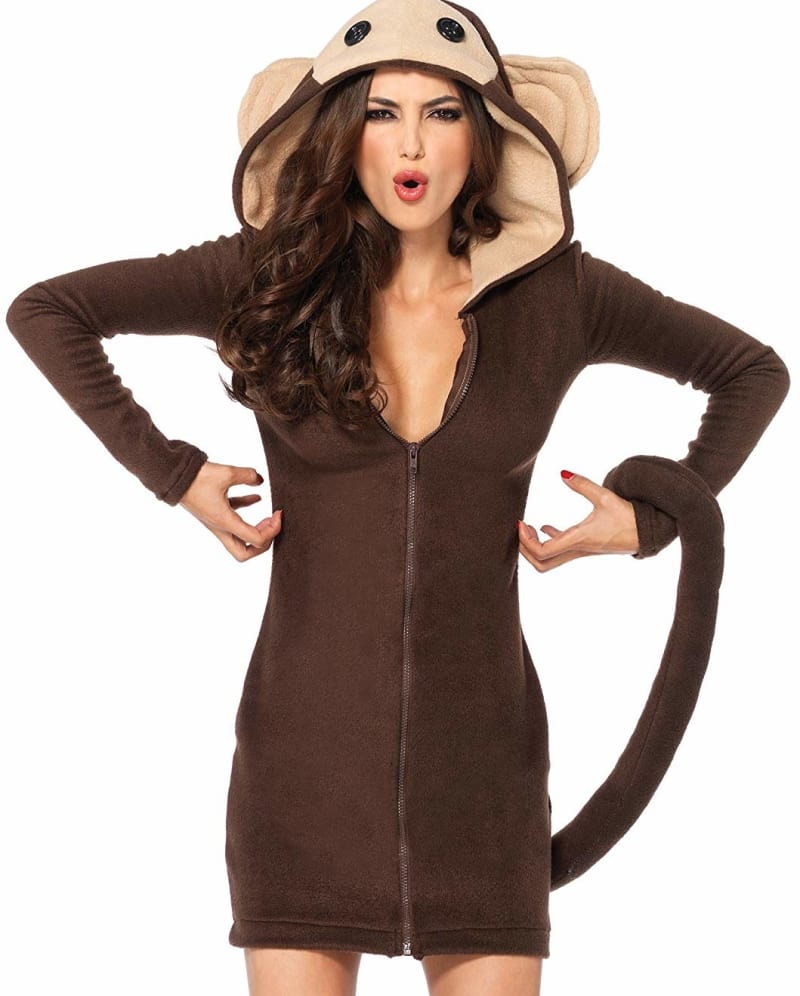 Recommended to hand-wash.
Promising review: "So cute! Make sure to check the sizing chart. I normally wear a medium or large, but the chart had me order an XL. It fits perfectly! I bought the brown fleece leggings to go with it since I'm in the north, and a cute pair of monkey slippers. Can't wait for the Halloween party now!" —Rhonda A Henning
Price: $24.23+ (available in sizes S–3/4XL)
10.
A Wonder Woman corset for those who are tryna dress up by day on the last day of October, but be a superhero by night.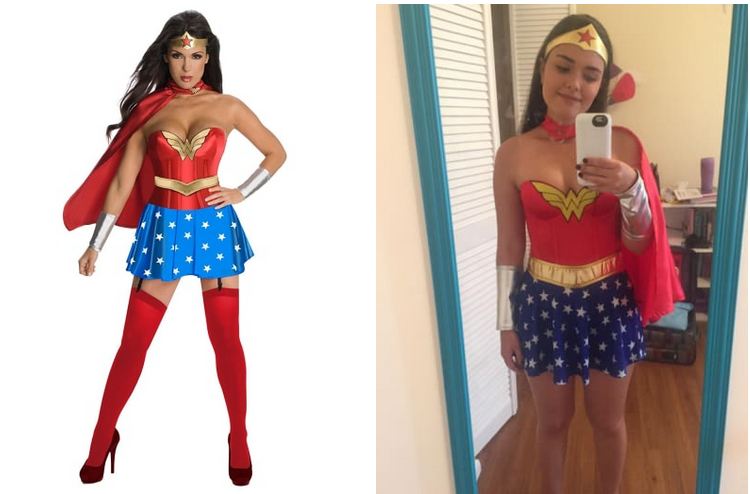 Includes corset, headpiece, skirt, gauntlets, belt, and cape. Recommended to spot clean or hand-wash.
Promising review: "I was not expecting the quality I got with this costume for the price I paid. The corset is very sturdy, and the wiring doesn't bend outward on the sides like a lot of cheap corsets do. It comes with all the pieces shown in the picture except for the stockings and heels. If you were to go to a Spirit store or somewhere similar, you would be paying $60–$80 easily. I wore it to a Halloween festival and got a lot of compliments on it — would recommend!" —Carli Stack
Price: $33.76+ (available in sizes XS–L)
11.
A Mr. & Mrs. Potato Head costume kit filled with stickers that'll go great on a shirt of your choice. You can do it with a loved one, or by yourself!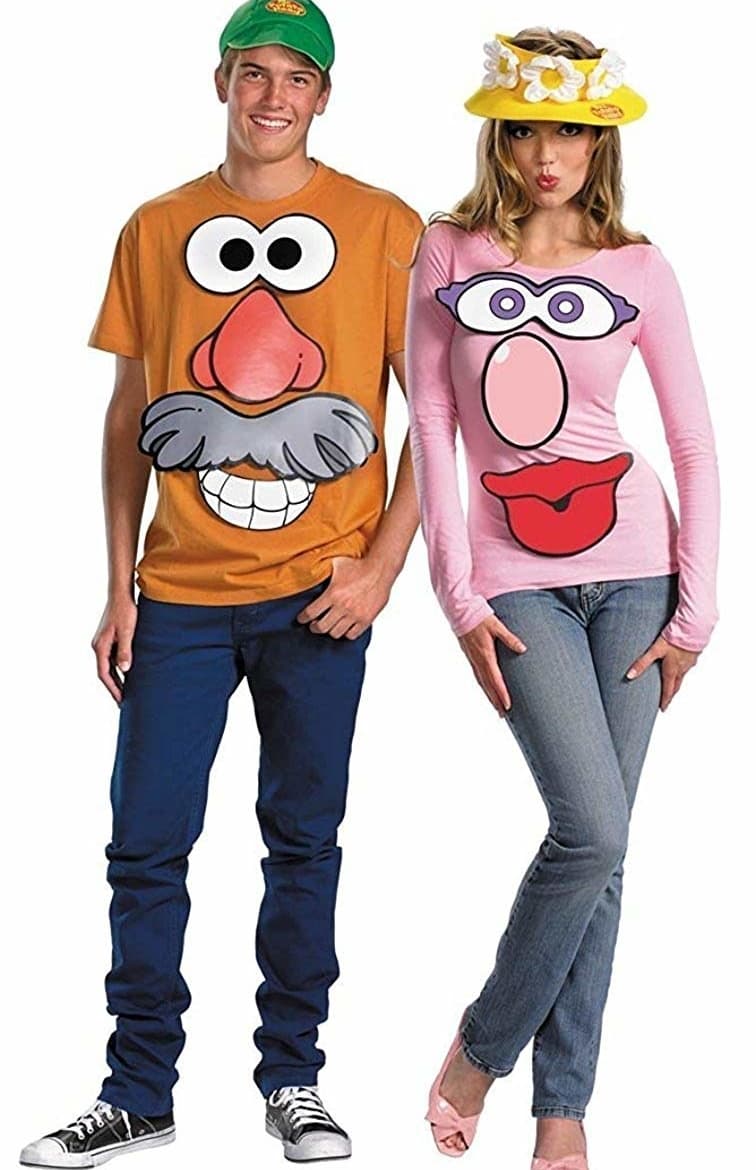 Includes two hats, two noses, two sets of eyes, two lips, two mouths, and one sticker.
Promising review: "This is a cute and easy costume. It's a set of stickers for both Mr. And Mrs. Potato head faces and their hats. The stickers easily apply to any shirt you choose. My husband is going as Mr. Potato Head and I'll be Mrs. Potato Head for Halloween. Awesome price for two costumes!" —lele83
Price: $23.83
12.
A Where's Waldo? top and hat to get immediately because this is never not gonna be an iconique costume.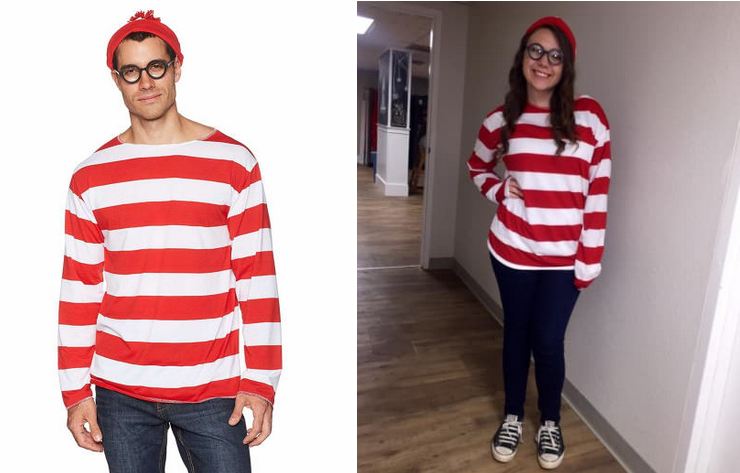 Includes shirt, hat, and glasses.
Promising review: "This was probably the easiest costume I have ever worn. It consists of three pieces: the shirt, the hat, and the glasses. It's difficult to tell from the pictures, but the glasses do actually have glass, (or some sort of see-through material), in the eye slots, but they do not alter your vision. The shirt tucked in well with my blue jeans, and I did a pretty good job of pulling off the 'Waldo' look. It was well worth the money and after a day of wearing it, I stuffed it back into its storage case, where it can sit for a few years before I pull it out and re-use it again. I highly recommend giving it a try if you want a cheap, easy-to-wear costume, and a laugh from the people you'll meet." —Joshua C.
Price: $23.95+ (available in sizes XS–XL)
13.
A peanut butter and jelly two-person ensemble for wearing with the jelly to your peanut butter, or the peanut butter to your jelly.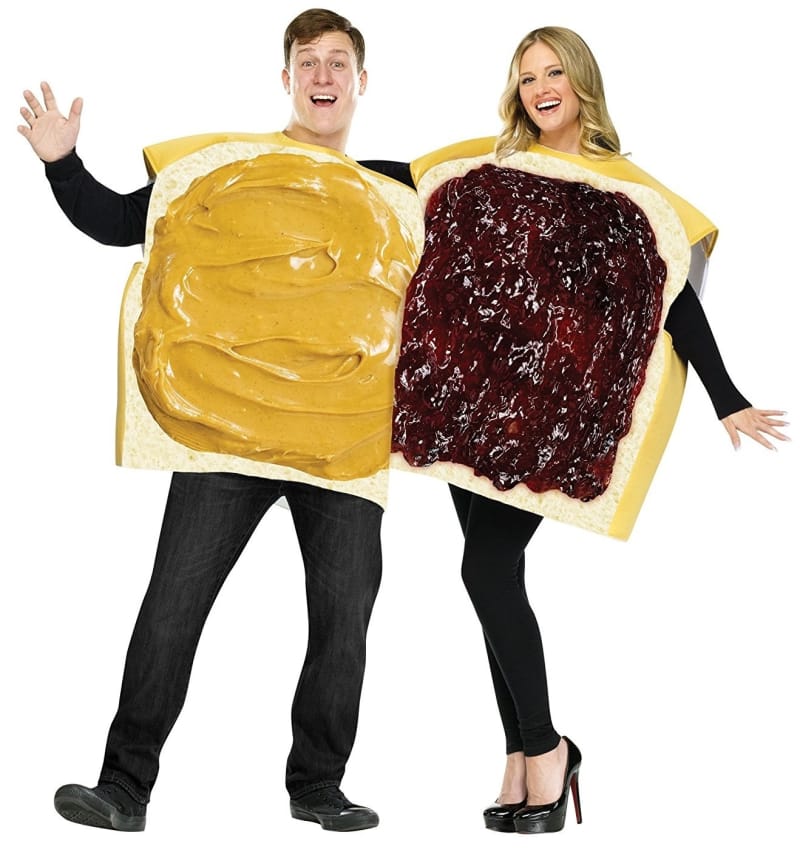 Recommended to hand-wash.
Promising review: "Perfect! It looks great and very comfortable. Can't wait to wear it at the Halloween party we're going to. We even made up a peanut butter and jelly rap song to perform at the costume contest. HAHA!!" —Dog Lover
Price: $34.38
14.
A bat costume that'll have you batting your wings to the front of the stage to accept your award for best costume.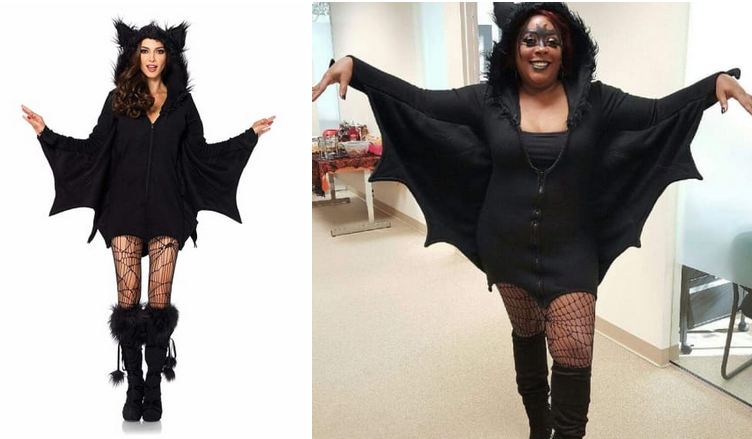 Recommended to hand-wash.
Promising review: "I was so worried it wasn't going to fit and I was going to get some cheap, frumpy thing. I'm 5'10 and pretty thick. I had already made the order before I read the reviews, thinking the star rating was enough to buy. I contacted the seller after I made the order frantically asking if I can get an XL instead because of the reviews saying it runs small. I got a quick, professional response and unfortunately they shipped it already. But to my luck it's absolutely adorbs! It surprisingly fits great as expected. It's a comfortable snug and I'm glad I went with my large size — I really love it." —Kenzy
Price: $31.50+ (available in sizes XS–6XL)
15.
A bacon strip costume to wake up on the right side of the bread on Halloween morning and get hella EGG-cited about your outfit plans.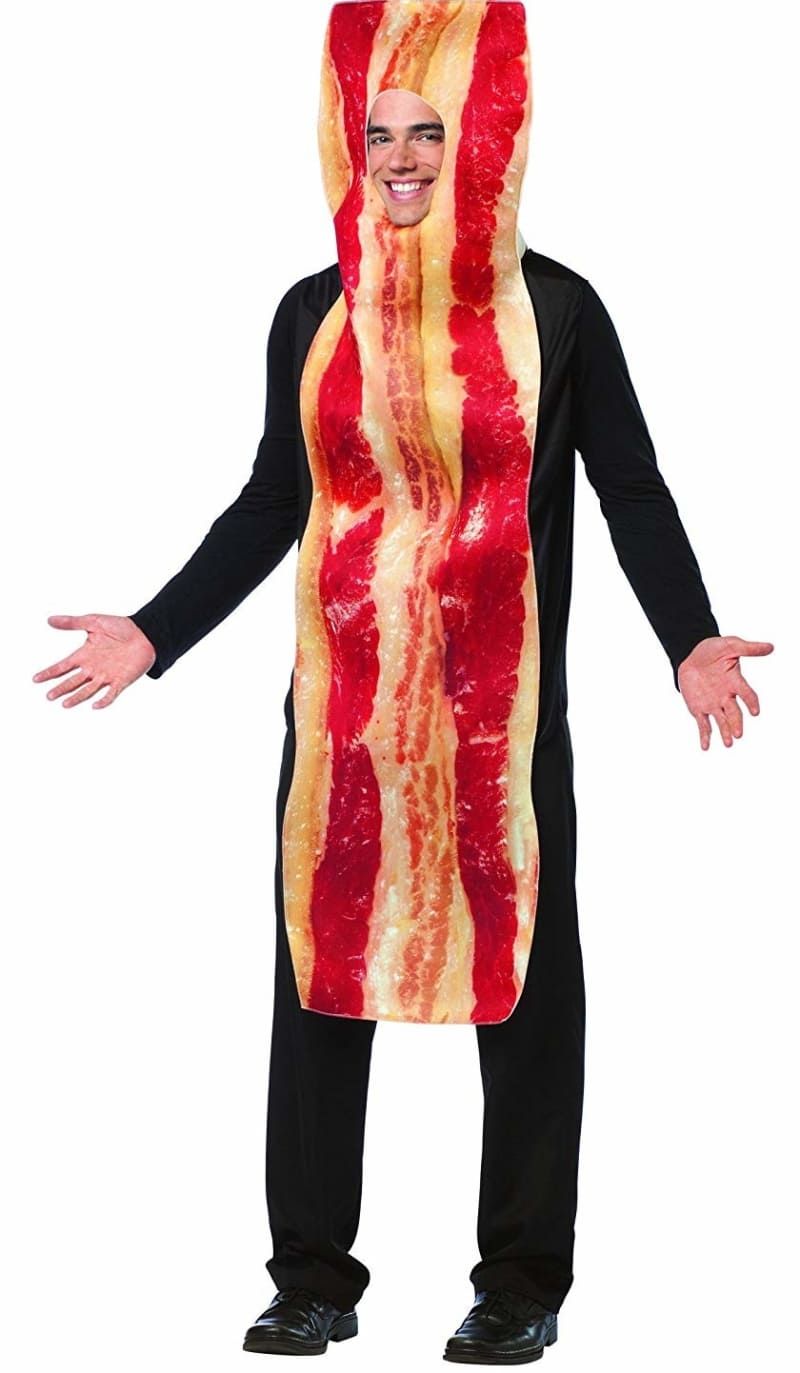 Recommended to hand-wash.
Promising review: "My son wanted to be bacon for Halloween. I thought he was crazy, but that is what he wanted. I have to say he looked funny but that's the point, it was just great. His school had a Halloween parade and we saw him coming from a mile away. He loved the costume and so did his classmates. The costume was well-made and is still holding up pretty well a few months later. The stitching is still in one piece and no rips or tears. Every once in a while he will still put it on and walk around the house." —BC
Price: $25.04
16.
A Supergirl outfit for all you fierce IRL superheroes who don't really need a costume to prove it, but wanna rly dress the role for funsies.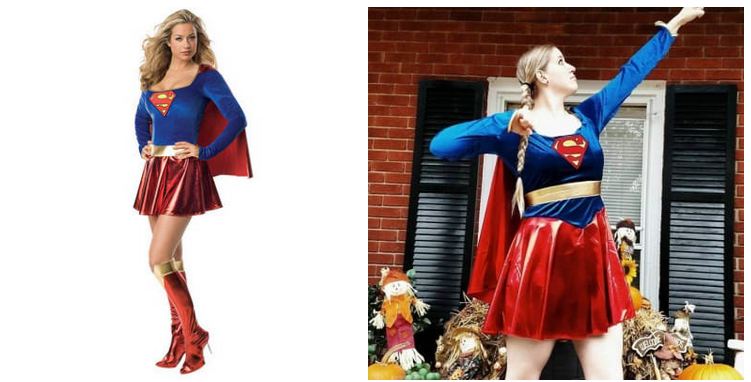 Includes dress, cape, and boot tops! Recommended to hand-wash.
Promising review: "I absolutely love this costume!! The material is soft and comfortable. The combination of the royal blue and red is beautiful. It also fits very well. I normally wear a large or XL, because I like a looser fit. I read that this costume runs larger, so I ordered a medium and it fits great!" —JENNIFER
Price: $27.95